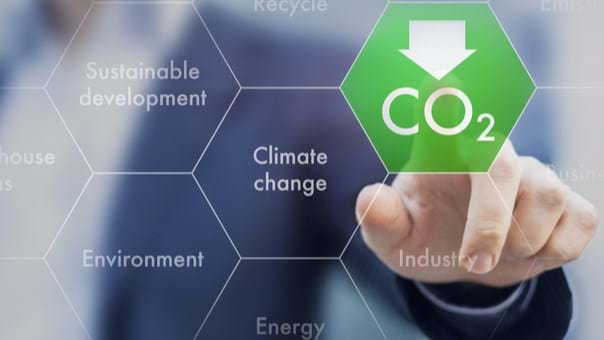 OIL and Gas Climate Initiative (OGCI) has announced a target to reduce the collective average carbon intensity of member companies for aggregated upstream oil and gas operations to 20–21 kg CO2-eq/boe by 2025, from a baseline of 23 kg CO2-eq/boe in 2017.
Though experts welcomed that national companies are trying to address the climate crisis, they also noted that this recent move does not go far enough, saying that the target does not prevent overall emissions increases.
According to OGCI, the target range for carbon intensity is consistent with reductions needed across the oil and gas industry by 2025 to support the goals of the Paris Agreement. OGCI is a CEO-led consortium of top oil and gas companies – including ExxonMobil, BP, Shell, and the world's largest oil producer, Saudi Aramco – which aims to accelerate industry's response to climate change.
Calculated as a share of marketed oil and gas production, the new target represents a reduction of 36–52m t/y of CO2-eq by 2025 (assuming constant production levels of marketed oil and gas). Emission intensity refers to the emission rate of a given pollutant relative to the intensity of a specific activity, or an industrial production process.
To achieve the needed reduction in their collective average carbon intensity, OGCI members are implementing a range of measures at their operations, including: improving energy efficiency; reducing methane emissions; minimising flaring; electrifying operations using renewable electricity where possible; cogenerating electricity and useful heat; and deploying carbon capture, utilisation, and storage.
OGCI says that it wants to play an active role in accelerating and shaping the global pathway to net zero emissions through collective and practical actions. It considers its carbon intensity target a near-term and practical step for member companies to continue expanding their contribution to the transition to a low carbon economy.
In a joint statement, OGCI member company CEOs said: "Together we are increasing the speed, scale, and impact of our actions to address climate change, as the world aims for net zero emissions as early as possible."
OGCI's new target includes carbon dioxide and methane emissions from member companies' operated upstream oil and gas exploration and production activities, as well as emissions from associated imports of electricity and steam. Though methane emissions will be included in OGCI's carbon intensity (representing up to a quarter of the improvement), OGCI will continue to report its progress on reducing methane intensity, separately.
The initiative says it is working on specific actions for emissions from liquid natural gas (LNG) and gas-to-liquids (GTL) to take its ambitions further.
Expert responses
Experts from independent financial think tank Carbon Tracker responded to OGCI's target.
Andrew Grant, Head of Oil, Gas & Mining at Carbon Tracker, pointed out that OGCI's new target only addresses a small portion of emissions, "a 13% reduction in upstream emissions translates to only a 2% reduction in lifecycle CO2 for oil & gas". He also noted that as the target is based on intensity, it allows for increases in overall emissions and that a group average may let poor performers "off the hook".
Grant said: "National oil companies have been the missing piece of the puzzle on emissions, so it's good to see them coming to the table. Having some targets to reduce carbon pollution is better than none. But the industry can never consider itself "aligned" with the Paris goals when business plans assume steady investment in fossil fuel production on a planet with absolute limits."
Mark Campanale, Founder and Executive Director at Carbon Tracker, said: "OGCI is an important industry bridge that brings together key players in the oil and gas sector to address the climate challenge. So it's for this reason that we welcome attempts to reduce emissions, for example flaring and methane leakage.
"But the initiative cannot, however, ignore the real and glaring issue facing its members, namely commitments for absolute reductions in emissions. This means doing the serious accounting work necessary for writing down fossil fuel assets – what we call the carbon bubble overhang – such as we've seen from BP and Repsol. Here we hope that OGCI can show similar leadership and commence with that real discussion, with the clear urgency the climate crisis demands."
The concept of the carbon bubble refers to the idea that if large amounts of fossil fuels such as coal, oil, and gas are left in the ground to limit global warming, the value of companies producing these fuels will face severe consequences. A 2015 report from Citi estimated that US$100trn worth of assets could be "carbon stranded" to enable the world to stay below the 2°C limit. Citi is a global bank and financial services company. Looking at the global impacts, a 2018 research paper projected a global economic loss of US$1–4trn, if new climate policies to achieve the 2°C target specified by the Paris Agreement are adopted and/or if low-cost producers maintain their level of production despite declining demand.
In mid-June, BP announced that due to the coronavirus pandemic and expectations that countries would accelerate transitions to lower carbon economy, it was reviewing its intent to develop some of its exploration intangible assets. The company said it expected a loss of up to US$17.5bn.
In December 2019, Repsol said that due to Paris Agreement climate targets and the need to reduce emissions, it had revaluated its assets and was writing down the value of them by €4.8bn (US$6.18bn).
Separate to OGCI's target, members of the initiative have set their own emissions goals. BP, Shell, Total, and Repsol have each announced goals to achieve net zero emissions by 2050. Other companies in OGCI include Chevron, CNPC, Eni, Equinor, Occidental, and Petrobras.