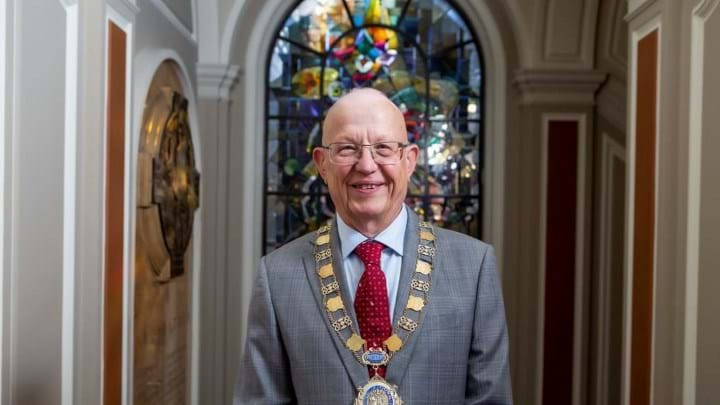 Sophie Sheinwald
NIGEL HIRST has become the 82nd President of IChemE. He delivered an Address on 14 June on the "unique and priceless" contribution that chemical engineering can make to the grand challenges and plans for IChemE in the coming year.
He spoke at the Royal Society of Chemistry's headquarters in Burlington House in London, UK.
The art of chemical engineering
For the theme of his speech, Hirst took inspiration from being across the way from the home of the Royal Academy of Arts. He pointed to proposed new wording for IChemE's Royal Charter, which mentions advancing the "art" of chemical engineering, and pondered what the art of it is.
"Is it just a neat bit of process design? Or a particularly elegant bit of scientific theory? Well, I think it's different to that."
Hirst said that he believes that since carrying out his last chemical engineering calculation – likely in 1988 – he has been practicing "the art of chemical engineering" which he defined as: "To persuade those outside the profession of the unique and priceless contribution chemical engineers can make to solving the world's 'grand challenges'."
Hirst discussed keynote centenary talks by Adisa Azapagic and Ken Rivers as being on topics that "the average person on the street" can relate to and that can help explain what chemical engineering is. Azapagic is a professor of sustainable chemical engineering at the University of Manchester, UK and discussed how chemical engineering is responding to modern challenges more sustainably. Rivers, a former IChemE President and member of the UK government's industry safety steering group, talked about the contribution of chemical engineers to managing major hazards.
Hirst said that in both process safety and sustainability "chemical engineering has got something to speak to the world about, and we must take that opportunity".
Moreover, he said a key outcome of the centenary project was the recognition that the UN sustainable development goals (SDGs) are the "vocabulary" that is being used to describe the grand challenges, and highlighted the SDGs that chemical engineering can most contribute to (pictured above). This is guiding IChemE's technical roadmap for the future. Hirst noted that IChemE can contribute to those SDGs through its Strategy 2028 priority topics of: energy and climate action (SDGs 7 and 13); water and sanitation (SDG 6); food, health, and wellbeing (SDGs 2 and 3); and responsible production, innovation, and industry (SDGs 9 and 12). Meanwhile, the cross-cutting themes will include quality education, process safety, and digitalisation.
The 4 Cs
Hirst also shared his focuses for IChemE over the year ahead.
Starting on collaboration, he recited a famous quote from poet John Donne: "No man is an island entire of itself; every man is a piece of the continent, a part of the main."
"And so it is with IChemE," Hirst said. He said there is a need to share the unique voice of chemical engineering more widely, and that working with other institutions can help the profession be heard.
IChemE has recently signed a letter of intent with the American Institute of Chemical Engineers (AIChE), which Hirst said is initially based around hydrogen but is meant to be open ended. He also said next week he will meet with the Institution of Mechanical Engineers (IMechE) and the Chemical Industries Association (CIA) to discuss potential common messages and goals to promote. He further called for other institutions interested to get in touch about possible collaboration "to a greater end".
On continuous learning, Hirst said that IChemE needs to constantly look at ways to support the professional development of members at all stages of their careers. He said the Sustainability Hub, which launched last year, offers a growing number of free-for-member courses and there is a "treasure chest" of past seminars and presentations from special interest groups (SIGs) and member groups that he would like to see become more readily available. He also mentioned expanding IChemE's mentoring offer.
He told The Chemical Engineer that a new mentoring initiative is helping those seeking Chartership, but he hopes to expand it to support members' career development more generally.
On the matter of community, Hirst said that since its early days, IChemE has become global, and he is committed to developing the worldwide IChemE community to help support each other better. While the pandemic already "turbocharged" the use of tools such as Zoom and Microsoft Teams, allowing a more inclusive offering to those in other countries, he wants to go further. He said this year IChemE will launch a new global digital community through which members can engage with topics and groups of interest. IChemE will also refresh its website, renewing the front end and making it more user friendly and useful to members.
Hirst also wants to expand the community by reinvigorating neglected member grades, such as Technician and Associate, and to help more people from all backgrounds to access the opportunities that chemical engineering can lead too. He mentioned adapting a "refer a friend" scheme to bring non-members "into the fraternity".
Hirst also took a moment to thank a specific portion of the community, IChemE's volunteers, for their efforts, especially over the pandemic years, and said that digital certificates are going to be introduced to recognise their contributions and impact.
"Without the support of volunteers, IChemE would simply cease to exist…[they] are our treasure, and we need to use them wisely for the advancement of the Institution," he said.
Finally, Hirst talked about choice. He said that to him one of the defining features of chemical engineering is that it gives you choice.
"I've been able to work in a wide variety of industries. It's led me to a rewarding and exciting career which has been valuable to the economy and to society, and I want that to be experienced by many more people," Hirst said.
He said that he would love to see IChemE's Whynotchemeng campaign reinvigorated, and also discussed work with heads of chemical engineering in the UK and Australasia to attract more young people to chemical engineering and show that a career in the industry can have "world-changing, world-bettering consequences".
IChemE will also work to help members in declining industries such as oil and gas, recognise their transferable skills.
"Nothing which chemical engineers have learned over the last 100 years is irrelevant anymore, it's always adaptable to new situations. And the pace of change is such that none of us can stand still, and who would want to."
Hirst hasn't stood still.
He graduated with a chemical engineering degree from the University of Cambridge, UK in 1978 and started a career that has seen him involved in design, construction, and operations management in the chemical, environmental management, nuclear, oil and gas, and pharmaceutical sectors. He is also an entrepreneur and helped to establish and expand Haden Freeman, which since 1985 has developed into a major multi-disciplinary engineering recourse for the process industries. Hirst is currently its chairman.
He began active participation in IChemE in the 1980s, volunteering in what was then the Manchester and Salford Centre, part of the North West branch. He has also been involved with the pharmaceuticals SIG, has been a judge and chair of judges for IChemE's Global Awards (previously the IChemE Awards), and became the inaugural chair of IChemE's Congress in 2018. He was also involved in the centenary project, with his group responsible for services and platforms, including producing the website and organising events.
You can watch a recording of Hirst's address on IChemE's YouTube channel.