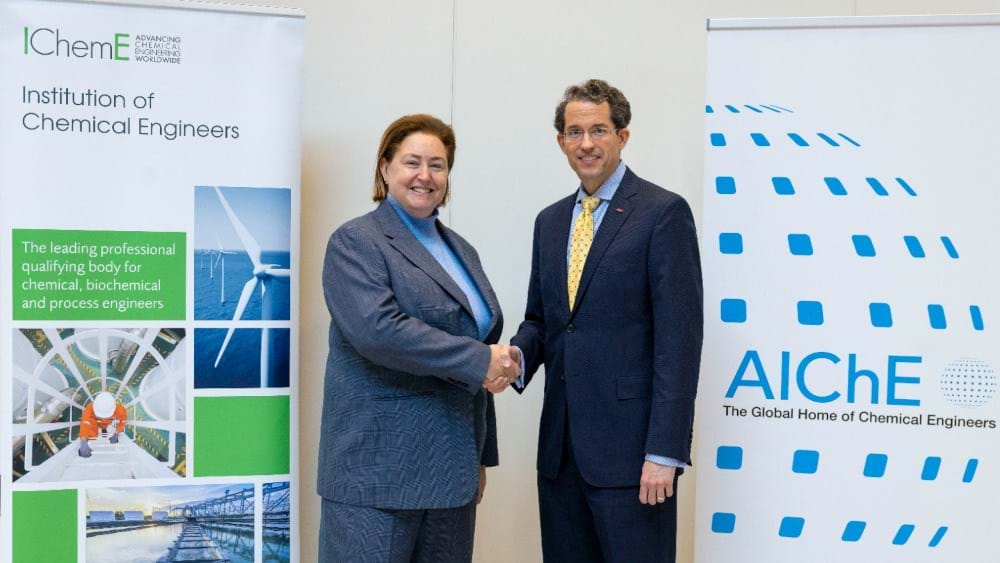 Bernal Revert
ICHEME and the American Institute of Chemical Engineers (AIChE) have agreed to work together to support industry's adoption of hydrogen in the push for decarbonisation.
A letter of intent was signed today by Trish Kerin, director of the IChemE Safety Centre, and Billy Bardin, president of AIChE and global climate transition director at the chemical company Dow, at the World Hydrogen Summit in the Netherlands.
They will work together on a "series of roadmapping activities" and will seek contributions from manufacturers, academic and research institutions, technology and engineering providers, government entities, transportation experts, and end-users of hydrogen.
There is an urgent push from governments to accelerate the development of hydrogen to help meet decarbonisation targets. The clean-burning element can be combusted to produce industrial heat or as a fuel for heavy transport, and is used as a feedstock for the chemicals industry. By converting it to ammonia it can be shipped around the world and transformed back again at point of use, meaning countries like Australia with huge potential for renewable energy can produce green hydrogen and develop a hydrogen export industry.
The new partners said hydrogen's adoption will require contributions from engineers and scientists across disciplines, as well as from government agencies, to create cost-efficient, safe, and sustainable means of hydrogen production, distribution, storage, and use, and to help industry and consumers transition safely and smoothly to a future where hydrogen is a commonly-used resource. 
David Bogle, IChemE's president, said: "I am excited for IChemE to be working with AIChE in this alliance. Hydrogen has a vital role to play in the world's efforts to address climate change, and chemical engineers will be central to ensuring it is produced as efficiently, sustainably and safely as possible. Collaborating with others allows us to achieve more, and I'm extremely pleased that IChemE and AIChE have agreed to work on this topic together."
Bardin said: "AIChE is pleased to join with the leaders and constituents of IChemE as we bring together the knowledge and acumen of our global networks of chemical engineers to advance hydrogen applications in support of industrial decarbonisation. As part of this work, we look forward to building new and mutually beneficial collaborations with participants in the larger hydrogen and chemical engineering communities."
The partners are calling for those who would like to participate in the roadmapping project to fill in this form or forward it to interested colleagues.
In March, IChemE joined a proposed Cooperative Research Centre (CRC) in Australia that would work to expand the production of green hydrogen and help decarbonise industrial processes and energy systems.