MADELEINE JONES, a Chartered Member of IChemE, has won the Women's Engineering Society's (WES) Karen Burt Award for a newly chartered female engineer.
Jones accepted her award at a ceremony at One Birdcage Walk in London, UK, on 5 October. She is the first chemical engineer to win the award for 15 years. The Karen Burt Award recognises excellence in engineering practice and a candidate's contribution to the promotion of the engineering profession. Each candidate is nominated by their Institution, and assessed by a panel of judges, which was chaired this year by civil engineer and WES Council member Sally Sudworth. The panel particularly noted Jones' passion for her role at Sellafield, her work inspiring the next generation of chemical engineers, her volunteering with IChemE and her work with Aston University.
Jones is the deputy operations manager, legacy ponds & silos for Sellafield Ltd. She told The Chemical Engineer that she is "really excited" to have won the award and is looking forward to doing more work with WES in the future.
"Having looked at the previous people who have won the award, it's a really prestigious list and I'm just really pleased to be recognised. I try really hard to promote the profession to other people," she said, adding: "Day-to-day I try to do a good job as an engineer, but we all do. I think what made me stand out a bit more is all the extra things I do voluntarily outside work."
'Disneyland for engineers'
That day-to-day work involves managing the first generation Magnox storage pond complex at the Sellafield site, which has three separate facilities. The largest takes radioactive sludge from an ageing nuclear pond and stores it ready for final disposal. The second unit processes effluent from the pond, while the third takes liquid from the second unit and several other Sellafield facilities and conditions it ready for final processing. Jones manages a team of five shift managers who each have five operators under them.
Sellafield management selected Jones to escort a BBC documentary crew around the site, when they were filming the documentary Britain's Nuclear Secrets: Inside Sellafield. The producers gave her a cameo to explain her role and work, which ended up in the final documentary and was watched by over 1m people.
Jones' passion for Sellafield and the work she does there shines through. She describes the site itself as "Disneyland for engineers" and praises the company for its solid diversity and equality policies, which includes set pay scales, and fellow supportive and inspirational female engineers at the site, particularly her manager Dorothy Gradden, who was awarded an OBE in the 2017 Queen's Birthday Honours for services to the nuclear industry.
"It was a conscious decision to move from design engineering into operations. I really like the day-to-day problem solving. Everything's happening all the time, you need to keep it running, and all that kind of stuff, which you step back from sometimes in pure engineering. I want to stay in operations, move on to operations manager and upwards from there really," she said. "Senior operations manager, head of operations, chief operations officer, CEO! I've told [Paul Foster, Sellafield Ltd CEO] and he's okay with it!"
Volunteering and encouragement
Beyond her role at Sellafield, Jones mentors new graduates at the company. Outside of that she sits on the advisory board for Aston University, from where she graduated, which advises the university on its strategic direction, including what skills are required for the workplace and should be taught to students, and the requirements for chartered bodies.
"As part of that I delivered a series of lectures. We did a nuclear module for the engineering department, an introduction to the nuclear industry, how nuclear engineering works and why it's different to everything else normal people do, like: it's behind two metres of concrete and you can't touch it!" she said.
At university, Jones was a student ambassador, talking to groups of schoolchildren to encourage them to consider going to university and is a STEM ambassador to schools. She volunteers with National Youth Advocacy Service, providing mentoring and guidance to vulnerable and at-risk children. She is the student representative on the Midlands Member Group Committee, and webmaster for IChemE's North West Member Group Committee.
On being a woman and an engineer
Jones says that thanks to working at a large company like Sellafield Ltd, her career hasn't suffered as a woman, but she believes there is a long way to go before that is true for every woman.
"This doesn't mean I don't see discrimination in the workplace. There are offhand comments made by people. Everyone knows they shouldn't discriminate but I think a lot of people don't think that things they say might be discriminatory. Companies are quite good at equality, they know what they're supposed to do, but individual behaviours need some work. We've got a lot to do in terms of how people act on a day-to-day basis," she said.
Jones will keep working, with WES and IChemE, to keep tackling the challenges related to diversity, but also to promote a career she says is "so rewarding, sometimes frustrating, but always challenging and exciting."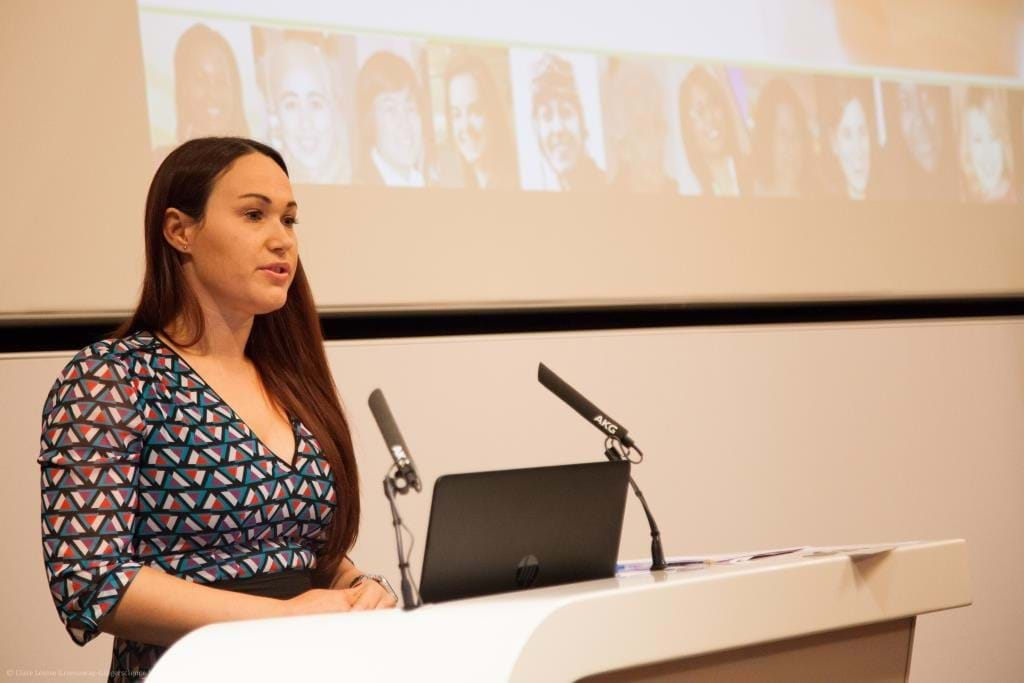 Congratulations
Jacob Ohrvik-Stott, IChemE policy officer for diversity and inclusion, said: "As an organisation committed to championing the role of women in engineering IChemE is delighted that Madeleine's achievements have been recognised with the Karen Burt Award. Her outstanding work with the IChemE North West Member group and beyond shows the invaluable contributions our members make to IChemE and the engineering sector. On behalf of IChemE I congratulate her on this well-deserved award."
The Karen Burt award was set up in memory of Karen Burt, a WES council officer and physicist who began her career as a project engineer for scientific satellites at British Aerospace Systems before going on to set up the Centre for Advanced Instrumentation Systems at University College London and her own consultancy firm. She was passionate about engineering and was an active member of WES, the Institution of Electrical Engineers, and the Institute of Physics, and worked hard to promote the recruitment and retention of female engineers.
Several other WES Awards were also given out on the day, following the WES Caroline Haslett Lecture, given by Isobel Pollock-Hulf OBE. The Men as Allies Award for advocacy for female engineers, went to Loughborough University's Will Whittow, a senior lecturer in electronic material integration. The Amy Johnson Inspiration Award for inspiring women to enter the engineering profession went to the Wellcome Trust's Wikimedian in residence Alice White, for her work editing Wikipedia entries about female scientists and engineers. The Gillian Skinner Award and Isabel Hardwich Medal, which recognise volunteer contributions to WES, were also presented, the former to Jo Douglas and Adriana Vargas and the latter to Milada Williams and Linda Maynard.