Follow our latest news coverage during to the crucial UN climate conference in Glasgow, below.
For all our previous coverage on COP26 visit our content hub and to learn more about COP26 and why it's important, you can read our detailed explainer.​
---
COP26 summit closes with compromises made on climate deal
12:51 – 14 Nov
Negotiators finally agreed on the Glasgow Climate Pact late on Saturday evening, with a compromise made that more ambitious pledges need to be made next year to limit warming to 1.5oC.
COP26 President Alok Sharma said: "We can now say with credibility that we have kept 1.5oC alive. But, its pulse is weak and it will only survive if we keep our promises and translate commitments into rapid action."
The summit was deemed a failure by Deutsche Welle, which criticised how the language on fossil fuels was watered down from the initial draft to the final text. Initially calling for "Parties to accelerate the phasing-out of coal and subsidies for fossil fuels", this was changed to "unabated" coal burning and "inefficient" subsidies by the second draft. The final version only calls for a "phase down" of unabated coal, due to a last-minute intervention by India and China.
Sharma said he was "deeply sorry" and said he understood "the deep disappointment" on the watered-down deal.

Read our full story here. 
---
World Cement Association welcomes commitments made at COP26
15:07 – 12 Nov
The World Cement Association (WCA) has welcomed the commitments made at COP26 by the UK, India, Germany, Canada and UAE to support new markets for low-carbon cement and concrete.
Ian Riley, CEO of the WCA, said: "I'm delighted to see that governments are heeding our call for urgent action to accelerate decarbonisation of the cement industry around the world, and we look forward to hearing more details from the UK, India, Germany, Canada and UAE on the steps they will take."
"This commitment marks a hugely significant shift in mindset that we hope will be followed by other countries in the months ahead. When it comes to hard to abate industries like cement, it is vital to work together with governments to create the conditions in which we can get to net zero and beyond, as quickly as possible – we cannot do this alone, in time."
---
Fossil fuel registry developed to assist policymakers
15:02 – 12 Nov
Carbon Tracker and Global Energy Monitor announced the development of the Global Registry of Fossil Fuels, a database designed to be a policy tool to track fossil fuel production, associated emissions, and how they relate to the 1.5oC pathway. The database is currently a prototype and will be open access when it is finalised over the next few months.
Mark Campanale, Founder of the Carbon Tracker Initiative, said: "The Global Registry of Fossil Fuels will drive greater transparency about governments' and companies' plans for oil, gas and coal in the future, and – crucially – help to make governments more accountable for their plans, thus enabling all users of the Registry to link fossil fuel production with national climate policies. We see one of the key user groups for the Registry being the finance sector: it will enable investors much more effectively to assess stranded asset risk."
---
Climate scientist says difficult decisions need to be made today
12:15 – 12 Nov
Today is the last official day of negotiations at COP26, although it is possible that talks will continue into the weekend. The second draft text from the negotiations was published this morning, with the language on phasing out fossil fuels now weakened, according to The Guardian.
Ed Hawkins, Professor of Climate Science at Reading University, has warned that we must turn off our current path.
Hawkins developed the "warming stripes" graphic to visualise how the world has warmed since pre-industrial times. Each line represents a year, and the colour represents the average temperature for that year. Blue shows colder years and red shows warmer years.
---
Scotland considering joining alliance to phase out oil and gas
10:50 – 12 Nov
According to The Financial Times, Scotland is in talks with the Beyond Oil and Gas Alliance (BOGA) – an initiative launched yesterday at COP26 that aims to phase out fossil fuel use through a just transition. Scottish First Minister Nicola Sturgeon said that the Scottish Government is examining the different types of memberships to see which would best suit Scotland's circumstances.
Wales is already a member, but the UK has made no indication that it will join.
---
World leaders not in 'crisis mode', says former UN High Commissioner
15:34 – 11 Nov
Mary Robinson, former President of Ireland and former UN High Commissioner for Human Rights, said that world leaders are not in 'crisis mode' at the COP26 talks. Reacting to the report from Climate Action Tracker that current pledges still put the world on track for warming of 2.4oC, she said: "You can't negotiate with science. You can't talk about a glass being half full. We have to get it down. We have to be on track for 1.5oC."
In her interview with Sky News, she called out the leaders who could do most but aren't acting, including China, Russia, and Brazil. "Australia – a wealthy country – is still in fossil fuel mode, not in crisis mode." She criticised Saudi Arabia for taking language out of the COP26 documents on issues such as climate education, human rights, gender equalities, and sustainability. "How were they able to take that language out? Because not enough countries were in the room."
---
Launch of Beyond Oil and Gas Alliance
14:45 – 11 Nov
The Beyond Oil and Gas Alliance (BOGA) has been launched today at COP26. Created by Costa Rica and Denmark, the alliance is a group of governments and stakeholders working to facilitate the managed phase-out of oil and gas production through a just transition. Core members include France, Ireland, Wales, Sweden, Greenland, Quebec, California and New Zealand. Associate members are California, Portugal, and New Zealand. Italy has also joined as a friend of BOGA.
Bob Ward, Policy Director at the Grantham Research Institute on Climate Change at the London School of Economics, said: "This is a welcome and vital initiative to accelerate an end to the age of fossil fuels. The International Energy Agency made clear earlier this year that limiting warming to 1.5oC and reaching net zero emissions by 2050 means no new development of oil, coal and gas. Logically, every country that has now set a 2050 net zero target, including the UK and US, should be joining this alliance."
---
US and China announce climate deal
14:27 – 11 Nov
In a surprise announcement, the US and China have said that they will work together on climate action. The declaration says that the countries "recognise the seriousness and urgency of the climate crisis" and that they will tackle the crisis with "accelerated actions in the critical decade of the 2020s".
They said they will cooperate on regulatory frameworks, maximising societal benefits of the energy transition, decarbonisation policies, improving the circular economy, and deploying technology such as CCUS.
The declaration also says that they will take action to reduce methane emissions and that China will "phase down coal consumption". However, China did not sign up to the Global Methane Pledge, and neither the US or China signed the agreement to phase out coal last week.
Cassie Flynn, Strategic Advisor on Climate Change at UNDP, said: "The US-China Declaration is a welcome signal in Glasgow. The two countries pledge to act on coal and methane, and to reduce deforestation, which is a boost to wider discussions on climate action. The world needs this relationship to succeed on climate change."
---
COP26 draft document calls for fossil fuel phase out
17:00 – 10 Nov
The draft document from the COP26 negotiations which will outline the key outcomes of the summit was published this morning. The document "calls upon Parties to accelerate the phasing-out of coal and subsidies for fossil fuels" – the first time that a fossil fuel phase out has been mentioned in UN climate change documents. It also called for countries to strengthen their emissions reductions targets by next year, and includes a section on addressing loss and damage due to climate change.
Reaction to the document has been mixed. Bob Ward, Director of Policy and Communications at the Grantham Research Institute on Climate Change and the Environment at the London School of Economics, said: "This draft includes all the key elements of a successful outcome, but there needs to be more ambition and more precision. It is clear that the current set of pledges on emissions are not yet consistent with having a reasonable chance of holding warming to no more than 1.5oC."
Neil Harris, Professor of Atmospheric Informatics, Cranfield University, said: "The current text shows that the world's governments are yet again incapable of addressing this issue. Politics is getting in the way. They seem to be happy if they can get a reduction in warming from 2.7 to 2.4oC agreed at this COP and to leave further decisions for the future. I was hoping for under 2oC by the end of this COP."
There are also concerns that countries such as Australia and Saudi Arabia will push back on the wording in order to water down any commitments on fossil fuel phaseouts. The document is expected to be finalised on Friday, but negotiations could go into the weekend.
---
Supporting technology transfer to developing countries
16:07 – 10 Nov
Today at COP26, several nations – including Germany, Japan, Korea, Spain, and the US – announced funding to support transfer of environmentally sound technologies to developing countries.
The UN Climate Technology Centre and Network (CTCN), which will receive the funding, did not disclose the total amount. CTCN promotes accelerated transfer of environmentally sound technologies for low carbon and climate-resilient development at the request of developing countries.
The funding announcements were made at a meeting in which member nations discussed expanding international technology collaboration to implement Article 10 of the Paris Agreement, which defines the role of technology in addressing climate change. Government representatives focussed on supporting technology transfer to developing nations.
Inger Anderson, Executive Director of CTCN co-host UN Environment Programme, said the CTCN will be central to facilitating the development and deployment of transformative climate technologies.
He added: "However, we have so far only tapped into a fraction of the CTCN's potential. At this critical juncture for climate action, the global community can do a lot of good by strengthening the Technology Mechanism, as climate technology development and transfer offer tremendous opportunities for low-emission growth and resilient societies."
CTCN is the operational arm of the Technology Mechanism, which was established by the Conference of the Parties in 2010 to facilitate enhanced technology development and transfer to developing countries.
---
North Sea can play a greater role in energy transition
11:49 – 10 Nov
Norwegian researchers at COP26 are making three recommendations on how the North Sea can be used to accelerate the energy transition. Delegates from the Norwegian University of Science and Technology (NTNU) and independent research organisation SINTEF recommended that there needs to be a five-fold increase in education, research, and innovation investment now; North Sea countries must collaborate to unlock the potential of the region; and that green energy technologies must not have a negative impact on nature.
The recommendations are based on a new report, The North Sea as a Springboard for the Green Transition.
Nils Røkke, Executive Vice President Sustainability at SINTEF, said: "The IPCC made it clear in August that our future climate depends on the decisions we take now. The countries bordering the North Sea have a unique opportunity to use their knowledge and expertise about the area to implement novel solutions to tackle the climate crisis."
---
Red tape hampers progress on renewables
10:45 – 10 Nov
Speaking to The Financial Times at COP26, Chief Executive of Iberdrola Ignacio Galán said that green energy projects such as offshore wind farms and solar farms are often hampered by red tape. He said that policies should take the "national interest" into account to speed up approval of renewable energy projects, as it is often much quicker to build the facilities than get approval.
---
COP26 short-term pledges put world on track for 2.4C rise, says report
17:36 – 9 Nov
In contrast to a more optimistic snap analysis from the IEA last week that COP26 pledges would lower warming to "only" 1.8oC, Climate Action Tracker (CAT) has released a report today saying that current pledges would result in 2.4oC of warming by 2100.
The Guardian reported that the IEA's assessment is based on long-term goals such as India's announcement to be net zero by 2070, whereas CAT has included short-term goals to 2030.
Bill Hare, CEO of Climate Analytics, a CAT partner organisation, said: "The vast majority of 2030 actions and targets are inconsistent with net zero goals: there's a nearly one degree gap between government current policies and their net zero goals.
"It's all very well for leaders to claim they have a net zero target, but if they have no plans as to how to get there, and their 2030 targets are as low as so many of them are, then frankly, these net zero targets are just lip service to real climate action. Glasgow has a serious credibility gap."
---
New initiatives support global climate efforts
17:26 – 09 Nov
Today, on Science and Innovation Day at COP26, global coalitions of businesses, nations, and scientists, announced new initiatives expected to support existing climate and emissions goals and commitments.
Underlining the importance of science and innovation, the UK Government's Chief Scientific Advisor Patrick Vallance said: "The facts are clear: we must limit warming to 1.5°C. Thanks to science, that is feasible – the technologies are already available. Investment in research and development will deliver new clean technologies, while policies to create markets will ensure they are deployed. At the same time, science will help us adapt to the impacts of climate change we're already seeing around the world and transform our economies. Through research and innovation, we will adjust essential systems and ensure continued safety, security and prosperity."
Read our full story here. 
---
Countries partner to develop low-emissions solutions
16:20 – 09 Nov
Australia and Singapore are cooperating to find low-emissions solutions to overcome climate challenges.
The nations are working together under a memorandum of understanding (MoU), which they signed on 26 October. Under the MoU, they will share technical knowledge and experience, and collaborate on development of new technologies that reduce emissions. Officials from both countries will progress work under the MoU through annual meetings.
During the first of their annual meetings, the countries decided priority areas for cooperation in 2022, including: joint studies on low emissions solutions, such as a hydrogen supply chain study; collaborative research and development (including hosting a joint-research symposium); exploring large-scale renewable electricity trade; and regional emissions measurement, verification, and reporting capacity building efforts.
Priority areas under the MoU also include carbon capture, use, and storage (CCUS), measurement, and hydrogen.
---
ITM Power secures site for second hydrogen electrolyser gigafactory
15:55 – 9 Nov
As science and innovation is one of the themes at COP26 today, energy storage and clean fuel company ITM power has announced an agreement with the University of Sheffield for a site for its second hydrogen electrolyser gigafactory. Its first gigafactory, located at Bessemer Park which is close to the new site, has a capacity of 1 GW/y. The new facility is expected to have a capacity of 1.5 GW/y and will be fully operational by the end of 2023.
Graham Cooley, CEO of ITM Power, said: "The planning and construction of our second, 1.5 GW capacity factory marks the next step on delivering our strategic plan to create a blueprint for an automated PEM electrolyser manufacturing facility to be rolled out internationally. At the same time we are also focused on increasing utilisation and throughput at our Bessemer Park Gigafactory as we prepare for the next step change in capacity."
Sir Roger Bone, Chairman of ITM Power, said: "The opportunity to partner with the University of Sheffield, recognised for its excellence in all aspects of industrial research, will enable both parties to train the next generation of hydrogen engineers and scientists, and continue to grow the company and the economy in the region. I look forward to seeing this relationship develop and prosper in the years ahead"
---
Carbon offsets such as afforestation should only be short-term measure
10:50 – 9 Nov
Myles Allen, Professor from the University of Oxford, spoke at an event yesterday – The Realistic Deployment Potential of Carbon Dioxide Removal – about the different types of offsets and carbon storage. He said that to achieve a durable net zero by 2050, then any remaining fossil fuel use has to be compensated by using direct air capture with long-term geological storage rather than offset with measures such as afforestation.
"We can't turn rocks into trees forever. That can't be said often enough at this COP.
"We have to stop climate change before the world stops using fossil fuels. We don't have time to wait for the world to stop using fossil fuels."
He added that companies and countries can't use fossil fuels until 2049, as that's not compatible with a net zero scenario by 2050 scenario.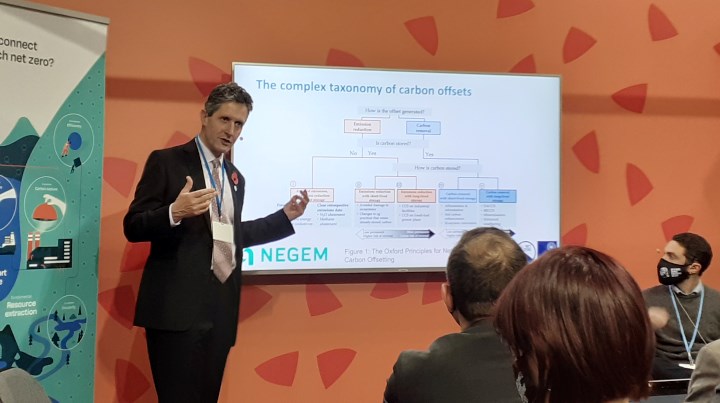 ---
Met Office Chief Scientist speaks about climate risk
10:22 – 9 Nov
Stephen Belcher, Chief Scientist at the Met Office spoke at an event yesterday – Harnessing Climate Science for Adaptation – about the risks associated with climate change.
"Developing understanding of risk and therefore developing resilience requires different communities to come together."
He said that using digital twins is one of the things that can help with adaptation by helping to assess risks.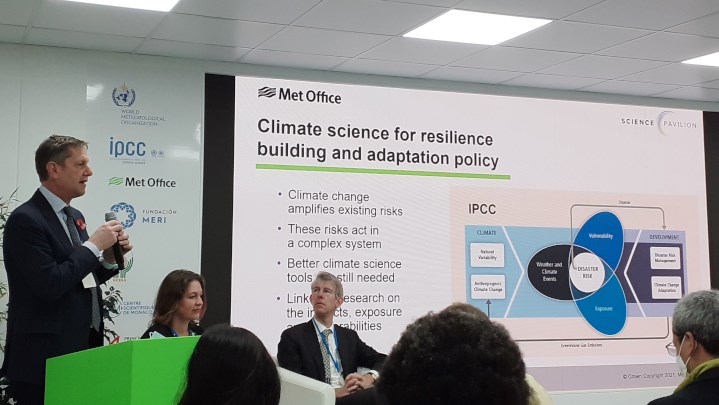 ---
Global call to accelerate decarbonisation of cement and concrete
16:29 – 8 Nov
On 10 November, CEO of the World Cement Association (WCA) Ian Riley will speak at the COP26 Sustainable Innovation Forum to call on governments to take three urgent actions to accelerate decarbonisation of the cement and concrete industry towards net zero and beyond.
According to WCA, the industry is responsible for 7% of the world's carbon emissions. If governments act in the following ways, the association expects that annual CO2 emissions from cement and concrete could be reduced by 900m t/y – or 30% – by 2030:
• promoting the market for low-carbon concrete by encouraging use in publicly-funded building projects;
• reviewing and updating product standards to allow low-carbon concrete to be used in a wider range of application; and
• creating the right market incentives for developing and using low-carbon cement and concrete technologies, via carbon pricing subsidies, or other economic mechanisms.
Riley said: "These measures can be implemented at low cost and will stimulate innovation and rapid scaling of new technologies. For governments looking for effective measures they can take today that will help deliver major and lasting emissions reductions in the next decade, the cement and concrete industry is a great place to start."
To join the session, taking place in-person and online at 10:25 local time on 10 November, register here.
---
Third hottest October on record
13:25 – 8 Nov
As delegates gather to discuss adaption, loss and damage today, the Copernicus Climate Change Service released its data for October 2021. Using measurements from satellites, ships, aircraft, and weather stations around the world, it was revealed that October 2021 was the third hottest October on record. Globally, temperatures were 0.43oC hotter than the 1991–2020 average.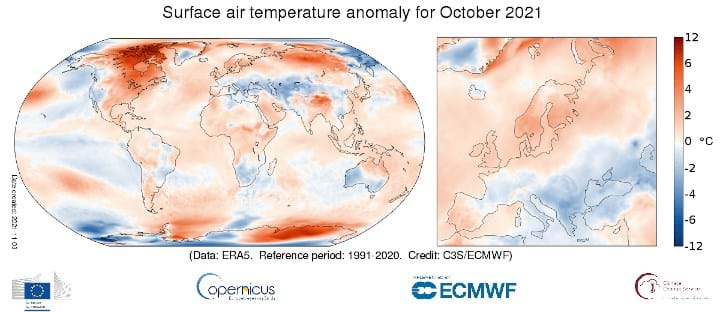 Copernicus Climate Change Service/ECMWF
---
Emma Lovell: a chemical engineer working to address climate change
09:53 – 8 Nov
IChemE has published a series of videos profiling members who are working to address climate change. Here is chemical engineer Emma Lovell of the University of New South Wales, who is identifying methods to produce ammonia sustainably:
---
What's been achieved in week 1 of COP26?
13:05 – 7 Nov
There is a general feeling that while some progress has been made in the first week of the crucial climate summit, a lot more still needs to be done to limit warming to 1.5oC.
While there have been promises made on reducing methane emissions, ending deforestation, and phasing out coal, there are concerns that they are not enough. Poland signed up to the commitment to phase out coal power by 2040, but backtracked a day later to say it would phase out coal by 2049. Australia, the US, and China didn't sign the agreement in the first place. Fatih Birol, Executive Director of the IEA, told The Financial Times that the Paris Agreement is at risk if some of the biggest coal users shun the agreement.
On Saturday, 100,000 protestors took to the streets of Glasgow to express their frustration and anger at the lack of progress. Hundreds of other protests took place all over the world. There has been a lot of anger in particular over the exclusion of activists from COP26's blue zone, where negotiations take place, as well as indigenous groups saying their voices are not being heard.
The BBC reported that negotiators are getting nervous going into the second week, as there could be a standoff on issues such as climate finance, while Business Green reported that despite some cautious optimism after the first week of announcements, there are still a lot of hurdles to overcome.
---
Engineering real solutions for climate action
12:13 – 7 Nov
IChemE co-hosted an event at COP26 yesterday – Engineering Real Solutions for Climate Action – which was organised by Future Climate – Engineering Solutions (FC-ES). The panel was chaired by Alana Collis, IChemE Learned Society and Policy Manager and Co-chair of FC-ES. The panel consisted of Beatriz Fernandez, Associate Programme Management Officer UNEP and Co-chair of FC-ES; Jonathan Symonds, Managing Director, Products Division at Cambustion; and Kurt Emil Eriksen, Senior Political Advisor at VELUX Group.
Fernandez explained the work of FC-ES, which helps policymakers by translating climate and energy science and data into clear plans for action. Symonds spoke about its work on the UK Energy Plan – currently at editing stage – which aims to show policymakers how net zero emissions can be achieved. He said that the plan aims for 70% emissions reduction by 2030 compared to 1990 levels, in contrast to the UK Government's target of 78% which he said was too ambitious. However, the plan still delivers net zero emissions by 2050. Eriksen then spoke of the Danish Energy Plan, which has already been used in dialogue with government and as an input to the NDC.
Symonds added that he was surprised at how little engineers are represented at COP26, given that they are needed to solve many of the problems surrounding decarbonisation.
Fernandez said: "If you are an engineer and you are keen to be involved in the climate agenda, you have a very important role to play. I would encourage you to engage and to find a way to help governments in achieving their NDCs, because action is critical."
---
Gas has no place in 1.5oC world, says report
17:30 – 5 Nov
Following on from the pledges yesterday to phase out coal, a report from Climate Analytics – Why Gas is the New Coal – has cautioned that natural gas use needs to drop by at least 30% by 2030 from 2020 levels to be compatible with the 1.5oC scenario.
Bill Hare, lead author and CEO of Climate Analytics, said: "Natural gas is not a bridging fuel. It is a fossil fuel. Gas is the new coal, and just as we see all these announcements today in Glasgow from governments pledging to get out of coal, we have to ask the question: 'why are they not also targeting gas?' Governments, investors and the financial sector must treat it the same way as they do coal: phase it out as soon as possible."
---
Just transition is key to energy transition
17:10 – 5 Nov

IChemE has taken part at an event at COP26 today, with Alana Collis, IChemE Learned Society and Policy Manager, participating in a panel discussion on Voices of a Just and Green Transition – Youth, Workers and Private Sector.
Collis spoke of the importance of collaborating with other institutions, industry, and academia, as sharing knowledge is key to achieving a just transition.
Samantha Smith, Director of the ITUC Just Transition Centre, said that "whether we like it or not, we have to find ways to deal with this change". She gave the example of former coalminers in the UK who would speak of how unjust a transition can be, and warned that history has made workers very suspicious of the word "transition". She also highlighted that a transition can be done well, citing Denmark building up its renewable energy industry on the back of its ship-building industry.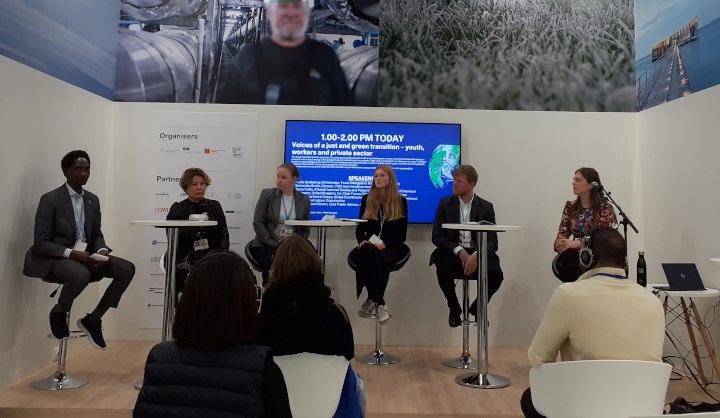 Smith and Moustapha Kamal Gueye, Global Coordinator Green Jobs at International Labour Associations, also highlighted that as well as the quantity of green jobs needed, it is important that they are quality secure jobs with high safety standards. Collis added that process safety and sustainability are embedded in chemical engineering education from day one.
Nadia Gullestrup Christensen, Youth Delegate to the UN from Denmark, said that the energy industry has a problem with gender balance and that it is important to get information to young people so that they can make informed career decisions, as well as having role models for young people.
Emil Damgaard Grann, Lead Public Affairs Advisor at Orsted, highlighted that to have to the skills in place for green jobs in ten years' time, work needs to begin now to train and retrain people.
---
Companies unveil clean energy export project
11:28 – 5 Nov
A project unveiled at COP26 describes harnessing renewable energy to produce clean energy products for export to decarbonise fuel-heavy and hard-to-abate industries.
The project would use 10 GW of energy from floating offshore wind to power offshore installations to produce green hydrogen for onward transmission to a net zero hydrogen refinery on Shetland, Scotland. The refinery, powered by floating offshore wind, would produce a range of zero-carbon energy solutions for local consumption and export around the world. The project could start from 2030.
It was announced by "planet-positive" investor Aker Horizons' portfolio companies Aker Offshore Wind and Aker Clean Hydrogen, and assurance and risk management expert DNV. The companies are now embarking on a consultation project with governments and businesses to mature the project towards a future investment decision.
Sian Lloyd-Rees, Managing Director of Aker Offshore Wind UK, said: "Such innovation and private sector investment are key to meeting the UK and Scotland's net zero targets and delivering the unprecedented ambition on display here in Glasgow at COP26."
---
New study says half of fossil fuel assets could be stranded by 2036
08:30 – 5 Nov

A study on climate policy action published in Nature Energy yesterday has estimated that US$11–14trn worth of fossil fuel assets could be become stranded by 2036 if people keep investing in fossil fuels as the world transitions to clean energy.
Jean-Francois Mercure, lead author of the study and Senior Lecturer at the University of Exeter, UK, said: "The costs and benefits of decarbonisation and related politics have been misunderstood and misrepresented for some time. In fact, the green transition is well under way, whether people realise it or not, and those politics are already at play. Decarbonising is traditionally seen as expensive, but it really depends on how much high-carbon industry each country has to lose, versus how much can be gained in new technological sectors."
---
Group calls for green hydrogen standard
08:15 – 5 Nov
According to Business Green, the Green Hydrogen Organisation (GH2) has started a collaborative effort with governments and industry to help to develop a new standard for green hydrogen.
GH2 – a not-for-profit organisation formed in September – launched the plans to establish a green hydrogen standard at COP26, ahead of a meeting next month in Geneva which will attempt to define new guidelines.
The aim of the standard is to guarantee that green hydrogen is produced using renewable energy to provide certainty and transparency to investors and stakeholders.
---
IEA to track climate pledges
15:15 – 4 Nov
Speaking at an event at COP26, Executive Director of the International Energy Agency Fatih Birol said that the IEA has been tasked by the COP Presidency to monitor climate targets of different countries. The IEA will take up the role next year.
Birol said that the IEA had already updated its models with the new climate pledges made at COP26, as well as the Global Methane Pledge, and that according to the updated model the world is on track for 1.8oC  of warming.  
---
Countries commit to shift away from coal
10:09 – 4 Nov
Some of the world's largest coal-using nations have agreed to phase out the use of coal power, the UK Government says. This includes Poland and Vietnam, who are among the world's largest users of the fossil fuel, which countries must cease burning to alleviate climate change.
The UK said the agreement commits countries in major economies to phase out coal power in the 2030s and the rest of the world in the 2040s. Though it's reported that the world's largest coal-using economies including China, India, Australia and the US are not involved in the deal. Separately, China, Japan and Korea, the three largest public financiers of coal have committed to funding overseas coal-fired generation by the end of 2021.
UK Business & Energy Secretary Kwasi Kwarteng said: "The world is moving in the right direction, standing ready to seal coal's fate and embrace the environmental and economic benefits of building a future that is powered by clean energy."
Juan Pablo Osornio, head of Greenpeace's delegation at COP26, said: "Overall this statement still falls well short of the ambition needed on fossil fuels in this critical decade," the BBC reports.
---
Brett Longstaffe: a chemical engineer working to address climate change
09:15 – 4 Nov
IChemE has published a series of videos profiling members who are working to address climate change. Here is Brett Longstaffe, Reactor Systems Design Lead at Rolls-Royce, who is developing novel small modular nuclear reactors:
---
Hydrogen Council calls on policymakers to back hydrogen investment
17:25 – 3 Nov
The Hydrogen Council CEO coalition has called on policymakers at COP26 to support the development of the hydrogen economy.
It has published two reports – Hydrogen for Net Zero and Policy Toolbox for Low Carbon and Renewable Hydrogen – which it says will help to create policy frameworks for renewable and low carbon hydrogen.
Daryl Wilson, Executive Director of the Hydrogen Council added: "Put simply – there is no climate solution without hydrogen. We know from past experiences with technologies such as wind and solar that frontloading investments and policy support in early market development phase can bring down costs quickly, enabling deployment at pace and scale. Our new reports not only define how hydrogen can grow into an economy-wide solution by 2050, but offer practical recommendations on how to get there: by ramping up investments within the next decade, underpinned by efficient policy design."
---
Dow's plans to decarbonise
11:17 – 3 Nov
Writing for Business Green, Marco ten Bruggencate, Commercial Vice President for Packaging & Specialty Plastics EMEA at Dow, says that Dow has many projects under way to decarbonise its operations.
Published to coincide with COP26, he writes about Dow's construction of a clean hydrogen plant, plans to build a net zero carbon emissions integrated ethylene cracker, a partnership with Shell on electrified cracking technology, and sourcing sustainable feedstocks.
---
Marianne Ellis: a chemical engineer working to address climate change
10:44 – 3 Nov
IChemE has published a series of videos profiling members who are working to address climate change. Here is Marianne Ellis, Head of the Department of Chemical Engineering at the University of Bath, UK, who is developing sustainable meat substitutes:
---
IChemE attendance at COP26
09:51 – 3 Nov
IChemE representatives are speaking at three events at COP26:
Today, at 11:30–12:45 GMT, IChemE and the Danish Society of Engineers (IDA) are hosting an event titled Climate Action, Resiliency, Ecosystem Restoration and Future Climate Engineering Solutions. Speakers include Stefaan Simons, who was a member of the core writing group for IChemE's position statement on climate change, and Alana Collis, IChemE Learned Society and Policy Manager.
On 5 November at 13:00–14:00 GMT, IChemE will take part in an event titled Voices of a Just and Green Transition – Youth, Workers and Private Sector. This will discuss why a just transition is important in achieving global climate goals and how young people can prepare for the future. For more on these topics read our Just Transition Explainer, survey of members working in oil and gas, and Career Paths profiles.
On 6 November at 16:00–17:00 GMT, IChemE has helped organise an event called Evidence-based, Deliverable National Energy Scenarios that Help Deliver Agreed NDCs. A network of professional engineering associations called Future Climate – Engineering Solutions has developed a peer-reviewed framework methodology to produce clear, science-based, actionable climate plans to support governments and policymakers in meeting their climate goals. This event will present the methodology, example national energy and climate plans developed by engineers, and discuss the processes involved.
IChemE representatives plan to write a blog about their experiences at COP26. We'll share this once it's published.
---
Launch of Global Methane Pledge
16:30 – 2 Nov
The Global Methane Pledge – an initiative that was announced in September by the US and EU – has launched today at COP26. The pledge has been signed by 105 countries which have committed to reducing methane emissions by at least 30% by 2030 compared to 2020 levels.
US President Joe Biden said: "One of the most important things we can do in this decisive decade is — to keep 1.5 degrees in reach — is reduce our methane emissions as quickly as possible." In addition, the US announced its Methane Emissions Reduction Action Plan detailing how it would cut methane emissions.
Fatih Birol, Executive Director of the International Energy Agency said that if the pledge was fulfilled it would be the equivalent of decarbonising the entire global transport sector.
Lauren Pagel, Earthworks Policy Director, said: "The pledge is important because the world's nations are acknowledging methane pollution is a globally important issue. But our field inspections of oil and gas operations prove that pledges are just words on a page without concrete action to make them real."
Three climate scientists writing for Carbon Brief used models to show how methane cuts will help to make a difference in the near future, but also warned that reductions of 50% by 2030 will likely be needed.
---
Partners announce FID for Moomba CCS
16:14 – 2 Nov
Santos and joint-venture partner Beach Energy have announced a final investment decision on the A$220m (US$164.1m) Moomba carbon capture and storage (CCS) project in South Australia.
Expected to be one of the biggest and lowest-cost carbon reduction projects in the world, Moomba CCS will capture and store 1.7m t/y of CO2 in former oil and gas reservoirs, with a forecasted full lifecycle cost of less than US$24/t of CO2 (including cash costs in operation of US$6–8/t of CO2). First injection is targeted for 2024.
Read our full story here. 
---
Partnership of governments to ensure just transition for South Africa
15:40 – 2 Nov
A partnership has been announced at COP26 between the governments of South Africa, UK, US, France, Germany, and the EU to support South Africa's decarbonisation plans. The Just Energy Transition Partnership aims to help South Africa achieve the goals in its Paris Agreement pledge through US$8.5bn in financing. It expects to support South Africa's transition away from coal and prevent up to 1.5bn t of emissions over the next 20 years.
US President Joe Biden said: "Right now South Africa is the largest emitter in Africa due in large part to the heavy reliance on coal for power. By closing South African coal plants ahead of schedule and investing in clean power alternatives for the people of South Africa and supporting an equitable and inclusive transition in South Africa's coal sector, we are following through on the pledge the G7 partners made in Cornwall to accelerate the transition away from coal in developing countries."
South Africa President Cyril Ramaphosa said: "South Africa welcomes the commitment made in the Political Declaration to supporting the implementation of our revised Nationally Determined Contribution, which represents our country's ambitious effort to support the global battle against climate change.
"We look forward to a long-term partnership that can serve as an appropriate model of support for climate action from developed to developing countries, recognising the importance of a just transition to a low carbon, climate-resilient society that promotes employment and livelihoods."
---
International plan to accelerate development of affordable clean technology
14:48 – 2 Nov
World leaders at COP26 have announced an international plan to accelerate the development of clean technology and ensure it is affordable and accessible across the world.
More than 40 world leaders have signed up to the Breakthrough Agenda, which aims to ensure that countries and businesses coordinate to scale up and accelerate the development and deployment of clean technology. The group wants to drive down costs this decade, to make clean technology the most attractive choice, particularly for developing nations.
Five goals have been set out – called the Glasgow Breakthroughs – which cover power, road transport, steel, hydrogen, and agriculture. The Glasgow Breakthroughs want clean power to be the most affordable and reliable for all countries, zero-emissions steel production established in every region, and affordable access to low-carbon hydrogen globally by 2030.
UK Prime Minister Boris Johnson said: "By making clean technology the most affordable, accessible and attractive choice, the default go-to in what are currently the most polluting sectors, we can cut emissions right around the world.
"The Glasgow Breakthroughs will turbocharge this forward, so that by 2030 clean technologies can be enjoyed everywhere, not only reducing emissions but also creating more jobs and greater prosperity."
---
More red colours needed on climate graph as world warms
11:59 – 2 Nov
The BBC has reported that a graph which is commonly used to represent our warming planet is going to need more colours.
The "warming stripes" graphic was developed in 2016 by Ed Hawkins, Professor of Climate Science at Reading University, as a way to visualise how the world has warmed since pre-industrial times. Each line represents a year, and the colour represents the average temperature for that year. Blue shows colder years and red shows warmer years.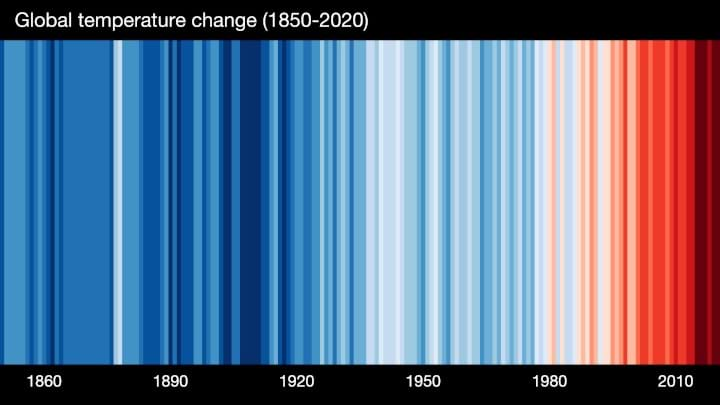 Ed Hawkins (University of Reading)
Hawkins told the BBC that the graphic will need more colours to represent future years and that the choices made at COP26 will determine how dark the colours get.
---
Past seven years warmest on record
10:20 – 2 Nov
The World Meteorological Organization (WMO) released its provisional State of the Global Climate report for 2021 to coincide with COP26. It said that the past seven years are on track to be the warmest on record, and that global sea level rise is accelerating.
António Guterres, UN Secretary General, said: "The provisional WMO State of the Global Climate 2021 report draws from the latest scientific evidence to show how our planet is changing before our eyes. From the ocean depths to mountain tops, from melting glaciers to relentless extreme weather events, ecosystems and communities around the globe are being devastated. COP26 must be a turning point for people and planet."
Petteri Taalas, WMO Secretary General, said: "At the current rate of increase in greenhouse gas concentrations, we will see a temperature increase by the end of this century far in excess of the Paris Agreement targets of 1.5 to 2oC above pre-industrial levels. COP26 is a make-or-break opportunity to put us back on track."
---
Amrit Chandan: a chemical engineer working to address climate change
09:49 – 2 Nov
IChemE has published a series of videos profiling members who are working to address climate change. Here is Amrit Chandan, CEO of Aceleron, who is redesigning batteries to accelerate a global shift to cleaner energy:
---
Solvay announces plans for carbon neutrality by 2050
17:42 – 1 Nov
Solvay has announced its plans for achieving carbon neutrality before 2050, building on 2030 targets set out in the company's sustainability roadmap, Solvay One Planet.
With this, the company noted €2bn (US$2.32bn) of investment that it expects to make towards this goal.
Read our full story here.
---
New Zealand updates climate pledge, but critics say it uses 'creative accounting'
15:58 – 1 Nov
New Zealand has submitted its updated Paris Agreement pledge (known as a Nationally Determined Contribution – NDC), saying that it aims to cut emissions by 50% by 2030, up from its previous goal of a 39% cut compared to 2005 levels.
Prime Minister Jacinda Ardern said: "New Zealand's enhanced contribution to the global effort to fight climate change now represents our fair share, and is in line with what's needed if we are to avoid the worst impacts of global warming on New Zealand.
"Climate change is a priority for the Government because it's a threat to our economy, our environment and our everyday lives. Lifting our commitment is an investment in a stable climate that will benefit us all in the future.
"While we are a small contributor to global emissions, as a country surrounded by oceans and an economy reliant on our land we are not immune to the impact of climate change, so it's critical we pull our weight."
Minister of Climate Change James Shaw said: "To meet our new NDC the first priority will be to reduce emissions at home – and to do so in a fair and equitable way. This will be driven by the Emissions Reduction Plan we will publish next year."
However, the NDC has also been met with some criticism, according to New Zealand news website Stuff. It reported that two-thirds of the emissions reductions could come from purchasing climate offsets, rather than actually cutting domestic emissions. Lawyers for Climate Action called the NDC "creative accounting": "The climate does not care about our clever accounting choices, it cares about the level of net emissions."
---
Mary Stewart: a chemical engineer working to address climate change
15:19 – 1 Nov
IChemE has published a series of videos profiling members who are working to address climate change. Here is chemical engineer Mary Stewart, who is an observer to the processes of the United Nations Framework Convention on Climate Change (UNFCCC):
---
IChemE communities publish climate change action plans
14:38 – 1 Nov
IChemE's special interest groups (SIGs), member groups (MGs) and other member communities have developed action plans on how chemical engineers can help mitigate climate change.
Examples include: Representatives from oil and gas sectors have noted the promise for electrification to decarbonise power and heating in industrial operations, and plugging oil wells in a way so that fields can be used in the future to store captured emissions. Commitments include developing a programme of events to raise awareness and increase member knowledge on key technologies related to emissions reduction. Educators will conduct a gap analysis to and help embed sustainability more strongly in chemical engineering degree courses.
For the full list of commitments including from communities related to food, palm oil, mining, nuclear, and safety, read the action plans here.
---
Scotland needs to move away from oil and gas, says First Minister
14:26 – 1 Nov

Scotland's First Minister Nicola Sturgeon has said that COP26 should be uncomfortable for anyone in a position of leadership as not enough is being done to deal with the climate crisis, The Guardian reported. Speaking at a side event hosted by WWF, she commented on the challenge of phasing out oil and gas production in Scotland.
"For a country like Scotland, tens of thousands of jobs depend on oil and gas. But that can't be an excuse for saying, 'let's just keep going with oil and gas indefinitely', because that's catastrophic for the planet. Facing up to that is our biggest challenge, working out how we move away from it as quickly as possible. We're trying to create the alternative jobs so we're not leaving people on the scrapheap.
"If we only face up to the relatively easy things, we won't get anywhere. This has to be a moment that leaders, all of us, around that negotiating table, are held to account for the reality of what we promised.
"What can everybody do? Make life really uncomfortable for any government, any leader, that's not doing enough. At times that will be my government, and rightly so. We've all got to be pushed much harder, much faster."
---
Boris Johnson launches initiative for global 'green industrial revolution'
13:55 – 1 Nov
UK Prime Minister Boris Johnson has launched an initiative at COP26 to help developing countries take advantage of green technologies. Last year, the UK Government published its plan for a "green industrial revolution", and it has now announced that it wants to support a global green industrial revolution.
The UK will double its funding for green investments in developing countries to £3bn (US$4.1bn) over the next five years. The funding is intended to kickstart the UK's new Clean Green Initiative (CGI) which aims to help scale up public and private investment in sustainable infrastructure around the world.
Johnson said: "I want to see the UK's Green Industrial Revolution go global. The pace of change on clean technology and infrastructure is incredible, but no country should be left behind in the race to save our planet.
"The climate has often been a silent victim of economic growth and progress – but the opposite should now be true. Through the Clean Green Initiative, we can help to build back better and greener from the pandemic and put the world on the path to a more sustainable future."
---
IChemE's Climate Change Position Statement: A Year On
13:37 – 1 Nov
IChemE published its position on climate change in 2020 following consultation with members. Alexandra Meldrum, Vice President of IChemE's Learned Society, said: "This recognised that chemical engineers are uniquely placed to help reverse the catastrophic impacts humans are currently imposing on the life support systems of our planet. The statement contained a number of commitments and initiatives for IChemE, and working groups are now progressing with the actions identified."
You can watch a video below of Andrew Jamieson and Mary Stewart from the Climate Change Commitments Delivery Group discuss the progress made by IChemE since the launch of the climate change position statement. And you can read the climate change position statement here.
Jamieson said: "At this exciting and critical time…I would encourage everyone in whatever way, please give yourself some time and make the effort to make a contribution to these commitments."
---
84% of young professionals want low-carbon energy prioritised
12:58 – 1 Nov
Professional services company GHD, which is one of IChemE's Bronze Corporate Partners, has announced the results of a survey of young professionals which was made during the run up to COP26. The participants were 370 GHD employees aged under 35 who are working to engineer decarbonisation solutions. The survey found that 84% think governments and businesses aren't doing enough to prioritise low-carbon energy technologies, 69% said the speed of the current clean energy transition is slow, and 47% said that green renewable energy should be the highest priority, ahead of future clean fuels such as hydrogen CCUS.
Tej Gidda, Global Leader – Future Energy at GHD, said: "It's absolutely crucial that we make the next decade count to rapidly decarbonise our energy systems, and the findings of this survey suggest that more still needs to be done. GHD's young professionals and future leaders strongly believe that collaboration is the one key ingredient needed to fulfil our global targets, and we hope to see this achieved at COP26. Without dramatic action, we face a major tipping point with potentially devastating effects.
"Renewable and storage technologies to achieve this clean energy scenario exist – but enabling international policy and frameworks must be put in place to accelerate economically viable business cases for industry and the private sector to better participate in the green economy. Both businesses and governments need to attract investment and engage communities in their early and active transition agenda, painting a picture of what a renewable future looks like and how to get there."
GHD also published a series of insight papers from engineers, scientists, and others on how to make the next ten years really count towards limiting warming to 1.5oC.


---
Members of Chemical Industries Association make pledge for climate action
12:28 – 1 Nov
Member companies of the Chemical Industries Association (CIA) have announced that they aim to halve their CO2 emissions by 2034, with emissions reducing 90% by 2050. This will require actions such as increased access to hydrogen, CCUS, and clean energy.
CIA Chief Executive Steve Elliott said: "This collective ambition by our member companies is another positive demonstration of the chemical industry's desire to support the fight against climate change. It is a fight that cannot be won without our products and solutions. But we can do even more and do it quicker for the country if the Government were to further increase its level of support and deliver a more business-friendly policy environment. That should start now with a green light for all UK regional cluster carbon capture projects and taking a fresh look at the nation's energy policy which continues to disadvantage the very industries that are essential in delivering on both levelling up and net zero". 
---
Little progress on climate made at G20
12:07 – 1 Nov
COP26 co-host Italy held the G20 meeting in Rome over the weekend, just prior to the UN conference in Glasgow. The G20 countries are responsible for around 80% of global emissions, and it was hoped that some action on climate policy would made at the meeting, which would help to ensure a more successful outcome at COP26.
According to The Financial Times, the G20 leaders pledged to end financing coal power overseas, but didn't make any promises on ending coal power in their home countries. The Guardian reported that they agreed that action must be taken to limit warming to 1.5oC, but it pointed out that no new concrete commitments were made. There was no commitment in the final statement about net zero emissions by 2050, instead saying that the target would be reached by "mid-century".
---
International Energy Agency launches new resource to track energy transition
15:29 – 29 Oct
The IEA has launched a new resource ahead of COP26 which brings together key energy and emissions indicators to provide an overview of progress being made towards net zero emissions. The hub is designed to help governments, companies, investors, and citizens to keep track of global efforts to move towards a low-carbon energy future.
Fatih Birol, IEA Executive Director, said: "Governments have set out ambitious goals but we aren't seeing anywhere near enough policy action and actual investment to rapidly roll out the technologies we need to get the planet on track to achieve net zero emissions. The IEA's new Clean Energy Transitions Indicators hub will provide an invaluable tool for anyone who wants to cut through the rhetoric and see what the data tell us about where things stand with global efforts to move towards a clean energy future."
---
China submits new Paris Agreement pledge, but with little improvement
14:49 – 29 Oct
China has submitted its new Nationally Determined Contribution (NDC) just ahead of COP26. Last year, Chinese President Xi Jinping announced the country's ambitions to be net zero by 2060 – a  move that was largely welcomed – however the new Paris Agreement pledge has been criticised for not containing enough new ambitions.
Xi Jinping has also confirmed that he will participate in the talks via video link.
---
Almost 3,000 coal plants need to close by 2030
12:19 – 29 Oct
An analysis by NGO TransitionZero has calculated that 2,925 coal-fired power plants need to be retired, retrofitted, or converted by 2030 if the world is still to have a chance of keeping to the 1.5oC target. This equates to halving the current global capacity of just over 200 GW to just over 100 GW.
The analysis says that new investments in renewables are already cheaper than new coal plants and that it is cheaper to build new renewable capacity than continue operating existing coal facilities. In 2020, 22% of coal plants cost more to run than to develop new renewables. This has been exacerbated by the current energy crisis and TransitionZero estimates that in 2021, 64% of coal plants could be more expensive to run.
"Given changes to trade policy and investor expectations, as well as continued long-term deflationary trends in zero carbon technologies, world leaders would do well to set clear short-term targets to ensure unabated coal electricity is phased out by 2030 in advanced economies and globally by 2040. Failure to do so will not only risk missing the 1.5oC target, but also undermine the competitiveness of their economies in the 21st century. For these reasons, governments must make COP26 the end of coal."
---
We must avoid climate 'tipping points', warns Sir David Attenborough
10:49 – 29 Oct

---
Organisations call for COP26 negotiators to consider mining impacts
10:30 – 29 Oct
A group of 141 human rights and environmental organisations has issued a joint statement calling on COP26 negotiators to ensure that the clean energy transition does not rely on unsustainable mining.
The signatories say that they support a just and rapid transition away from fossil fuels, but have concerns over the impacts of mining for lithium, cobalt, nickel, and copper which are needed for renewable energy technologies. They note that mining has many detrimental effects including environmental destruction, water contamination, human rights abuses, violent conflict, and unsafe working conditions.  
They called for a transition away from irresponsible mining and asked COP26 policymakers to make a binding agreement to source minerals responsibly.
---
Senior science advisors issue statement to policymakers ahead of COP26
15:38 – 28 Oct
A group of chief scientists and presidents of national science academies has issued a statement to world leaders calling on them to act at COP26.
They highlighted that the scientific case for urgent climate action is unequivocal, particularly following the recent IPCC report. Modelling indicates that with every fractional increase in warming, devastating weather events will get worse and become more frequent. The science also says that it is still possible to limit warming to 1.5oC.
The statement said stabilising the climate must start with rapid scale up and deployment of technologies. "Successfully mitigating climate change also requires intense international collaboration on research and innovation to develop and deliver new solutions across all sectors of the global economy. There is an urgent need for enhanced methods of creating, storing and using low-emissions energy – including improving semiconductors, batteries and low-emitting fuel production – as well as work on heating and cooling, and carbon capture and storage."
The group calls on policymakers to: develop ambitious scientific evidence-based long-term strategies which demonstrate efforts to keep the 1.5°C temperature goal alive; increase international collaboration to accelerate R&D, demonstration, and deployment of effective mitigation and adaptation solutions; and establish programmes to strengthen global research and innovation capacity.
---
Fossil fuel projects awaiting approval in the UK would emit 1bn t of emissions
15:09 – 28 Oct
Despite the IEA's warning that no new fossil fuel developments can occur if the world is to stay on the 1.5oC pathway, the COP26 host country has 40 oil, gas, and coal projects awaiting approval.
A report by Friends of the Earth found that there are 30 offshore oil and gas projects seeking or expected to seek approval by 2025, seven onshore oil and gas projects, and three coal mines. If all of these were approved, it would produce 1.3bn t of CO2e.
The report also highlighted the US$1.15bn that the UK Government has pledged to support an offshore LNG project in Mozambique, which would release an estimated 3.3–4.5bn t of CO2 over the lifetime of the project.
Recommendations in the report include ruling out new fossil fuel extraction projects that haven't already received development consent, ending financial support for fossil fuels, setting a timescale to phase out production from existing fossil fuel projects, and ensuring that there is a just transition plan so that oil and gas workers don't bear the burden of the transition.
---
UK budget criticised for not mentioning climate
12:14 – 28 Oct
Just days before the COP26 summit, UK Chancellor Rishi Sunak announced the budget and spending review for this year, but has come under criticism for failing to even mention climate. While he announced that £1.7bn (US$2.3bn) of funding has been allocated to a new nuclear power plant (likely to be Sizewell C according to The Guardian), the Chancellor also announced a cut in air passenger duty for domestic flights. Domestic air travel is already much cheaper than train travel. Other controversial decisions include maintaining the freeze on fuel duty and investing £21bn in roads.
Sam Alvis, Head of Green Renewal at Green Alliance, said: "The Chancellor's approach to climate is increasingly difficult to understand. Just days away from a vital climate conference championed by the Prime Minister, Rishi Sunak barely mentions net zero and encourages people to fly around the UK rather than take the train. The measure on air passenger duty will even cost the Treasury money rather than boost its revenue."
Caroline Lucas, Green Party MP, said: "The climate-shaped hole at the heart of this budget couldn't be more glaring. One wonders if he's even checked the calendar because when he goes to Glasgow to meet fellow finance ministers next week, he will be going empty-handed, with nothing to offer on the climate crisis.
"This wasn't just a failure to address the climate emergency.  With more money for roads, and with short haul flights cheaper, it actually took us backwards. It's hard to think of a greater dereliction of our responsibility as COP hosts."
Business Green has rounded up further reactions from the green economy.
---
Oil and gas workers have their say on the just transition
10:21 – 28 Oct
Oil and gas workers have called for more training, better policies, and for employers to appreciate the skillsets of current staff, according to an IChemE member survey on the impacts of the energy transition.
The energy transition – where there is a shift from fossil fuels to renewables – is already under way in many countries. However, transitioning to net zero in a manner that is fair to those employed in sectors such as oil and gas is not always given consideration. A "just transition" is where highly skilled people in heavy carbon industries are retrained for greener industries rather than being made redundant. It should also ensure that communities aren't left devastated by the closure of facilities. We asked members of IChemE's Oil and Natural Gas Special Interest Group (SONG) to fill out an anonymous survey on their thoughts and experiences of the just transition.
Read what they had to say here.
---
How to build success at COP26 – a LEGO guide
10:12 – 28 Oct
LEGO has issued a ten-step handbook for its latest ambitious project: Building Instructions for a Better World. The booklet has been released ahead of COP26 and makes ten requests of policymakers based on research and workshops conducted with more than 6,000 children around the world.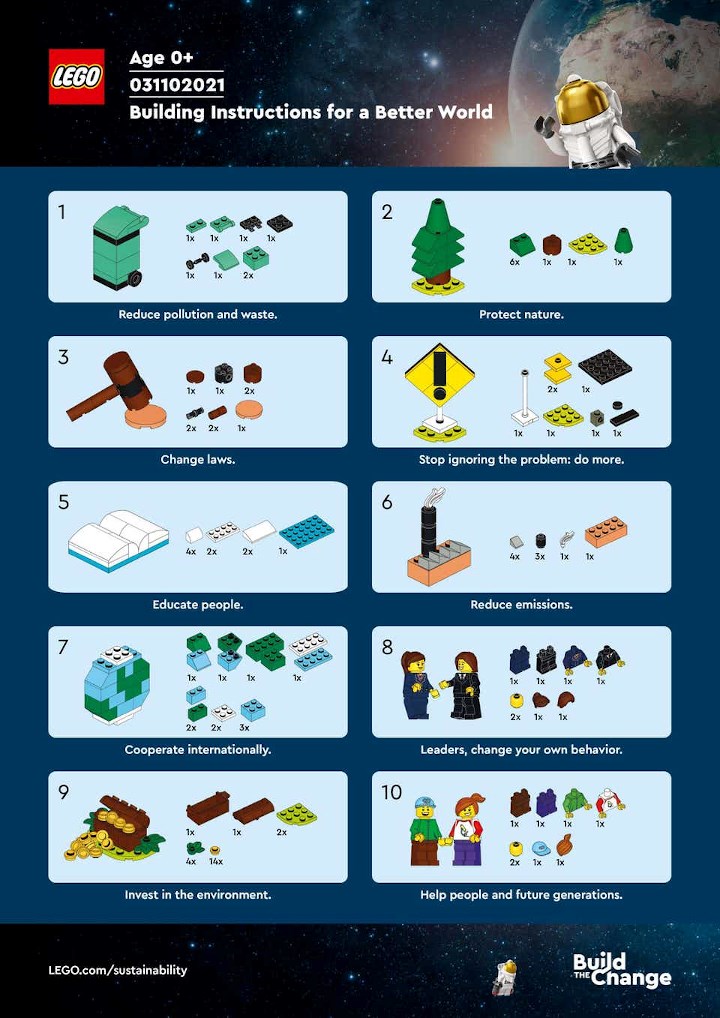 The LEGO Group hopes that the instructions will remind policymakers of their responsibility to the next generation. The research also found that 60% of children believe it's not too late to save the planet if changes are made now, 68% want a job that won't harm the environment, and 11% think about environment daily.
---
UK's green jobs skills gap needs to be addressed, says report
16:58 – 27 Oct
A report from the cross-party Environmental Audit Committee has expressed disappointment at the UK Government's policy on green jobs. It pointed out that despite the Government's pledges on creating green jobs, it has yet to even define what a green job is, let alone release detailed plans.
The report, Green Jobs, welcomed the Government's aim to have 2m green jobs by 2030 and noted that the report from the Green Jobs Taskforce provided a good foundation on how such a workforce can be created. It said that what is needed now is a detailed plan on how this will happen.
One of the recommendations from the Green Jobs Taskforce was for a "Green Jobs Launchpad" to coincide with UK's COP26 Presidency.
Read our full story here.
---
World still on track for 2.7oC of warming, UN report warns
15:46 – 27 Oct
The UN Environment Programme (UNEP) has released its annual Emissions Gap Report, saying that current pledges under the Paris Agreement are nowhere near enough to limit warming to 1.5oC.
The report says that the emissions gap between what is pledged by each party under the Paris Agreement – known as a Nationally Determined Contribution (NDC) – and the emissions cuts needed by 2030 to stay on track to limit warming to 1.5oC is still extremely large.
The updated NDCs only reduce predicted emissions by 2030 by 7.5% compared with the previous round of NDCs (submitted five or six years ago when the Paris Agreement was signed). However, a cut of 55% in emissions – which amounts to 28bn t/y CO2e by 2030 – is needed to stay on track to 1.5oC.
Read our full story here.
---
Blue hydrogen will do nothing to combat climate change, says Andrew Forrest
13:17 – 27 Oct
In an interview with The Financial Times ahead of COP26, Andrew Forrest, Founder and Chairman of mining company Fortescue Metals Group, has criticised the oil and gas industry for promoting blue hydrogen as a clean fuel. Blue hydrogen refers to hydrogen produced from natural gas but with carbon capture and storage (CCS).
Forrest said that blue hydrogen is Big Oil's "last stand" and that it would do nothing to help the global carbon budget due to the fugitive methane emissions associated with natural gas extraction.
Forrest is working to reinvent Fortescue as a green hydrogen company – producing hydrogen with electrolysis – with an aim of producing 15m t/y by 2030.
He is planning to lobby leaders at COP26 for a hydrogen classification system so that only green hydrogen will be classed as a clean fuel.
---
UN guide to COP26 acronyms
09:59 – 27 Oct
The UN has released a glossary of the various terms and acronyms used in association with COP26. If you're unsure on the meanings of NDC, SDG, and IPCC, read their guide to find out more.
---
Australia releases 'technology-driven' plan for net zero
16:58 – 26 Oct
The Australian Government has announced a target to reach net zero emissions by 2050 via "technology not taxes". However, the long-awaited plan does not include any legislation or targets for reducing fossil fuel use, and partially relies on future technologies.
The Government claims that its priority low-emissions technologies will result in 85% of emission reductions to reach net zero by 2050. The remaining 15% will be covered by new and emerging technologies.
The announcement has been met with strong criticism, particularly as it lacks any detail or modelling on how net zero will be reached.
Read our full story here.
---
Boris Johnson admits COP26 success chances are 'touch and go'
16:14 – 26 Oct
The Guardian has reported that UK Prime Minister Boris Johnson admitted that it will be "touch and go" as to whether sufficient deals will be made at COP26 to curb irreversible climate change.
"It's going to be very, very tough, this summit, and I'm very worried because it might go wrong. We might not get the agreements that we need. It's touch and go, it's very, very difficult … It's very far from clear that we'll get the progress that we need."
The Guardian noted that the Russian President, Vladimir Putin, confirmed he would not attend COP26 and that Chinese President Xi Jinping was also unlikely to attend, which could have a negative impact on negotiations.
---
CCC issues its assessment of UK's net zero strategy
15:42 – 26 Oct
The Climate Change Committee (CCC), which is an independent body that advises the UK Government, issued its response to the UK's Net Zero Strategy today. The independent assessment says that the strategy is "a strong example to bring to the COP26 summit of how to follow climate change targets with action". The CCC said that the strategy is broadly aligned with the goals set out in the CCC's advice to the Government on the sixth carbon budget last year, however there are still some "strategic gaps".
Lord Deben, Chairman of the CCC, said: "The Net Zero Strategy is a genuine step forward. The UK was the first major industrialised nation to set net zero into law – now we have policy plans to get us there. As we welcome world leaders to COP26 in Glasgow, that is an important statement.
"Now they must deliver these goals and fill in the remaining gaps in funding and implementation."
---
Sir David Attenborough warns that if we don't act now, it will be too late
15:15 – 26 Oct
Sir David Attenborough has warned that "if we don't act now, it'll be too late" ahead of the COP26 summit. Sir David was speaking to the BBC during filming for a new series, The Green Planet, which is due to be aired on BBC1 next year.
Sir David said that richer nations have a "moral responsibility" to help poorer ones and that doing nothing to help would be "really catastrophic".
He added that some people are still not convinced on the urgent need for climate action, despite what climate scientists have been saying for 20 years. "There are still people in North America, there are still people in Australia who say 'no, no, no, no, of course it's very unfortunate that there was that forest fire that absolutely demolished, incinerated that village, but it's a one-off'.
"Particularly if it's going to cost money in the short term, the temptation is to deny the problem and pretend it's not there.
"But every month that passes, it becomes more and more incontrovertible, the changes to the planet that we are responsible for that are having these devastating effects."
---
Saudi Arabia sets target to be net zero by 2060
10:58 – 26 Oct
Ahead of COP26, Saudi Arabia has pledged to have net zero emissions by 2060. Alongside the announcement, oil and gas company Saudi Aramco has pledged to have net zero emissions by 2050. However this does not include emissions caused by consumers using the fuel. Saudi Arabia also still plans to increase production capacity of crude oil.
 Read our full story here.
---
UK's net zero strategy still not enough
10:53 – 26 Oct
Last week, the UK finally released its Net Zero Strategy, just 12 days before COP26. The plans include the approval of two carbon capture usage and storage (CCUS) industrial clusters – HyNet and the East Coast Cluster – however there has been disappointment that the Scottish Cluster was only selected as a reserve option.
There is also criticism that the strategy still falls short in many areas, such as a lack of transparency on the emissions savings of individual actions and how this will meet the sixth carbon budget. Other concerns raised were the lack of investment in decarbonising the steel industry and a failure to act on all the recommendations of the Green Jobs Taskforce.
Read our full story here.
---
Water experts issue call to action on climate​
10:43 – 26 Oct
An alliance of experts from across the water sector, including from IChemE, has issued a call to action that commits water professionals to mitigate and adapt to climate change.
The call has been issued by the Water Climate Discussion, an alliance founded by IChemE's Water Special Interest Group that includes partners from across the sector including the Institute of Water, Water Aid, and the International Water Association. The group has been hosting a series of online conferences since May to collaborate and facilitate change in the sector ahead of COP26.
Read more here.
---
Welcome to our COP26 coverage
10:25 – 26 Oct
Welcome to our COP26 coverage, where we will post regular updates in the run up to and during the crucial climate conference taking place in Glasgow. COP26 – the 26th UN Conference of Parties (COP) climate summit – will run from 31 October to 12 November. The conference is hosted by the UK in partnership with Italy, which held a pre-COP event earlier in the year.
COP26 is vital for many reasons. While the Paris Agreement was signed by 196 countries at COP21 in 2015, the "rulebook" has still not been agreed. Article 6 of the Paris Agreement – which deals with setting up a global carbon market and exchanging carbon credits – has yet to be finalised and this must be achieved at COP26.
COP26 also marks six years since the Paris Agreement. Part of the Agreement is to increase ambitions for cutting emissions every five years. This has been delayed a year due to the pandemic, but countries are expected to submit new or updated Paris Agreement pledges, known as Nationally Determined Contributions (NDCs). As of 26 October, 116 countries (115 plus the EU) have submitted new NDCs, according to Climate Action Tracker, which keeps track of NDCs here. However, not all countries increased their ambition, such as Australia, Russia, and Brazil.
With the IPCC warning that the frequency and intensity of extreme weather events associated with human-caused climate change is going to get worse, taking action at COP26 in order to limit the damage is more important now than ever before.
For a more detailed explanation on why COP26 is important, read our full explainer. All of our previous coverage related to COP26 can be found here.