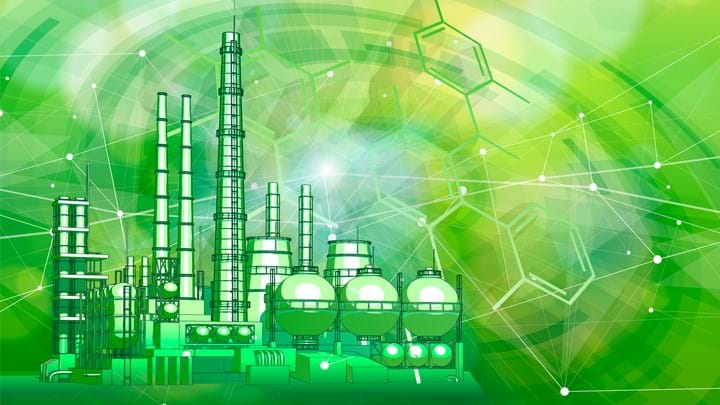 UK PRIME Minister Boris Johnson has announced £12bn (US$15.87bn) in funding for a ten-point plan to incite a green industrial revolution that could create and support up to 250,000 highly-skilled jobs.
Industry has welcomed this as a step up in the UK's ambitions, but environmentalists have not been as enthusiastic.
This news follows a call from engineers for urgent action towards a net-zero recovery from impacts of the Covid-19 crisis, which included calling on Government to step up its investment.
The plan, announced 18 November, is expected to help the UK to move towards eradicating its contribution to climate change ahead of net zero, which the Government says is particularly crucial ahead of COP26 in Glasgow next year. The climate summit is currently due to take place in November 2021, having been postponed due to the Covid-19 pandemic.
Comprised of ten points, the plan builds around the UK strengths including carbon capture, hydrogen, and nuclear.
Up to £500m of the planned investment will go towards hydrogen, which is receiving widescale attention as an energy carrier. £240m of this funding will go towards hydrogen production facilities. The UK says it aims to generate 5 GW of low carbon hydrogen production capacity by 2030 for industry, transport, power and homes. This includes developing a town – equivalent to tens of thousands of homes – which uses hydrogen for heating and cooking, by the end of the decade.
Nuclear, which offers a clean energy source, will receive £525m under the plan. The funding will be used to develop large and smaller-scale nuclear plants, as well as to research and develop new advanced modular reactors (AMRs). AMRs use novel cooling systems or fuels which offer new functionality (such as industrial process heat) and potentially a reduction in costs. Advancing nuclear technology could support 10,000 jobs.
As it aims to become a world-leader in technology that can capture and store harmful emissions, preventing it from entering the atmosphere, the UK will invest an additional £200m to create two carbon capture clusters by the mid-2020s, with another two set to be created by 2030. This would bring total investment to £1bn, helping to support 50,000 jobs in areas such as Humber, Teesside, Merseyside, Grangemouth and Port Talbot.
The UK aims to remove 10m t/y of carbon dioxide (CO2) by 2030, equivalent to all the emissions of the industrial Humber today.
Other areas which the UK will invest in as part of the ten-point plan are offshore wind; electric vehicles; public transport, cycling, and walking; Jet Zero, which aims to deliver net zero in aviation, and greener maritime; homes and public buildings; the environment; and innovation and finance.
Government says that this plan and investment mark the beginning of the UK's path to net zero. Further plans to reduce emissions whilst creating jobs will follow over the next year in the run up to COP26.
Johnson said: "Although this year has taken a very different path to the one we expected, I haven't lost sight of our ambitious plans to level up across the country. My Ten Point Plan will create, support, and protect hundreds of thousands of green jobs, whilst making strides towards net zero by 2050."
On 18 November, IChemE Fellow and Chair of its Energy Centre Mark Apsey, said: "Today's announcement is a welcome indication of intent to address UK emissions, which we must do if we are to have a chance of limiting global average temperature rise to 1.5⁰C. As chemical engineers we are well placed to help accelerate the transition to a net zero carbon future across all sectors."
Apsey is a member of the National Engineering Policy Centre (NEPC) Working Group for Net Zero and led IChemE's contribution to a recent report in which engineers called for action to build capacity for net zero recovery from the impacts of Covid-19. NEPC is a partnership of UK engineering organisations, including IChemE, led by the Royal Academy of Engineering.
A call from engineers
On 2 November, NEPC released Beyond Covid-19: laying the foundations for a net-zero recovery which recommends actions to Government, the engineering community, and others to take to help achieve net-zero recovery.
In the report, amongst other actions, engineers encouraged Government to step up investment in clean growth to a scale comparable with other ambitious nations and build on the UK's strengths and capabilities in clean technologies. It said these actions are essential to enable international competitiveness and to ensure the UK's impact on decarbonisation extends beyond its borders.
The report highlighted that scaling up ambitions towards priorities that support economic recovery and the UK's transition to net zero would represent a step-change in climate ambition and allow the UK to show global leadership in climate policy ahead of COP26.
The report also recommended actions to the engineering community and industry, either separately or alongside Government and others. The recommendations were made under the five "foundations" for net-zero recovery:
ensure recovery packages work together as a whole to pivot the UK towards a net-zero economy;
prioritise diversity and inclusion for jobs and skills to reverse Covid-19 impacts and help build net-zero capacity and strengthen long-term capability;
drive digital transformation as an essential enabler of net zero and resilience; and
deploy cross-sectoral systems approaches to policymaking that underline the interconnectedness of different policy areas and economic sectors.
The net-zero recovery report helped articulate IChemE's position when Tom White, VP of Regions for IChemE and CEO of CO2 removal technology company C-Capture, was invited to a group briefing with Johnson earlier this week.
Responses to the UK funding
The announcement of the UK's efforts towards a green industrial revolution were welcomed by experts across sectors.
Felipe Basaglia, Chair of IChemE's Nuclear Technology Special Interest Group, said: "The Prime Minister's commitment to support and expand the UK's world-leading manufacturing and nuclear capability is greatly welcomed. Nuclear power has a pivotal role to play in providing low carbon electricity to the UK and will be increasingly important as we drive towards achieving net zero targets by 2050 or sooner."
White said: "The UK Government is stepping up to the mark and providing the levels of funding needed to accelerate deployment of the technologies which are recognised as crucial to avoiding catastrophic climate change.
"Carbon capture and storage projects have a critical part to play in the UK's decarbonisation journey, and the post-Covid economic recovery."
Luke Warren, Chief Executive of the trade body Carbon Capture and Storage Association (CCSA), said: "[T]he Government has today sent a strong signal ahead of COP26 – that the UK is committed to delivering net zero and becoming a world leader in the key technologies that will be essential to achieve these goals."
Jacob Young, Chair of the UK's All-Party Parliamentary Group on Hydrogen and former petrochemical industry worker, highlighted that a growing hydrogen sector could benefit local communities such as Redcar and Cleveland, noting that there is a "real appetite"  for a hydrogen economy amongst many businesses. Young is a Member of Parliament for Redcar.
Though not enthusiastic about the plan, environmentalists agreed that this is a step forward in green efforts.
Rebecca Newsom, Head of Politics at Greenpeace UK, remarked: "It's a shame the Prime Minister remains fixated on other speculative solutions, such as nuclear and hydrogen from fossil fuels, that will not be taking us to zero emissions anytime soon, if ever. But although there are some significant question marks and gaps, overall, this is a big step forward for tackling the climate emergency."
A poster summarising NEPC's full report is available.
---
This article was amended to correct the amount of CO2 that the UK aims to capture by 2030 from 10m t to 10m t/y.