Amanda Doyle analyses a survey of oil and gas workers to reveal their thoughts on how the energy transition affects them
OIL and gas workers have called for more training, better policies, and for employers to appreciate the skillsets of current staff, according to a member survey on the impacts of the energy transition.
The energy transition – where there is a shift from fossil fuels to renewables – is already under way in many countries. However, transitioning to net zero in a manner that is fair to those employed in sectors such as oil and gas is not always given consideration. A "just transition" is where highly skilled people in heavy carbon industries are retrained for greener industries rather than being made redundant. It should also ensure that communities aren't left devastated by the closure of facilities. We asked members of IChemE's Oil and Natural Gas Special Interest Group (SONG) to fill out an anonymous survey on their thoughts and experiences of the just transition.
There were 196 respondents to the survey. They primarily work in upstream oil and gas processing (40%), followed by consultancy (14%), downstream (12%), and other professions (11%). Their jobs are located in the UK (52%), Australia (9%), Malaysia (7%), New Zealand (3%), Singapore (3%), US (3%), Qatar (2%), and other countries. Their membership grades are Chartered Member (46%), Fellow (26%), Associate Member (25%), and Affiliate Member (3%).
28 people (14%) have recently lost their jobs or are being made redundant. Of those, 24 were not offered opportunities to retrain or move to another sector.
All participants were asked if they are currently considering switching to another sector: 43% said yes, and of those people, hydrogen is the sector that they would most likely switch to. Other sectors included CCUS, energy storage, waste reprocessing, water, data analytics, mining, and pharmaceuticals.
All participants were asked to rate barriers for transitioning to a greener job. The "availability of secure jobs" was the biggest barrier, with 66% either agreeing or strongly agreeing. This was followed by "qualifications don't guarantee a job", with 63% either agreeing or strongly agreeing.
43% of participants manage other people in their company. Of these, 52% have discussed the possibility of retraining in greener sectors with their staff and 70% plan to do so in future.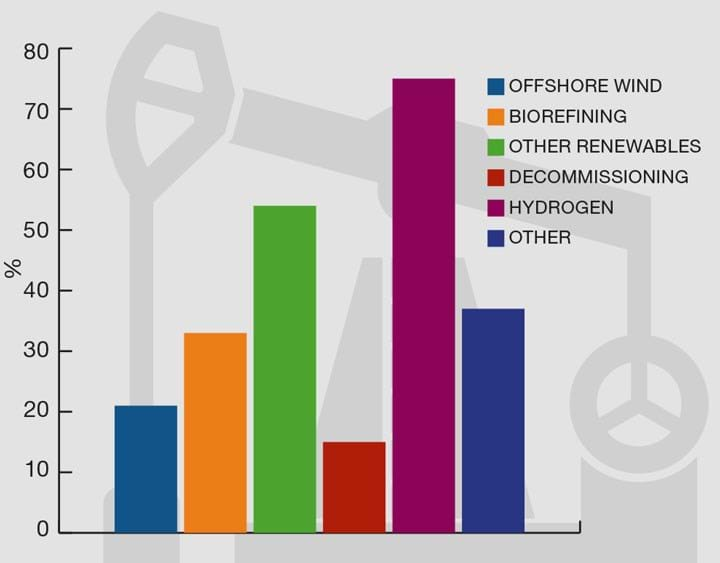 What needs to be done
Participants were asked: "What do you think needs to be done to ensure a just transition? For example, are there any actions that could be taken or specific types of support that could be provided by employers, policy makers, institutions etc?" Several themes were common across the 157 answers, particularly surrounding the need for employers to do more to retain existing staff, governments to implement more joined-up policies, and the need for more training courses.
There were many comments on how employers which are changing or expanding their portfolio to include more green technology need to recognise the skillset of existing employees. They should focus on hiring from within the organisation rather than bringing in external hires. There is currently too much emphasis on employing people with experience in a specific industry. There were also concerns raised about age discrimination and that there needs to be a balanced approach that focuses on older workers as well as those just starting their careers.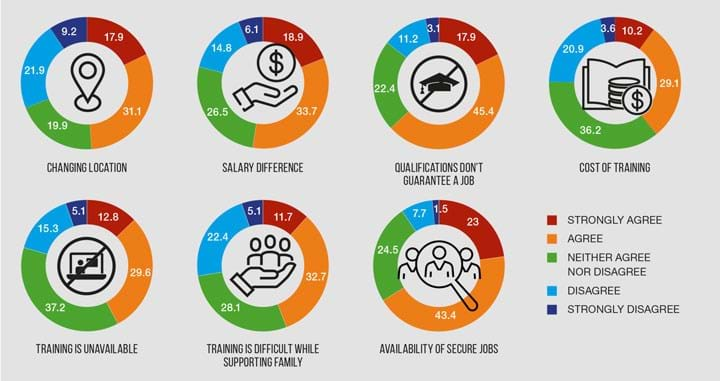 There was criticism of employers being focused on profit and not caring about employees, instead making numerous redundancies without any consideration of how that affected people. It was noted that employers won't spend to keep their current workforce without funding help from governments or institutions.