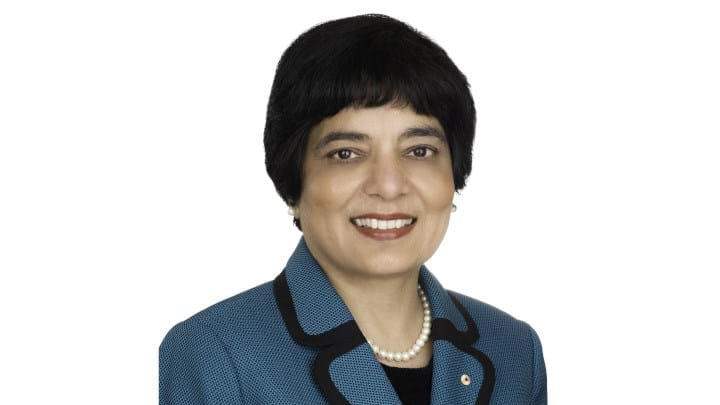 MARLENE Kanga, a chartered chemical engineer who successfully campaigned for a global engineering day, has been awarded an Officer of the Order of Australia (OA) in the 2022 Queen's Birthday Honours List in Australia.
She was recognised for her "distinguished service to engineering, particularly as a global leader and role model to women, to professional organisations, and to business".
Kanga is an Honorary Fellow of IChemE and Chair Designate of its Safety Centre and Major Hazards Committee, which focus on improving process safety through developing and sharing knowledge resources with industry and the membership.
She has more than 30 years' experience in process safety engineering in industry, in Australia and New Zealand. She is a Non-Executive Director for Sydney Water Corporation, Air Services Australia, Standards Australia, and BESydney. 
From 2017–2019 she was President of the World Federation of Engineering Organisations (WFEO), and the first chemical engineer to hold the position. While in the role, she led the proposal for UNESCO member states to declare 4 March as World Engineering Day for Sustainable Development. Celebrating engineers and engineering, it was first held in 2020. This year's 24-hour live event showcasing engineering achievements around the world gained 30,000 views.
She has also volunteered with IChemE, leading the social experience editorial for the Institution's centenary celebrations, which was published in April 2022. She additionally chaired a webinar on the topic.
Kanga said: "This is an extraordinary recognition of my leadership of some of the largest organisations involved in engineering and technology in the government, private and not-for-profit sectors. 
"Chemical engineers are needed more than ever before, to develop solutions to reduce greenhouse gas emissions, to enable the responsible use of resources and to accelerate the energy transition. At the same time, we need to keep our communities safe, and I am looking forward to chairing the IChemE Safety Centre and Major Hazards Committee to promote the leadership of the Institution and its members in this very important area.
"This recognition is an opportunity to promote chemical engineering as a rewarding and exciting career to young people, especially women and girls. My message is: if you want to change the world, become an engineer." 
Earlier this month, Honorary IChemE Fellow Dame Sue Ion was awarded the Dame Grand Cross of the Order of the British Empire (GBE) in the Queen's Birthday Honours List for the UK, for her services to engineering. 
Ion, Honorary President of the National Skills Academy for Nuclear, UK, is a global expert in nuclear engineering. She has been highly sought after for her expertise, including by the House of Lords' Risk Assessment and Risk Planning Committee, giving evidence on the challenges in developing and implementing risk assessment processes within the nuclear sector.
The Queen's Birthday Honours List recognised Australians for meritorious, distinguished, and conspicuous service. A full list of 2022 recipients is available here. A list of those recognised in the UK for extraordinary contributions and service is available here.