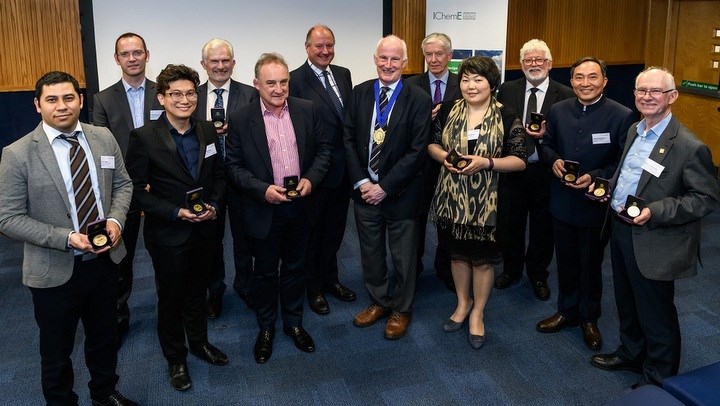 ON 23 May IChemE presented ten chemical engineers with medals for their outstanding contributions to the profession. The awards were presented by IChemE President Ken Rivers, at a special ceremony in front of friends, family, and colleagues at the International Convention Centre in Birmingham, UK.
Barry Weightman, Training and Development Manager at KBR, was presented with the Davidson Medal, for being a mentor and role model to chemical engineers at all levels, especially those at the early stage of their careers. Weightman volunteers in several capacities for IChemE's qualifications activities and has mentored more than 120 junior process engineers at KBR who are working to become Chartered Chemical Engineers.
Colin Webb, Chemical Engineering Professor at the University of Manchester, UK, was presented with the Council Medal for overseeing a substantial review of IChemE's qualifications processes. His achievements have helped IChemE to continue to improve its provision of sustainable membership, accreditation, and professional development processes.
Webb was also presented with the Donald Medal for outstanding services to biochemical engineering. He successfully introduced biochemical engineering undergraduate and Master's degree programmes at Manchester and founded the Biochemical Engineering Journal.
The Senior Moulton Medal was awarded to Imperial College London researchers Benoit Chachuat, Nilay Shah, and Ven Chian Quek. Quek is also part of Group Research & Technology at Petronas, Malaysia. Chachuat and Quek were presented with the award on behalf of the group for their joint paper, which appeared in Chemical Engineering Research and Design, in April 2018.
The paper demonstrates and verifies a predictive mathematical model of high-pressure membrane contactors for natural gas sweetening applications. The authors were commended for the international collaborative efforts between academia and industry.
The Lees Medal is awarded by IChemE's Safety and Loss Prevention Special Interest Group for a meritorious publication on the topic of safety and loss prevention. The medal was presented to Technical Safety Consultant Keith Miller for his paper Quantifying Risk and How it All Goes Wrong, presented at Hazards 28. The paper examines a 20-year study into the shortcomings of risk quantification and the detrimental impacts of how risk is perceived and mitigated.
Wanqin Jin, Chemical Engineering Professor at Nanjing Tech University, China, was recognised with the Underwood Medal for being a leader in the membrane community. He has made a significant contribution to membrane separation, with his research focussed on sustainable and environmentally friendly membrane separation production.
Asel Sartbaeva, Senior Chemistry Lecturer at the University of Bath, UK, was awarded the Hanson Medal for her article Vaccines: The End of the Cold War?, which was featured in The Chemical Engineer in March 2018. It outlines the cost and practical implications of storing and transporting vaccines to keep vital medicines cold and explores the alternative solution for this.
Ali Yetisen, Senior Lecturer in the Department of Chemical Engineering at Imperial College London, was awarded the Nicklin Medal for his commitment to advancing biochemical engineering through his research on biochemical sensors.
The Franklin Medal was awarded to David Edwards, Head Consultant at KBR/Granherne and Visiting Professor in the Chemical Engineering department at Loughborough University, UK. He received the award in recognition of a distinguished career in chemical engineering in industry and academia, during which he has made theoretical and practical innovations in process safety and health.
Finally, Chair of IChemE's Contracts Committee John Challenger was recognised with the Greene Medal for more than 30 years of contribution to the continued development and success of the IChemE Forms of Contract, as well as his passionate promotion of their use within the industry.
Ken Rivers said: "For your excellent research, passion to share knowledge and enhance chemical engineering practices, and guiding the next generation of chemical engineers, every one of you thoroughly deserves your award.
"Congratulations to all the winners of IChemE's medals and prizes and thank you for your ongoing dedication to the profession."
IChemE's next round of medals and prizes open for nomination on 1 September. Interested parties can find more details about each prize and nominate peers by visiting the IChemE Medals webpage.