Ahead of the coming Trustee elections, we asked the six candidates to introduce themselves and share their views on IChemE and its future roles
ON the 28 April, voting opens for all Chartered members and Fellows to decide who will join IChemE's Board of Trustees and help set the strategic direction of the institution. There are six candidates in total: three are running for election to a single 'ordinary member' seat, and another three are running for election to deputy president, and hence the future president of IChemE. To help provide additional insight ahead of members casting their vote for each position, we asked the candidates to introduce themselves and share their views on the future direction of the institution.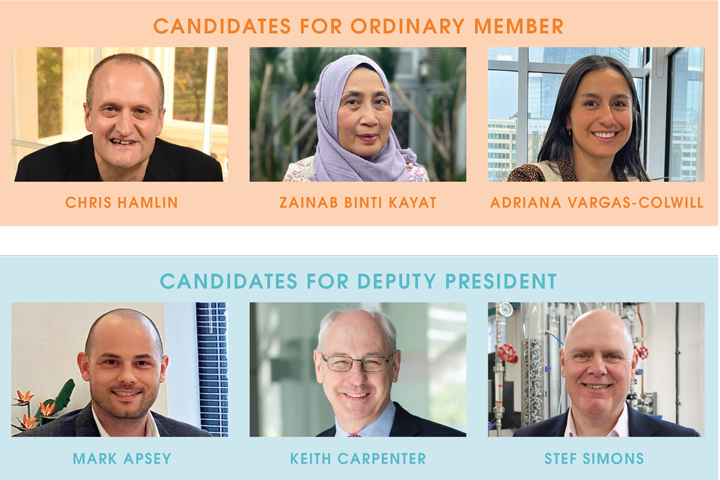 Tell us about some of the ways in which you've already contributed to IChemE ahead of this election
Chris Hamlin (Ordinary Member)
As an active IChemE member for many years and a Fellow since 2015, I've served in many capacities: vice-chair of the Process Management & Control Special Interest Group; organising the Advances conference series; a member of the Good Operating Practice working group that developed our new governance structures; and a member of the DigiTAG. Most recently, I chaired the Future of Chemical Engineering working group as a member of the ChemEng Evolution steering team.
Zainab Binti Kayat (Ordinary Member)
I have volunteered for IChemE since 2009 as a board member of IChemE Malaysia, a member of the Professional Formation Forum, chair of the Oil and Natural Gas Special Interest Group's Malaysia chapter, and a member of the Energy Community of Practice (CoP).
Adriana Vargas-Colwill (Ordinary Member)
I have volunteered for IChemE for the last nine years. Since 2014, as a member of the London and South East Coast Members Group, I acted in various roles including as social media coordinator, organiser of the Get Chartered sessions, and secretary. In 2015, I chaired the London Young Members Forum and I was also part of its working group for diversity and inclusion. From 2019 until present, I have been part of the ED&I panel where I have acted as an advisor on gender. Since last year I have been an Individual Case Procedure (ICP) reviewer in support of the assessment process for members to become chartered.
Mark Apsey (Deputy President)
I have been volunteering for IChemE since joining as an undergraduate on the local committee. I have supported the Energy Centre since 2016 and led the working group to create our Energy and Resource Efficiency Guide. In 2019, I became chair, overseeing the transition to a Community of Practice (CoP). I am proud to have led work with members internationally to develop and publish our first climate change position statement.
Keith Carpenter (Deputy President)
My first position was in the Fluid Mixing Subject Group as a committee member, secretary and chair. I was a member of Chemical Engineering Research and Design editorial board and chaired the Publication Medals board. I was a member of the EFCE Fluid Mixing Working Party, the EFCE Scientific Advisory Council, and EFCE Executive Council. In IChemE Singapore I was a member of the committee and chair.
Stef Simons (Deputy President)
Right from the start! Member network groups are particularly useful for a new graduate. I've served on several committees and chaired the Particle Technology Subject Group – as it was known back then – and I've supported accreditation work for many years. I've promoted IChemE internationally, particularly in Australia and played a lead role in establishing new chemical engineering departments in the UK and Kazakhstan. More recently, I've focused on new areas of activity, including our positions on digitalisation and climate change. In 2020, I received the Trustees Medal for my contribution in establishing the Energy Centre, a great honour.
IChemE relies on volunteer members to deliver much of its activities. How do you perceive the institution's processes for engaging with members across the world and encouraging/enabling them to volunteer? What more could IChemE do, and what could IChemE do better?
Zainab Binti Kayat (Ordinary Member)
Currently, volunteering efforts are through SIGs and COPs and the most holistic communication is through this magazine. It is critical that these are well supported by IChemE, and that we provide consistent terms of reference that guide our volunteers and explain the benefits of this volunteering to employers of IChemE members. We can improve our outreach activities to universities and organisations that employ chemical engineers in order to improve our cooperation with them and gain their support for the continual professional development of members. Additionally, building trust with key stakeholders through formal collaborations and regular friendly visits can generate the influence we need to boost volunteering.
Adriana Vargas-Colwill (Ordinary Member)
I have seen more active communication from IChemE to members especially through email, which I think is an effective means of communication for some professionals. I have also seen that some of the available volunteering opportunities are now highlighted in the newsletters. I think any future engagement with members needs to be linked to a membership/volunteering strategy that accounts for each member grade and tailors the engagement accordingly.
Mark Apsey (Deputy President)
I think we are lucky to have an engaged membership of self-motivated and talented people keen to contribute. In my experience people respond well when involved with specific projects. We could do more to harness this enthusiasm by better matching up skills to roles. Maybe an annually updated database to quickly identify members with particular skills needed could help to supercharge our contributions to society.
Keith Carpenter (Deputy President)
Volunteer members are at the heart of IChemE activities. While we are influential in the UK, globally we could be stronger. There are many dedicated members driving activities globally, but with our reputation for professionalism and doing what is right, we have greater potential.
Stef Simons (Deputy President)
It is clear that the enthusiasm is there. Particularly among the younger members. The student engagement survey published in the previous issue shows this. We must look to the future. Networking, recognition and knowledge are the big asks. We must respond by giving members what they want in an accessible format, wherever they are. Digital delivery is important.
Chris Hamlin (Ordinary Member)
Our volunteers are our lifeblood and are amazing. Their effort is something to treasure and use judiciously. At times I have been frustrated by the administrative and bureaucratic effort needed to support rigid, hierarchical committee structures. We can learn a lot from the extraordinary member engagement that we saw in the ChemEng Evolution process which was based on more flexible, spontaneous, purpose-driven, task-specific self-organising groups. There is more that we could do to leverage modern technologies and harness our collective energy through dynamic, constantly evolving, member-inspired groups and teams.