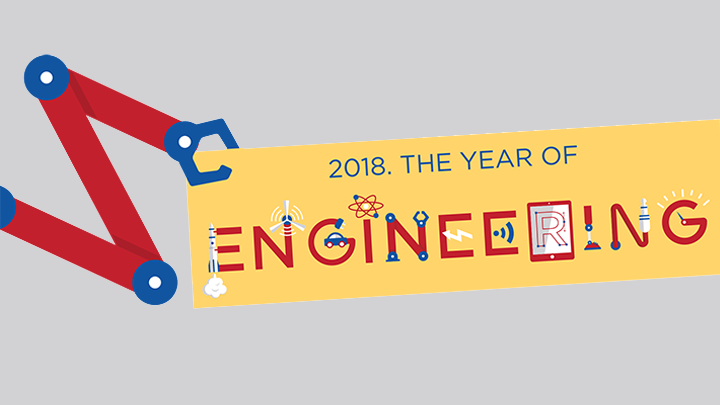 2018 was the UK government's Year of Engineering – a campaign aimed at raising public awareness of the profession, in part by building on the outreach activities organised by industry employers.
Fresh from hosting events showcasing what engineers do, we caught up with member volunteers from a selection of IChemE Corporate Partners and accredited company training scheme (ACTS) providers, and the schoolchildren they were seeking to inspire.
First up was an event hosted by BP at its campus in Sunbury on Thames, for children aged 13–14 visiting from two local schools. For the first half of the day, the children toured six zones in small groups learning from engineers about subsea engineering, computer aided engineering, shipping, innovation in engineering, geology and robotics. This latter zone included a hugely popular drone demonstration by one of BP's suppliers.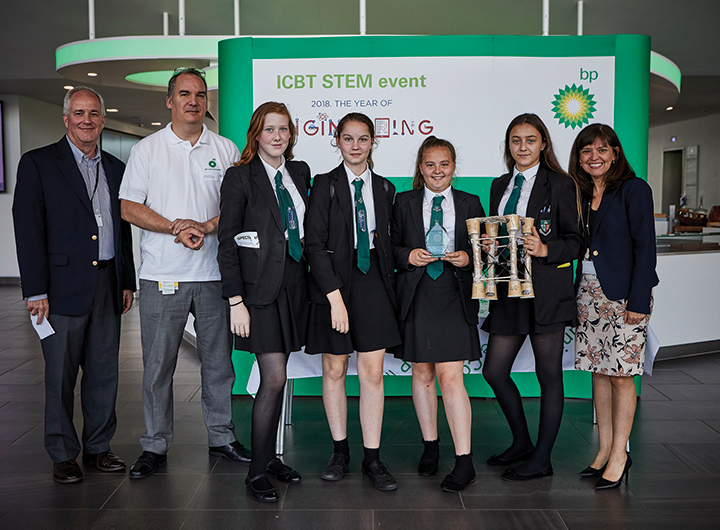 Luca, aged 12 from Matthew Arnold school said: "They were explaining what the drones were used for and how different robots help BP and the oil industry. And then they were flying the drones around showing off the camera and what it's made out of…it was really interesting."
Classmate Toby, aged 13, said: "I quite liked the umbilicals and all the cables they had to lay. It was quite interesting learning about all the ecosystems that develop around it due to it heating up the water."
BP process safety engineer Ben Jones said he was impressed by some of the children's reactions to his demonstration on fire and explosions, in which he asked how a building could be engineered to protect people inside.
"Some of the answers we got were brilliant. I remember one boy saying: 'could you try to vent the explosion out of one of the walls? Have one wall weaker so that it would fail first' – which is a very clever idea."
More than a petrol station
Asked what he would be telling his parents about the event when he got home that night, Luca said: "Beforehand, me and my parents thought 'isn't BP just a petrol station?' But now we know all the stages [of industry in which they work] and how far back it goes with the extraction of the raw materials and then the refining.
"I'll go home and say 'well actually this is how that works and did you know that BP is more than a petrol station – it's a full blown company that does pretty much most things!'."
Nick Elliott, a teacher at Matthew Arnold School, said the event was valuable for schoolchildren.
"It allows them to see a broader range of experiences; the different type of role in the industry that you can come and do. The site will be something that many won't have experienced before, so it gives them a chance to see what a working environment actually looks like, which is completely different to a school.
"I would encourage any other medium-to-large companies to give this a go and see what they can do to get children into their organisations."
Later that day, the students were set an engineering challenge that involved working in teams, overseen by a BP engineer, to design a platform jacket. The students were given a choice of building materials to buy including scissors, straws, and Sellotape, and a BP design requirement including the structure's minimum height. They had 30 minutes of engineering and procurement time to brainstorm and design their platform, and then 45 minutes to build it. The winner was the platform that held the most water bottles at the lowest cost.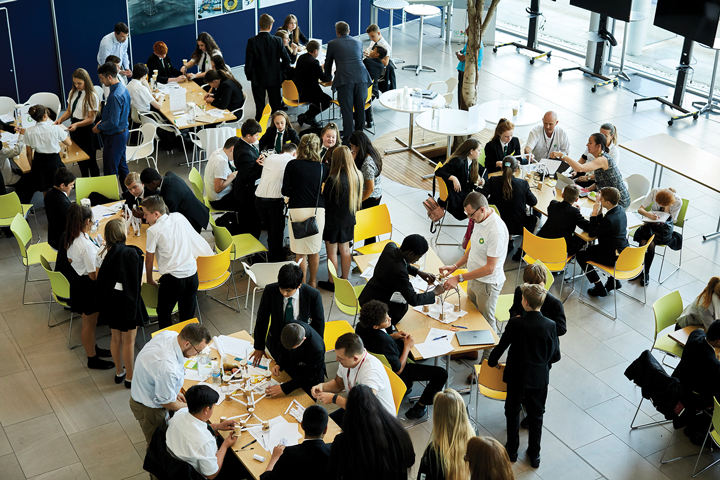 Women in engineering
Valero ran a similar event aimed exclusively at local schoolgirls, at its Pembroke, Wales, refinery. Part of the Year of Engineering's mission is to help address lack of diversity in the profession, which is estimated to be 91% male. The event included hands-on activities led by Valero engineers, a robot programming challenge, and a guided bus tour of the refinery.
Asked what had inspired her most, Rhiannon, 13, from Ysgol Penrhyn Dewi, said: "The robot at the start. We had to programme a robot that was meant to be a boat to go around the river." Rhiannon wants to be a vet and said the event inspired her to try harder at science.
School governor Lindsey Richard said: "It's inspirational for this age group to see a place like this to inspire them about what else is out there. When you live in a small community it's quite difficult to envisage what other opportunities are available."
She revealed that a female director of Valero had changed her own perceptions on the opportunities available to women in engineering.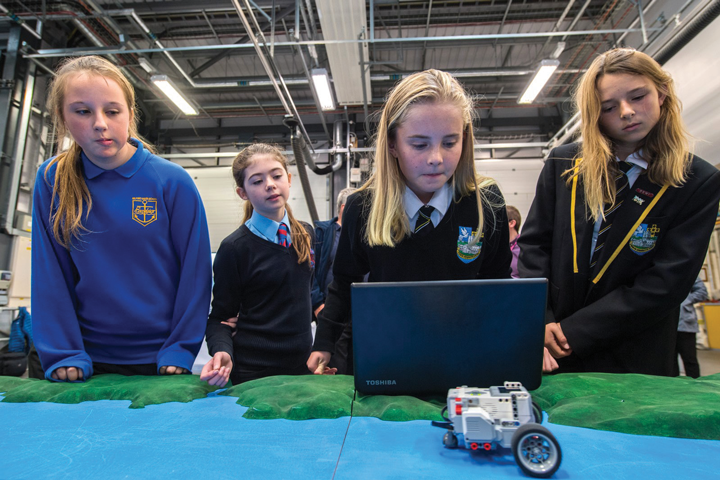 "She spoke about her experience…a lot of us thought is she an engineer? Is that possible? What does she do? She did explain that initially she thought she was going to go into makeup, and design eye shadows…and all of a sudden she's working in a plant that's [refining] crude oil and sending it off as petrol and diesel. It's just about educating people."
Neil Harvey, an IChemE Fellow at consultancy OSL, helped run a tour and engineering challenge at the company's office in Hull. The 10–11 year olds were brought in by a local charity called Hull and East Yorkshire Children's University which introduces children from disadvantaged areas and schools to STEM activities.
"We did an activity with them where they had to find a way of getting water from one bottle to another. The full bottle was on the floor and the empty bottle was on the table. So, it was about pressure, and pressurising the bottom vessel and pumping it up into the top vessel.
"Then we had a race – the first one to empty the bottle at the bottom into the top won."
The Year of Engineering online
Engine Ears
Atkins produced this wonderfully funny animation to explain that engineering is exciting, creative and a brilliant future for people who love to dream up ideas:
https://youtu.be/HoHGChziqeE
Imperial Enginuity
Engineers from Imperial College London explain what engineering means to them and how it makes the world a better place:
https://youtu.be/tDqXl7BiJCU
Training with LEGO
Find out how LEGO education and IET have been training STEM ambassadors to deliver cool workshops in schools: https://youtu.be/HmacZnqQC5w
Glitter bomb
Engineers create an underwater glitter bomb to show how plastics spread in the sea, and explain how engineers are helping to boost sustainability of materials:
https://youtu.be/8sq5MOf4yE0
Open Doors
KBR opened its UK headquarters in Leatherhead to more than 500 visitors, including children, parents and university students. Look inside as they discover the careers available to engineers, and get hands on with interactive displays and 3D models:
https://vimeo.com/288205763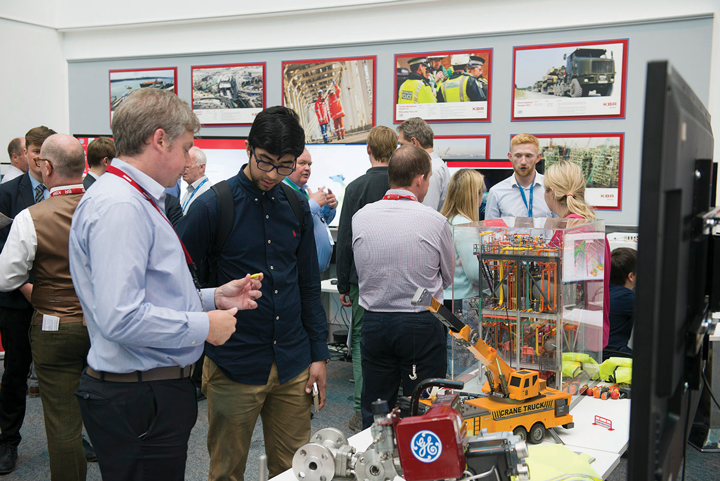 Put your hands up
On why he had volunteered, Harvey said: Trying to get kids interested in STEM activities and engineering is really fulfilling.
"If they show an interest in becoming engineers or the sciences – if we just get a few that are interested in developing their careers in that direction – it's all positive."
"Anything that encourages the younger generation to develop into engineers…is important for the country and for developing industry."
IChemE Member Charlotte Lewis who volunteered to help with the hands-on demonstrations said: "I got involved in a couple of days like this when I was a student in secondary school and it's what inspired me to go on and do chemical engineering. I think it's very worthwhile. You are there to inspire the future generation."
"I think it's quite important … to try and sow those seeds quite early on."
Also taking part was Karen Muehlbauer, director of health and environmental safety at Valero's Pemboke refinery. She says it is crucial to make girls aware that STEM isn't boring – that it's exciting and provides a vast array of opportunities.
"This is a passion in my life. I really want girls to have opportunities in STEM. I love it and want to share that love. I have a little daughter and she knows mommy does science."
"I think for some reason we have this unconscious bias and so I don't think girls get the opportunities…I think it's very important to expose them to STEM earlier on."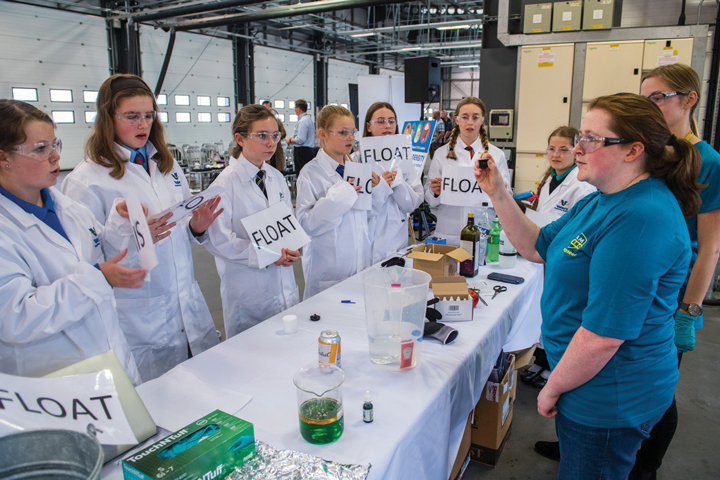 IChemE Fellow Badrul Huda, BP audit manager of upstream operations, said he thinks it's important to engage because children are having their heads turned by careers at worldwide tech firms like Apple and Microsoft.
"The big companies now are not necessarily oil and gas companies…Do people necessarily think engineering, law and medicine are the best careers to go into or do they think of programming, IT systems and design as more attractive?"
Huda added that it is important for young engineers to engage with schoolchildren who may find it easier to relate to them.
"I would encourage more engineers and scientists who have just recently joined industry to go and talk to students and tell them why they are doing it and what is most interesting about it – and showcase the kind of things they are doing. It's really important."
There is value in the personal reflection that comes before the event too, said Jones. "As I was preparing for it, I found it made me think about my job in an interesting way: what I was doing, why I was doing it, which aspects of the job I found most fun, and then how can I explain that in a very simple way? I quite enjoyed that moment of reflection – it was quite good to take myself out of my day job and prepare for this."
All of the engineers we asked agreed that companies and individuals should seek greater engagement.
Muehlbauer said: "It pays back because you'll hopefully get them four or five years from now. They'll eventually come and work – maybe not for us – but somewhere. More diversity is always more success, more ideas in the room."
As 2018 draws to a close, the profession must find a way to maintain the momentum built up by the Year of Engineering. As we go to press, discussions are underway about how to carry this impetus into 2019.
Westminster Abbey
Engineering was the focus of celebration at a first-of-a-kind national service held at London's Westminster Abbey.
On 22 November, guests from across the engineering community, including trustees of IChemE, gathered with politicians and schoolchildren to mark the government's Year of Engineering. The multi-faith service celebrated those inspiring the next generation of engineers and engineering greats, including Thomas Telford and Robert Stephenson who are buried at the Abbey.
Secretary of state for transport Chris Grayling said: "In a year which has seen government and industry join forces to raise the bar for inspiring the next generation of engineers, what could be more fitting than to come together to celebrate the contribution that engineers have made and will continue to make to all of our lives?
"I hope today's service serves as an important reminder not just of our proud engineering history but of the role young people will play in writing its next chapter."
The service led by John Hall, dean of Westminster, included personal testimonies from engineers on how the discipline has changed their lives and enabled them to help inspire others through their work.
Roma Agrawal, associate director of AECOM and famed for her work on the Shard skyscraper, offered a heartfelt account about how engineering is her present and her future, referring to the fact that she will undergo IVF to get pregnant.
"Like thousands of women before me, I will depend on the doctors, scientists and engineers that have relentlessly worked to engineer babies, and I am thankful for the innovative medicine, engineering equipment and scientific breakthrough that has allowed us to literally create life," Agrawal said.
"We hope future generations will be inspired by the opportunities engineering offers to shape their world, to discover new ways to improve lives in the future and to help meet the needs of the twenty-first century and beyond"
Dame Ann Dowling, president of the Royal Academy of Engineering, said: "Engineering expertise will be critical to tackling the global challenges we face in the years to come. Engineers will play a central role in addressing the effects of climate change and rising sea levels, and in ensuring that our growing population will have access to food, water, clean energy and affordable healthcare. We hope future generations will be inspired by the opportunities engineering offers to shape their world, to discover new ways to improve lives in the future and to help meet the needs of the twenty-first century and beyond."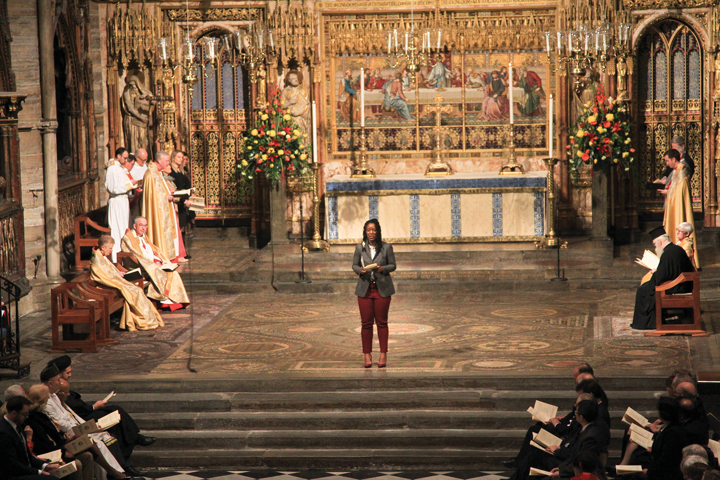 At the Westminster Abbey ceremony Yewande Akinola (pictured) of Laing O'Rourke, read the poem What is an Engineer? by Varun Narayanan:
What is an engineer? Well, look around:
Our monuments are everywhere – we make
and speculate, design, create, and build,
then bridge the continents or search the stars,
bring information into every hand,
shape air and fire, sea and land – each one
an element with which we innovate,
imagining how lives might be improved.
To generate the new, the future now,
ingenious, from backgrounds of all kinds,
inventing at all ages, for all time,
with individual spirit and joined minds,
to tackle any challenge, far or near-
is what it means to be an engineer.