Mohamed Azlan Hussain and Mohamed Kheireddine Aroua explain how a natural disaster led to demonstration and further development of a mobile self-cleaning water filtration unit
IN December 2014, Malaysia was shocked by a massive flood in many parts of the country, especially in the eastern coast of Peninsular Malaysia. The flood was declared as the country's worst flood ever, and affected millions of people. It affected drinking water treatment plants and water supply, resulting in loss of drinking water and severe water contamination. Lack of clean water, combined with human sewage in the flood waters raised the risk of waterborne diseases, including typhoid, giardia, cryptosporidium, cholera and many other diseases. The authorities could not cope with the problems in hand, and to avoid further loss of life and property, immediate assistance from all agencies and organisations were vital.
As part of the disaster relief effort, academics were called in to help where possible. In our case, this involved using our ultra filtration (UF) plant to treat river water and other unusable water sources to supply drinking water urgently. Its use was successful, and ultimately led to further development of the system.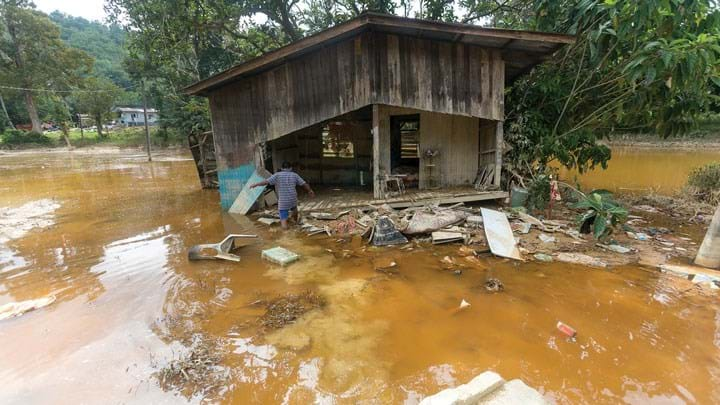 Background
Our initial UF test rig was a part of a PhD project within the framework of the MoU on collaborative research between the Center for Separation Science and Technology (CSST), Department of Chemical Engineering University Malaya, and an industrial company; R&D collaboration between universities and local industries to solve local problems.
UF is a process that can segregate to a certain extent bacteria and viruses from water samples to produce safe drinking water for human consumption. It normally utilises semi-permeable synthetic membranes with pore sizes of 20–35 nm for water treatment applications. This is different from the conventional plants which use sand or media filter for water treatment.
UF technology has been adopted for drinking water production at large scale for many years, but the main aim of the PhD project was to develop a robust control system for UF to handle filtration and backwashing (which is not present in traditional UF systems, which perform these functions manually). The control system was evaluated using the pilot-scale UF test rig – a mobile system that could be despatched to the testing site in a very short time and able to process significant quantities of water ranging from 200–800 L/h depending on the quality of the raw water. Initially, the unit was tested to treat industrial wastewater discharge to produce clean water to be recycled and utilised back in the company's mainstream process. This test was done for a couple of months at the end of 2014.