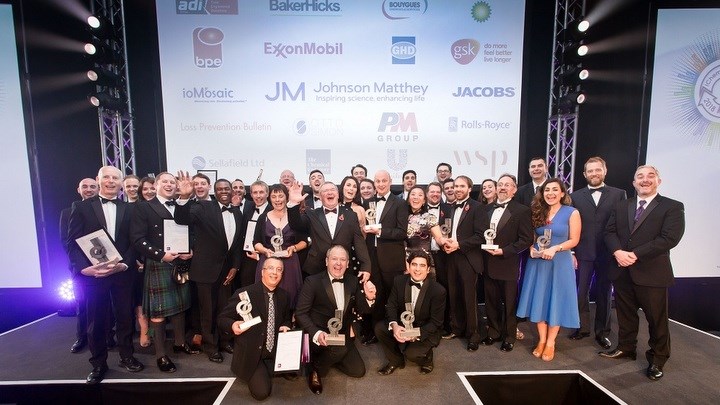 A NEW technology that converts solid household waste into sustainable bio-energy has won the top prize at the IChemE Global Awards 2018, held in Manchester UK on 1 November.
The innovation, Converting Waste to BioSNG, was developed by Advanced Plasma Power, University College London, Cadent Gas, and Progressive Energy – all based in the UK. It uses a unique gasification and catalytic process to turn household waste into bio synthetic natural gas (BioSNG), a low-carbon, renewable gas. The team has launched the world's first commercial demonstration plant to produce the gas, which is used to heat homes across the UK and power heavy-duty vehicles and buses.
The joint entry triumphed earlier in the night, winning the Energy Award and the Sustainability Award. It went on to be crowned the overall winner and was presented with IChemE's coveted Outstanding Achievement Award, sponsored by ExxonMobil.
More than 100 entries made it to the final of the Awards this year, which were held in association with Johnson Matthey.
Woodside Energy was crowned the winner of the Process Safety Award for its data-driven decision-making robot, Watson. Watson can search through more than 500,000 historical data records within hours instead of days, boosting Woodside's accuracy of risk assessment and hazard identification.
Two new Awards were presented this year, the Diversity & Inclusion Award and the Pharma Award.
The Environment Agency (EA) scooped up the Diversity & Inclusion Award. The EA has created an inclusive workplace that values and embraces difference. This allows employees to bring their whole self to work, progress their career, and feel their uniqueness is valued.
GSK, PM Group, Suncombe and ITT won the Pharma Award for designing a fully-automated sterile filtration unit. It has eliminated the risk of contamination, which can happen before or after sterilisation within a manual process.
The Young Researcher Award was won by Donal Finegan of DOE National Renewable Energy Laboratory, US. Finegan has become renowned in the international battery community for his rigorous investigations into battery failure. His insights have driven the design of the latest lithium-ion batteries and have been used in NASA's manned space applications.
The Water Award went to University of Malaya and Berqat Mechanic Engineering, for their solar-power enabled self-cleaning filtration system. The novel technology cleans water from rivers, underground and springs without using chemicals. The process is currently providing cheap, clean water to remote villages in Malaysia.
Green technology companies Enerkem, in Canada, and Green Lizard Technologies, UK, won the Biotechnology Award and Business Start-Up Award respectively. And, Stora Enso in Finland was presented with the Innovative Product Award for creating a new bio-based, sustainable material to replace fossil-fuels. The material is used in coatings and adhesives.
Sellafield Ltd triumphed in two Award categories. It won the Team Award with Progressive Alliance and AXIOM for developing a new facility that allows the safe, long-term storage of plutonium. The Young Industrialist Award went to Rojiar Ferschy, who is currently developing solutions to support Sellafield's plant operations responding to global nuclear challenges. She is a passionate advocate of chemical engineering and volunteers her free time to mentoring aspiring engineers and teaching English to Kurdish refugees at camps in Iran and Turkey.
Rolls-Royce walked away with the Industry Project Award for successfully constructing a new, complex manufacturing facility. The Food & Drink Award went to Monash University in Australia for its spray-drying technology for the dairy industry. The first of its kind, it has improved energy efficiency and reduced waste for its commercial partners, who produce around 70% of Australia's milk.
Johnson Matthey, US, won the Oil & Gas Award for its project CATACEL SSR: Structured Steam Reforming Catalyst. Meanwhile, the Research Project Award went to Imperial College London, UK for its Next-Generation Hybrid Solar Systems. Energus was crowned the winner of the Training and Development Award for its nucleargraduates programme, which is successfully and cost-effectively attracting and training new, young engineering talent the nuclear sector.
Massimiliano Materazzi, senior research fellow in the chemical engineering department at University College London, commented on the wins for Converting Waste to BioSNG.
Materazzi said: "I am extremely delighted that our work on Waste to BioSNG was recognised at the IChemE Global Awards with three first prizes. These awards are the icing on the cake for a project which started more than six years ago, and which has been a fantastic engineering journey. The consortium team has worked very hard to develop and test a new approach to one of the key issues in the environmental and energy sector: dramatically reducing the volume of waste to landfill whilst at the same time decarbonising both heat and heavy goods transport – sectors in which it has been extremely difficult to reduce greenhouse gas emissions to date. I believe that BioSNG will be one of a number of innovative game-changing technologies to achieve these targets.
"Winning these awards recognises both our innovative solution and collaborative model between industry and university. I really look forward to continuing my work with the team in helping commercialise the technology."
Marie Fallon, director of regulated industry at the EA, commented of the agency's win of the Diversity & Inclusion Award. "We're delighted that the Environment Agency has been recognised by the IChemE for its commitment to diversity and inclusion," she said. "Our chemical engineers use their valuable skills for the benefit of the people and the environment each day, and we know that an inclusive staff culture is essential for their wellbeing and productivity, which is what underpins this great work."
James Finn, a former pharmaceutical process engineer at PM Group who was involved in the filtration project, provided a comment about the collaborative Pharma Award win:
"We felt that it was an amazing accolade to just be chosen as one of the six finalists in the Pharma category, but to win it as well was incredible. Given the calibre of the other nominations within the Pharma category it gave us all great satisfaction that a judging panel of our peers valued and recognised what we have done; implementing some novel technology and processing operations on site. It was a great project to work on, with a team fully aligned to resolving a significant pharmaceutical processing issue, and resolving it with good, solid engineering. We are very proud of what we have achieved and feel that the award acknowledges the success that we have achieved as a collaborative team, with the co-operation, focus, and expertise of the personnel involved key to that success.
"It has been a pleasure to work on this project and I hope that this collaborative team-focussed approach will become the norm for future projects throughout the sector. Whilst acknowledging the excellent core team, it would be good to take the opportunity to thank all of the dedicated personnel involved in the project from GSK, Suncombe, ITT and PM group, who all worked very hard to ensure the success of this endeavour."
Ken Rivers, president of IChemE, said: "The IChemE Global Awards are a clear demonstration of the contribution chemical engineers are making worldwide for the benefit of society. Every finalist is living proof that chemical engineering matters. Thank you to our judging panel, which every year has the significant task of reviewing each entry - and they do so on a completely voluntary basis. For our winners, this peer-review is what makes an IChemE Award so special. As president of the Institution, I'm so proud to have seen first-hand the fantastic work that our professional chemical engineering community is doing. Congratulations to all our deserving winners."
The annual IChemE Global Awards celebrates the achievements and innovations of chemical engineers around the world. The 2018 Awards were hosted by comedian Alun Cochrane at The Principal, Manchester, UK on 1 November 2018.
For the full list of winners, visit the IChemE website.