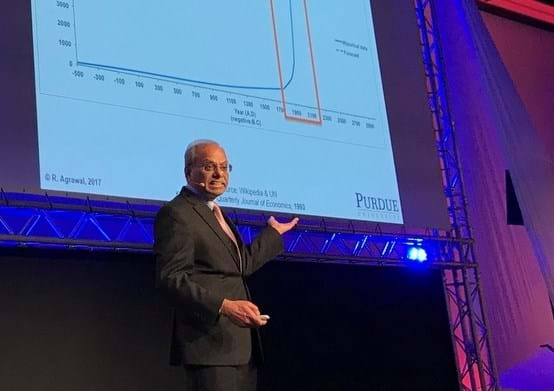 RAKESH AGRAWAL, chemical engineering professor at Purdue University, speaks on camera to The Chemical Engineer magazine after delivering the 2017 Danckwerts Memorial Lecture at the 10th World Congress of Chemical Engineering (WCCE10).
He shares his thoughts on the challenges and opportunities for the discipline when it comes to developing a solar economy.
The lecture was established in 1985 to honour professor Peter V. Danckwerts as a leading scholar in the field of chemical engineering. He worked as the second Shell Professor of Chemical Engineering at the University of Cambridge and served as president of IChemE (1965-66). The lecture is cosponsored by IChemE, the European Federation of Chemical Engineering (EFCE) and AIChE, and the journal Chemical Engineering Science. 
WCCE10 has seen more than 3,000 delegates gather to discuss the latest advances and trends in chemical engineering. The congress runs until the 5 October.