ON 14 June, as part of a cross-professional engineering institution working group, IChemE released a report which assesses the possibility of a transition from natural gas to hydrogen. The transition would help the UK to achieve "net-zero" greenhouse gas emissions by 2050.
Currently, the UK is highly dependent on natural gas – it generates 40% of electricity, heats 85% of homes, and produces 50% of the energy used by industry and businesses. But whilst natural gas offers advantages over solid fuels and produces around half as much CO2 as coal and oil, it is currently the biggest contributor of CO2 emissions in the UK.
The new report, Transitioning to hydrogen, assesses the risks and uncertainties associated with large-scale deployment of hydrogen to industry, businesses, and homes, by repurposing the natural gas network. Transitioning to hydrogen could help reduce reliance on natural gas and contribute significantly to decarbonisation of the UK.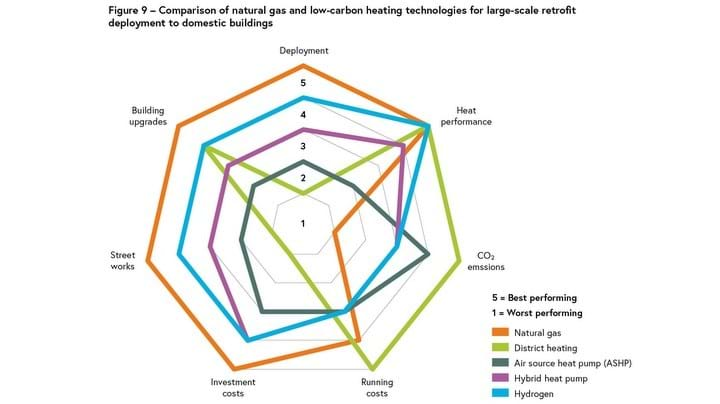 Transitioning to hydrogen
Employing hydrogen would allow much of the existing gas infrastructure to be used and it would allow use by industry, businesses, and homes. In addition, as it is mature technology, large-scale production of hydrogen is possible. Furthermore, based on selected criteria, hydrogen compares well with other low-carbon heat technologies for large-scale retrofit deployment to domestic buildings. The comparison shown in the figure is generalised and subjective (based on the opinions of involved experts).
The report presents 15 core questions that would need to be addressed to enable large-scale retrofit hydrogen deployment to homes and businesses. Included among the 15 are questions relating to areas such as research, development, and deployment; barriers to use; and, potential impacts. Some of these questions were partially addressed by projects discussed in the report.
Whilst there are risks associated with hydrogen production, the report states that "this is within an industrial environment which is controlled and for which there is already considerable experience". However, regarding network and consumer premises, it notes that amendments should be made to emergency procedures, training for managers and operatives, and on-site actions by first responders.
According to Transitioning to hydrogen, there have been a growing number of projects exploring hydrogen. The report briefly summarises the main UK projects, such as HyDeploy. HyDeploy is the first practical project in the country to demonstrate the possibility of safely blending hydrogen into the natural gas distribution system, at concentrations of up to 20% by volume, without requiring changes to network components or downstream.
The report lists five key messages which require "urgent attention".
CCUS infrastructure needs to be progressed – CCUS infrastructure needs to be deployed simultaneously to enable a future for large-scale retrofit deployment of hydrogen into industry, homes, and businesses.
Critical new technologies need to be deployed – new technologies will be involved in large-scale hydrogen deployment.
A transition programme should be prepared – it would need to include sufficient detail to identify "critical path items and their associated uncertainties".
Skills and resources should be mobilised – a transition to hydrogen will require a range of resources such as craft skills, project management and customer-facing skills, planning and design engineers, and academic and industrial researchers.
The programme should be funded – substantial investment will be required over many years.
Andy Brown, a committee member of IChemE's Clean Energy Special Interest Group, was one of five engineers supporting this work.
He said: "Decarbonising space heating, which is currently dominated by natural gas, is the next big challenge in taking action on climate change. Repurposing the existing gas infrastructure to deliver hydrogen is one of the options that are being considered. But to understand fully the implications and practicalities of such a move, we need solid engineering experience and evidence. 
"Hydrogen has the potential to be an important energy carrier into the future, but only if this can be delivered safely and in a way that is affordable to the country as a whole. We need to make a start now by seeding the necessary infrastructure, demonstrating the technology and building expertise. The concept of using hydrogen for heat, where the UK is providing the lead, has the potential to make a substantial impact in the fight to lower atmospheric CO₂ build-up."
Brown added: "The importance of introducing hydrogen as a substitute for natural gas will bring the expertise of chemical engineers to the forefront, who will play a vital role in delivering this when the introductions of new technologies come into place."
On the same day that the collaborative report was released, the International Energy Agency (IEA) also released a hydrogen report. The Future of Hydrogen provides an extensive, independent assessment of hydrogen which discusses hydrogen's current state of play, how it can help achieve "a clean, secure, and affordable energy future", and how its potential could be realised.
In the report the IEA makes seven recommendations to governments, industry and others to scaleup hydrogen. The recommendations include: establishing a long-term role for hydrogen in strategies; supporting research and development that could reduce costs; eliminating unnecessary regulatory barriers and harmonising standards; and engaging internationally and tracking progress.
The Transitioning to hydrogen collaborators included: the Institution of Engineering and Technology (IET), the Institution of Mechanical Engineers (IMechE), the Health and Safety Laboratory (HSL), and the Institution of Gas Engineers and Managers (IGEM).