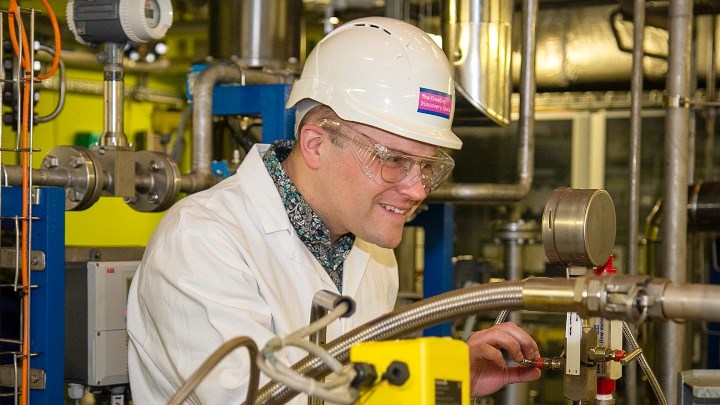 CAMPAIGNING chemical engineer Mark McBride-Wright is to receive one of the Royal Academy of Engineering's most prestigious awards in recognition of his dedication to promoting diversity and inclusion and rapid cultural change in engineering and technology.  
IChemE Member McBride-Wright, who is the founder of EqualEngineers, will receive the Rooke Award for public promotion of engineering at the Academy Awards Dinner in London on 12 July.  
The award is named in honour of the late Sir Denis Rooke, a former President of the Royal Academy of Engineering and one of the UK's most distinguished engineers. Previous winners include author and broadcaster Roma Agrawal in 2017 and astronaut Tim Peake in 2019.   
EqualEngineers was established by McBride-Wright to promote inclusive engineering by increasing the diversity of the workforce. Through the organisation, McBride-Wright has worked to engage thousands of people using events, public speaking, and training such as the organisation's Pathways Programme. 
The Pathways Programme is a 12-month mentoring scheme that runs alongside the academic year, and pairs engineers from industry with engineering students. McLaren Racing, Rolls-Royce and SSE are some of the organisations involved in the programme. 
McBride-Wright said: "It's a massive honour to receive this award as it is so vital that we engage people from all walks of life to consider a career in engineering. This sector is so important to society, helping us find solutions, drive innovation and improve quality of life. And I now have the ambition to take my work forward, evolve and elevate it to a place that will help the engineering sector to improve exponentially for the generations to come." 
The winner of a number of accolades, including Corporate Rising Star at the British LGBT Awards 2016, McBride-Wright is also the chair and co-founder of InterEngineering, a non-profit industry body that connects, informs, and empowers LGBTQ+ engineers and supporters.  
Set up in 2014, and now boasting a membership of 1,000, the organisation has grown to become the leading voice in addressing inclusion within engineering and construction, and has allowed LGBTQ+ engineers to become increasingly recognised in the industry.