MORE than 200 engineers gathered in Manchester, UK, earlier this month to celebrate excellence in engineering.
The annual North West Engineering Excellence Awards dinner, jointly hosted by IChemE and IMechE, was held at the Hilton Hotel in Manchester on 20 April and saw each institution present awards recognising engineering achievement, and support local causes.
Guests at the event included IChemE deputy president Ken Rivers and Baroness Julia King.
Prizes given by IChemE's North West Members Group included the North West Young Chemical Engineer of 2018 awarded to Daniel Belton, lecturer at the University of Huddersfield, in recognition of his achievement initiating the university's chemical engineering degree programme.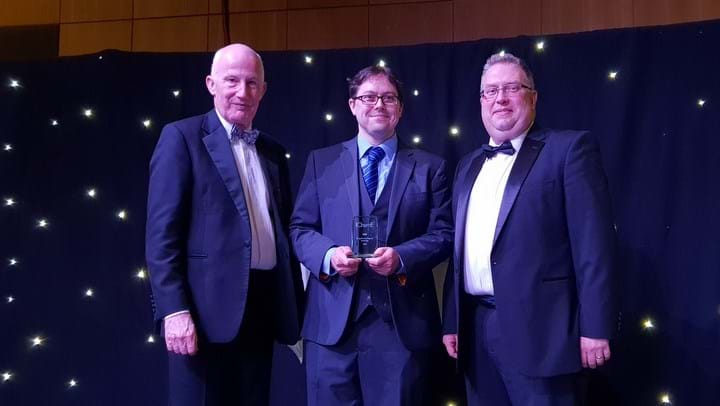 Anastasia Gondosari, a 4th-year student at the University of Manchester, won the North West Design Project of the Year award for her project "Supercritical Water Reforming of Glycerol" as part of the "Sustainable Production of Hydrogen" group project.
Rivers presented IChemE North West Committee chair Alexander Allen with the North West Honorary Chair 2018 Award, in recognition of his continued efforts in maintaining the region's various geographic member groups at grassroots level.
The guest speaker at the event was John Moutrie, regional chairman for Remap UK. He inspired the audience with stories of how the company – through its network of skilled volunteers, including retired engineers – helps disabled people achieve greater independence by designing and making equipment for their individual needs. During the evening, £890 was raised as part of the raffle for Remap UK, which will support this non-profit organisation in designing custom equipment for disabled people.
Speaking after the event, Wadoud Hazineh, IChemE North West Members Group vice chair and event organiser, said: "The second Engineering Excellence Awards was a great success, demonstrating the strength of engineering achievement in the region. We thank the sponsor GHD for its support and look forward to organising another valuable event again next year."