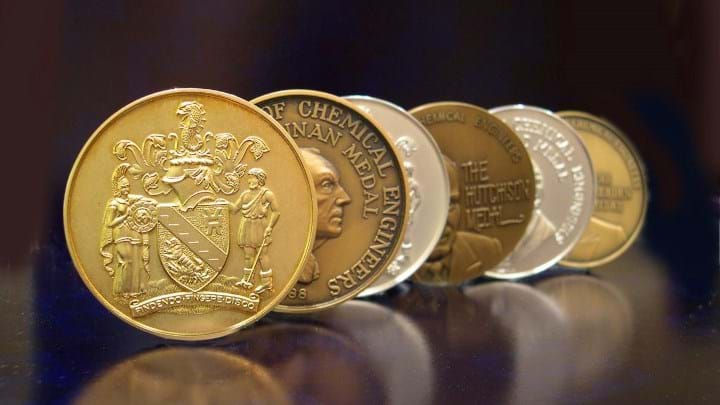 MEMBERS of the chemical engineering profession are being urged to celebrate the outstanding work of their colleagues by nominating them for an IChemE medal.
The IChemE Medals and Prizes Committee annually awards individuals and groups whose research, teaching, and service to the profession is regarded as world leading. Exceptional IChemE volunteer contributions are also celebrated.
Nominations open today, and close on 31 October 2023.
Mark Simmons, incoming chair of IChemE's Medals and Prizes Committee, said: "I'm very much looking forward to reading this year's nominations and discovering more fantastic examples of how our profession is shaping the world. The role of chemical engineers has never been more important as we embrace the challenges of climate change, and the move to net zero with the development of sustainable new processes and products across diverse industry sectors.
"IChemE's medals and prizes are a beacon of excellence for our profession, providing international recognition for excellent work in both industry and academia. They are an important opportunity to spotlight chemical engineers who, at all points in their careers, are producing remarkable contributions to the profession and the institution, delivering novel solutions, and making sustained efforts to address the challenges at the heart of our global society.
"I also want to ensure we continue IChemE's drive to celebrate the work of a diverse mix of chemical engineers and so the committee will particularly welcome nominations from women and minority groups."
Twenty-two IChemE medals and prizes are now open to receive nominations, giving chemical engineers the opportunity to celebrate varied aspects of their profession, from the promising work of early career researchers to key progress towards the UN's Sustainable Development Goals and thought leadership in industry.
For details of IChemE's medals and prizes criteria, or to download a nomination form, please visit the IChemE medals and prizes page.
Simmons has been an academic at the University of Birmingham, UK for 23 years. He spent seven years as head of the school of chemical engineering and is now director of the school's engineering and physical sciences research council centre for doctoral training in formulation engineering. Simmons has chaired the IChemE Morton Medals panel and been a member of the Medals and Prizes Committee for five years.
IChemE medals and prizes
Ambassador Prize
Awarded to a volunteer for exceptional contribution working on behalf of IChemE.
Davidson Medal
Awarded to an individual for outstanding mentorship of early career chemical engineers.
Donald Medal
To an individual for outstanding service in biochemical engineering.
Franklin Medal
To an individual for outstanding service in occupational health, safety, loss prevention, and care for the environment.
Greene Medal
Awarded for the most meritorious long term individual contribution to IChemE progress.
Hanson Medal
Awarded to the best contributor to the institution's magazine, The Chemical Engineer.
Hutchison Medal
To either an individual or group, for practical, wide ranging, philosophical, or thought-provoking papers published in an IChemE publication.
Lees Medal
For the most meritorious publication on the topic of safety and loss prevention in an IChemE publication.
Macnab-Lacey Prize
Awarded to the undergraduate student design project team whose design project submission best shows how chemical engineering practice can contribute to a more sustainable world.
Morton Medal
Awarded to an individual for their dedication to excellence in chemical engineering education.
Moulton Medals
The senior medal is awarded to the author(s) of the most meritorious paper published by IChemE during the last year. The junior medal has the same criteria but recognises the best author(s) who has graduated during the last ten years (excluding career breaks at the time of submission of the paper).
Nicklin Medal
Early career award for up-and-coming researchers active in any chemical engineering research area. Candidates must have no more than five years of postdoctoral research experience and should have produced international quality research output.
Sargent Medals
The senior medal is awarded to an individual to recognise a major contribution to research in the area of computer aided product and process engineering. The junior medal recognises a major contribution by an early career individual to research in the same area.
Sharma Medal
Accompanied by a sum of £1,000 (US$1,259), awarded to an individual who has, throughout their career, made a significant contribution to chemical engineering research.
SIESO Medal
Seeks to raise awareness of process safety among science, business, and engineering students.
Trustees Medal
Awarded to a volunteer for their exceptional service on an IChemE special project.
Underwood Medal
Awarded to an individual from either academia or industry, for a significant contribution to research in the area of separations.
Warner Medal
To an individual, normally in the early years of their career, who has shown exceptional promise in the field of sustainable chemical process technology, nuclear technology, or in making chemical engineering more accessible to a wider scientific community.