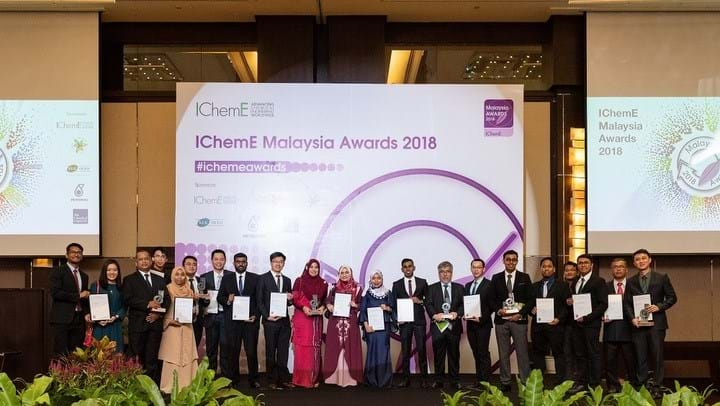 HER Royal Highness Zara Salim, Queen of Perak, presented two promising chemical engineers with trophies at the IChemE Malaysia Awards on 15 October.
HRH Zara Salim is the Royal Patron of IChemE in Malaysia, and, as a chemical engineer herself, a passionate advocate of the profession. She presented Sime Darby Plantation's Chew Chien Lye with the Young Industrialist Award for his work in process improvement, which has boosted profits while reducing energy and wastewater at the organisation. She also gave Ong Wee Jun the Young Researcher Award. The newly-appointed assistant professor at the Department of Chemical Engineering, Xiamen University Malaysia, had a breakthrough in his research this year. He successfully mimicked the photosynthesis process in plants by engineering a photocatalyst that can use solar light to split water and reduce carbon dioxide into energy-rich fuels.
Malaysia's state energy firm PETRONAS won three awards at the event. PETRONAS Penapisan won the Process Safety Award for establishing a safety framework that eliminates potential failures of overfill protection systems in its refineries. PETRONAS Research won the Sustainability Award for developing a membrane for fuel gas conditioning that simplifies operations and increases process reliability; and the Training & Development Award went to PETRONAS Chemicals Ammonia for its PCASB Process Safety 3Sixty (PS3Sixty) programme, which has improved process safety culture and safety performance across the company.
This year, a new prize entitled the Student Chapter Award went to Universiti Teknologi PETRONAS (UTP). In 2002, it became the first IChemE student chapter in Malaysia, with a strong track record of research development and commercialisation programmes.
The Oil & Gas Award was won by NGL Tech. The company's Low Pressure Condensate Recovery System (LP-CRS) was commended by the judges for being the only technology on the market that effectively extracts valuable hydrocarbon condensates from a very low-pressure gas, in a self-contained unit.
Meanwhile, IOI Edible Oils won the Palm Oil Award for their project Heat Recovery Using Vent Economisers. Vent economisers are used to recover steam vapour in a dry fractionation plant to heat water. The project has saved 50% on steam heating costs.
Christina Phang, chair of the IChemE Malaysia Board, said: "The IChemE Malaysia Awards provide a unique opportunity to celebrate the fantastic contribution of local chemical and process engineers, all who have demonstrated a commitment to the highest level of professional standards in their innovative and excellent work throughout Malaysia.
"This year we celebrate 12 years of IChemE in Malaysia and I thank all our members for being an integral part of our journey to this milestone. We are extremely honoured that Her Royal Highness Queen of Perak Darul Ridzuan, Tuanku Zara Salim has joined our celebrations and made them more special."
The ceremony is held annually to celebrate the achievements of chemical engineers in Malaysia.