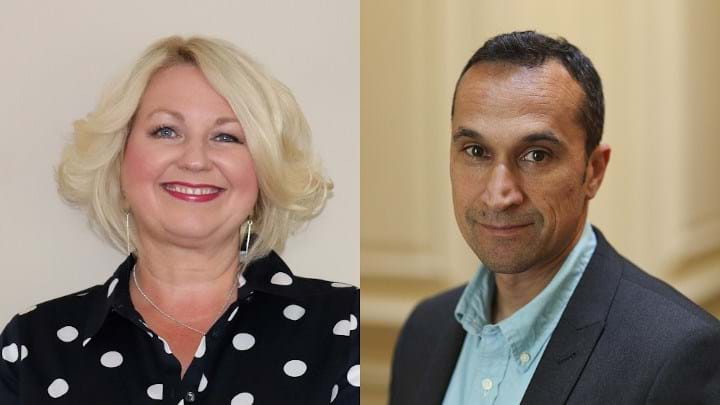 HER Majesty The Queen has awarded 2020 Birthday Honours to chemical engineers and IChemE Fellows Jane Atkinson and Nilay Shah for their outstanding contribution to chemical engineering.
Atkinson, Executive Director of Engineering and Automation at Bilfinger UK, was honoured with a Commander of the Order of the British Empire (CBE) for services to chemical engineering. Bilfinger UK provides industrial engineering services to the process industry. Within the company, Atkinson is responsible for all of the engineering design, technical, fabrication, major projects, automation, and digitalisation services provided to the UK's major blue-chip companies.
She has 30 years' experience in chemical engineering, having started out at British Steel, where she was the first woman in the world to manage the casthouse of a blast furnace. Atkinson then moved into the power generation sector, managing coal and gas-fired assets, including the UK's first Biomass Power Plant.
As an IChemE Trustee and Chair of its UK Board, Atkinson brings her technical and leadership skills and passion to the volunteer role, supporting members through mentoring programmes, whilst helping to create a more sustainable and business-like Institution.
She has won several awards, most notably in 2019 being named the most influential woman in UK engineering in an annual list produced by board appointments firm Inclusive Boards.
Professor Nilay Shah, Professor of Process Systems Engineering and Head of the Department of Chemical Engineering at Imperial College London, UK was awarded an Officer of the Order of the British Empire (OBE) for services to the decarbonisation of the UK economy.
He has spent his entire career at Imperial from undergraduate level to holding several leadership positions, including Director of Imperial's Centre for Process Systems Engineering. His work focuses on modelling, design and optimisation of process and energy systems. Some of his most notable work includes modelling and optimising technologies for carbon capture and storage systems, and in minimising the cost of bioethanol production.
Shah has also been an active volunteer with IChemE, supporting fellow chemical engineers through various roles. This includes as a mentor for IChemE accredited company training schemes and as a member of the editorial panel for the Chemical Engineering Research and Design learned journal.
He was Vice Chair of the National Engineering Policy Centre's working group that produced a paper with recommendations for a Covid-19 recovery plan to put the UK on track for its net zero target. The Centre is a partnership led by the UK national engineering academy Royal Academy of Engineering and it connects policy makers with critical engineering expertise to inform and respond to policy issues of national importance.
Shah has also been awarded several accolades for his work, such as IChemE's Senior Moulton Medal in 2019. The medal is awarded to the author, or authors, of the most meritorious paper published by IChemE during the last year.
Shah said: "I was really delighted and humbled to hear about this honour. I must admit I was very surprised when I first got the message! It's great to see engineering research recognised in this way. Of course it's the culmination of the work of a lot of people and I'm very lucky to have had so many talented researchers in my research group and successful collaboration with the other engineers and scientists within the community over the years."
Atkinson said: "I'm deeply honoured to have been awarded a CBE for services to chemical engineering. I am grateful for this recognition of my work and I am very proud to be a chemical engineer."
Stephen Richardson, President of IChemE, said: "I'm absolutely delighted that Jane and Nilay have been recognised by the Queen for their contributions to chemical engineering. These well-deserved honours are testament to their expertise and ongoing dedication to the profession, as well as their support to generations of chemical engineers.
"Their leading work in industry and academia is positively contributing to the development of sustainable processes and optimised energy production which will deliver significant benefits to wider society. I would like to extend congratulations to them both on behalf of IChemE: they truly are an inspiration to us all."
Atkinson and Shah join 1,493 others across the UK recognised in the Queen's Birthday Honours List this year. The List recognises the outstanding achievements of people across the UK. A full list of those awarded honours in 2020 is available here.