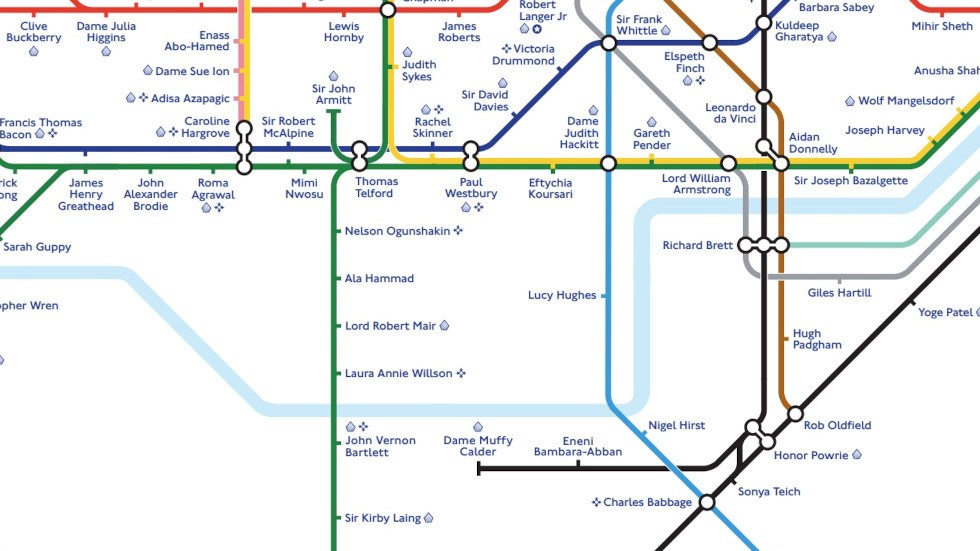 Transport for London
You can now travel from Dame Julia Higgins to Nigel Hirst via Dame Judith Hackitt thanks to a reimagined London underground map charting the contributions made by engineers, including several IChemE members, in shaping the world.
Dame Judith replaces Victoria tube station, with Dame Julia (past president) taking the spot of North Acton and IChemE president Hirst appearing on the map in place of Vauxhall.
Developed by Transport for London in collaboration with the Royal Academy of Engineering, the Engineering Icons Tube Map recognises historic pioneers who built London, the UK, and the wider world, as well as contemporary innovators working to improve society.
Alongside Dame Judith, Hirst, and Dame Julia, the map also celebrates IChemE Fellows Adisa Azapagic, Oluwole Olawale Folayan, and Dame Lynn Gladden among 274 engineers covering 11 disciplines. Released today to celebrate National Engineering Day, the map also features Honorary IChemE Fellow Dame Sue Ion.
On the reworked map, Hirst is along the blue Materials and Manufacturing line. Hirst, who took up the mantle of IChemE president earlier this year, has a career going back decades that has seen him involved in design, construction, and operations management in the chemical, environmental management, nuclear, oil and gas, and pharmaceutical sectors.
He said: "It's good for the role of engineers to be recognised on National Engineering Day.
"It's an excellent initiative from Transport for London and the Royal Academy of Engineering to illustrate the many engineers over the centuries who have contributed to the success of Britain, and it is an honour to be included next to some illustrious names like Charles Babbage, Lord William Armstrong, Sir Henry Royce, and Alan Turing. It is also wonderful to see other chemical engineers and members of IChemE mentioned as well, including Adisa Azapagic, Dame Julia Higgins, Dame Judith Hackitt, Ollie Folayan, and Sue Ion."
Azapagic is currently a professor of sustainable chemical engineering at the University of Manchester. She recently received IChemE's prestigious Davis Medal and is recognised on the map for her contributions to Environment (yellow line) and Energy and Power (pink). An expert in sustainability, she has been awarded an MBE for services to sustainability and carbon footprinting. She was awarded the IChemE Award for Outstanding Achievements in Chemical and Process Engineering in 2010, and the GSK/CIA Innovation Award in 2011 for leading development of the CCaLC carbon footprinting tool for industry.
She said: "This is a great initiative by the Royal Academy of Engineering to raise awareness of engineering and showcase engineers who have shaped the world across centuries. It is very humbling to be in such esteemed company."
Dame Judith is shown as a contributor to Environment, Infrastructure (green), and Materials and Manufacturing. A former president of IChemE, she has more than 40 years of experience in the chemical industry and hazards management, including advising the government on regulation and fire safety following the 2017 Grenfell Tower incident. She is currently chair of Enginuity, a charity focused on closing the skills gap in engineering and manufacturing.
She said: "I'm delighted and honoured to be one of the 274 engineers included on this special version of the tube map to mark National Engineering Day. It's a great way to bring together the huge impact which engineers have in all walks of life, and I feel very proud to be an engineer – every day, not just today."
Dame Lynn, a chemical engineering professor at the University of Cambridge, said: "The Engineering Icons Tube Map is a great way to celebrate engineering. At a glance, it communicates the diversity of the different contributions that engineering makes to our lives and the diversity of people who are engineers."
She is on the map along the red Life and Health line, while Folayan, who received an MBE early this year for his services to equality, diversity, and inclusion in engineering, features along the brown International line.