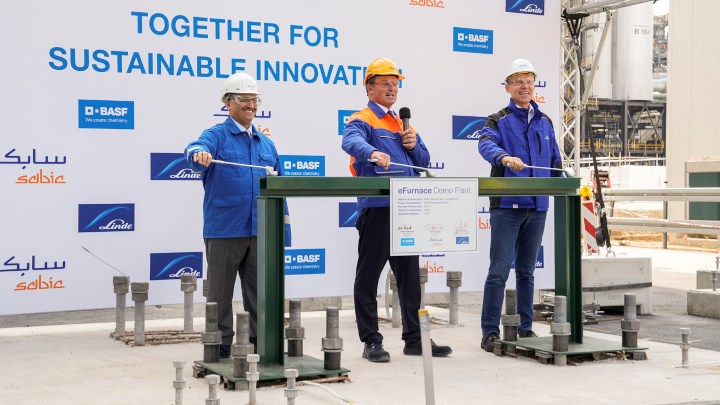 BASF
BASF, SABIC and Linde have begun electrifying a steam cracker at the huge Ludwigshafen chemicals complex in Germany, as they seek to show that the sector can eliminate 90% of emissions from the heart of chemicals processing.
Steam crackers are conventionally heated by burning fossil fuels to reach the high temperatures required to break hydrocarbon feedstocks into the olefins and aromatics used as building blocks in chemicals supply chains. But this produces huge volumes of CO2 that the industry is under pressure to eliminate.
BASF and its partners have begun constructing a demonstration plant that will test two different heating concepts that will use renewable electricity rather than fossil fuels. The plant is scheduled to start up in 2023 and will process around 4 t/h of hydrocarbons, using 6 MW of renewable energy.
The demonstration plant aims to show that continuous olefin production is possible using electric heating. The plant is designed so that direct heating and indirect heating methods can be tested in parallel.
With direct heating, an electric current will be applied directly to the process tubes carrying the hydrocarbon feedstock through the cracker. BASF says that Joule heating inside the tube wall, caused by the electric resistivity of the material, provides the required thermal energy for the chemical reaction. With indirect heating, the current will be applied to heating elements placed around the tubes with radiative heat transfer supplying the thermal energy needed to crack the feedstock.
BASF and SABIC are funding the demonstration along with €14.8m (US$14.8m) from the German Government's industry decarbonisation programme. Linde is the engineering, procurement and construction partner for the project and will commercialise the technologies that are developed.
Yousef Al-Benyan, CEO of SABIC, said: "This project holds huge potential for all of the petrochemical industry around the world in our drive for low carbon emitting processes.
"With the milestone we are jointly announcing today on the start of construction, we hope that our three-party collaboration can inspire many more collaborations that ultimately bring the world to net-zero greenhouse-gas emissions through a circular carbon economy."
Other efforts
Fossil-fuelled European crackers emit around 30m t/y of CO2, equivalent to around 25% of all chemical industry emissions in the EU, according to figures from the Cracker of the Future consortium. This industrial partnership was launched in 2019 by companies including BP, Borealis and TotalEnergies. BASF and SABIC had co-founded the consortium but withdrew in 2021 citing conflicts with its existing partnership with Linde and SABIC.
Last year, Borealis said the consortium had narrowed down the number of electric heating technologies it was reviewing and in the next phase would hold discussions with providers before picking a technology to demonstrate from 2023 and commercialise as early as 2026.
Dow and Shell have also partnered on e-cracker technology and announced earlier this year that they have begun operating an experimental unit. They are using it to gather data ahead of designing and constructing a multi-megawatt pilot plant that they say could be operational in 2025.
Meanwhile, engineers at Coolbrook and ABB have set their sights on replacing conventional steam cracking technology altogether with a roto dynamic reactor that they are piloting in the Netherlands. They have designed an electrically-driven turbomachine powered by renewable energy that would crack hydrocarbons by directly imparting the rotor shaft's mechanical energy to the feedstock.