ENGINEERS at Coolbrook and ABB have set their sights on replacing steam cracking technology with a novel turbomachine called the Roto Dynamic Reactor (RDR) that they will pilot at a chemicals site in the Netherlands later this year.
The idea is to use an electrically-driven turbomachine powered by renewable energy in place of the conventional fossil-fuelled steam cracking processes that industry uses to produce olefins such as ethylene and propylene from ethane or naphtha. Coolbrook, which has developed its Roto Dynamic Reactor through collaborations with the universities of Oxford, Cambridge, Ghent, Neste Engineering and Mitsubishi Heavy Industries, says the technology can replace a conventional furnace by directly imparting the rotor shaft's mechanical energy to the hydrocarbon fluid. This is achieved by aerodynamic action through a rotating blade flow.
As well as eliminating CO2 emissions from the traditional steam cracking process, Coolbrook estimates that because its Roto Dynamic Reactor creates higher temperatures with a shorter residence time, it is able to achieve 20% higher ethylene yields. It says this will increase annual profits for a 1m t/y ethylene plant by more than US$160m. Coolbrook said last year that it is in negotiations with several major oil companies that want to make use of its technology.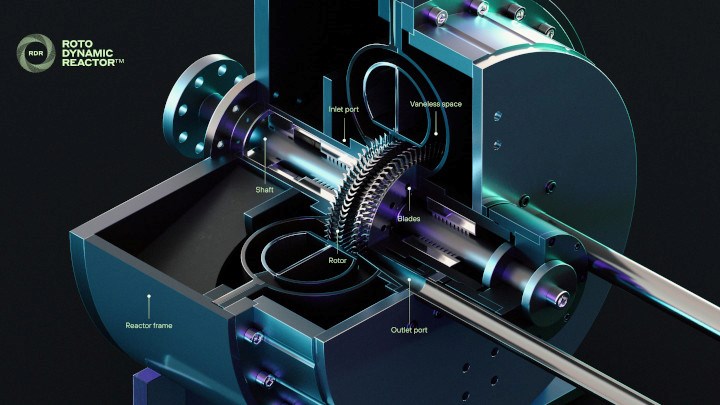 Coolbrook
The pilot project is taking place at the Brightlands Chemelot Campus in the Netherlands and will be fully operational in April. ABB and Coolbrook have signed a memorandum of understanding to commercialise and accelerate the adoption of the technology. ABB will help with the automation, electrification and digitalisation needed to optimise operational processes and simplify integration.
The technology is modular and could be retrofitted to existing steam cracking operations. Coolbrook and ABB say their collaboration will support customers from FEED stage and include RDR package, electric motor and drive, automation, safety, power distribution, instrumentation and analysers, condition monitoring and full digitalisation. They say chemical producers will benefit from increased operational yields, lower operating costs, easier maintenance and lower capital costs.
Ilpo Kuokkanen, Executive Chairman of Coolbrook, said: "Our RDR technology and ABB's technology perfectly complement each other. Together, we will offer a first-of-its-kind electric, carbon-free solution for one of the biggest industrial processes in the world."
The work comes alongside a wider push by industry to find a cleaner method for cracking chemicals. In 2019, BASF and SABIC formed The Cracker of the Future Consortium with BP, Borealis, LyondellBasell and Total. And in 2020, Dow and Shell announced they too are working together to develop "E-cracker" technology.
Colin Ward, Senior Vice President for ABB Energy Industries Chemicals & Refining, said: "Electrification of steam crackers in ethylene production provides a pathway to reduce emissions in these processes by 300m t/y worldwide."
Professor Budimir Rosic from the University of Oxford helped develop Coolbrook's technology through a project he led called Experimental and Numerical Investigation of Flow and Heat Transfer in Turbo Reactors for Cracking Hydrocarbons. Speaking last year about the benefits of Coolbrook's technology, he said: "Turbo machines are one of the most efficient devices that we use to transfer energy through dynamic action of rotating blades. We are using existing materials; methods that are used for jet engines; and gas turbines for power generation. It really brings space science, turbo machinery and chemical engineering together."