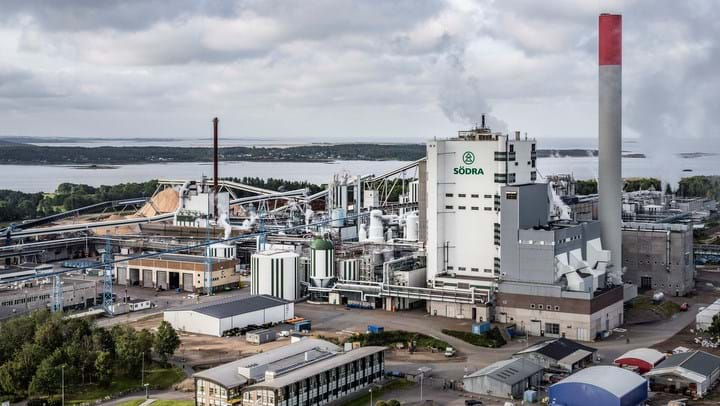 AKZONOBEL has joined a partnership in Sweden that seeks to use excess renewable power to produce hydrogen.
The specialty chemicals unit of the Dutch chemicals-maker has teamed up with the Research Institutes of Sweden (RISE), forestry group Södra and packaging materials company BillerudKorsnäs. They will study the opportunities of using surplus renewable power to electrolyse water into hydrogen and oxygen.
This would offer a greener route to hydrogen. Industry typically produces hydrogen from fossil fuels, with steam reforming of natural gas the most common route.
AkzoNobel says it will lend its electrochemistry expertise to help explore the "electrofuels concept" of combining the hydrogen with CO2 to produce methanol, a key feedstock in the manufacturing of chemicals and fuels. In this way, it says, the process serves as a carbon 'sink' by effectively recycling CO2 emissions.
Sweden has set itself a target of having 100% renewable electricity production in 2040.
"More wind and solar energy brings a growing societal and industrial need to manage fluctuations in electricity supply and demand," said Anna-Karin Jannasch, focus area manager for industrial transformation at RISE.
There is growing interest in producing hydrogen from electrolysis.
In January, AkzoNobel Specialty Chemicals formed a partnership with Dutch gas network operator Gasunie to investigate using a 20 MW electrolysis unit – the largest in Europe – to produce hydrogen.
Earlier this month, it was announced that Keele University in the UK will host a project to trial blending hydrogen with natural gas to reduce emissions in heating.
And earlier this year, Shell announced it would build an electrolysis plant at its Rheinland refinery in Germany to help replace a portion of the hydrogen it currently produces by steam-reforming natural gas.