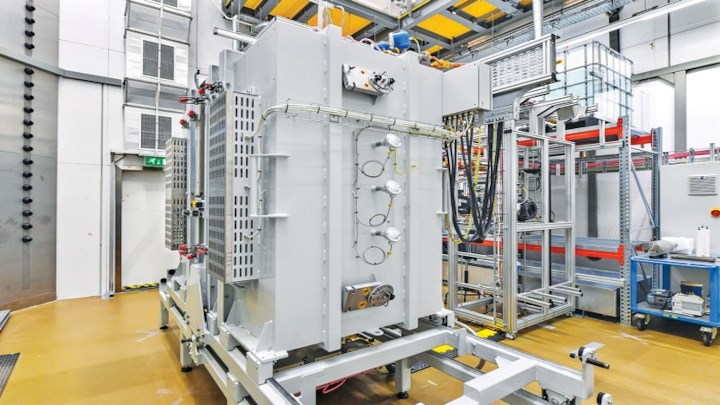 Shell
A JOINT experiment by materials science company Dow and Shell to electrically heat steam cracker furnaces is now underway at the Energy Transition Campus Amsterdam, The Netherlands.  
Steam cracking is a petrochemical process in which saturated hydrocarbon feedstocks such as liquefied petroleum gas (LPG) or butane are broken down into smaller hydrocarbons like ethylene and propylene. These in turn are then used in the manufacture of a wide variety of products from fabricated plastics, antifreeze and alcohol, to surface coatings, and adhesives. 
Traditionally, these type of furnaces have used steam produced from fossil fuel combustion to reach the reaction temperatures (around 850°C) needed to break molecular bonds.  
This energy intensive process, however, produces a huge amount of CO2. To help decarbonise the chemicals industry, Dow and Shell are proposing to use renewable electricity to heat steam cracker furnaces instead.  
These have the potential to reduce 90% of scope 1 emissions at economically-competitive costs with conventional crackers, say Shell. 
As a first step, the e-cracking furnace experimental unit has been completed and is now operational. Data from the experimental unit will then be used to design and construct a multi-megawatt pilot plant that could be operational as early as 2025, subject to investment support. 
Keith Cleason, Vice President Dow Olefins, Aromatics and Alternatives business said: "This milestone demonstrates that low carbon emissions manufacturing technologies are within reach. The collaboration with Shell has the potential to reshape the way our industry manufactures products in future decades." 
The project, which aligns with both companies ambitions of achieving net zero emissions by 2050, was awarded £3.1m (US$4.2m) in funding from the Dutch Government last year and incorporated The Netherlands Organization for Applied Scientific Research (TNO) and the Institute for Sustainable Process Technology (ISPT).