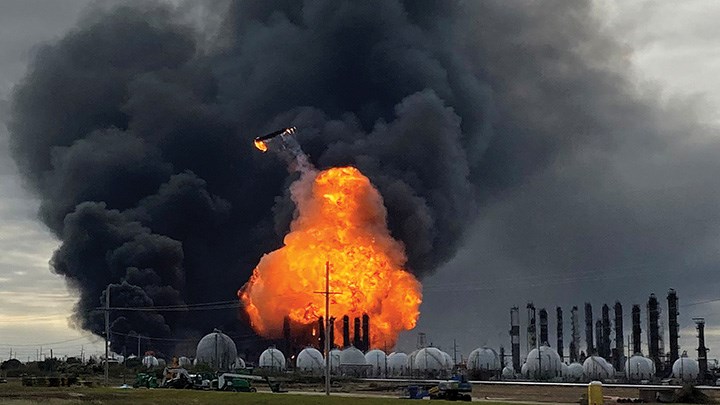 Erwin Seba/Reuters
THE US Chemical Safety Board (CSB) has released its factual update on the explosion that took place at the Texas Petroleum Chemical (TPC) facility in Port Neches, Texas, on 27 November 2019.
Several explosions occurred at the TPC facility, which resulted in three people being injured and causing the evacuation of 50,000 people in the surrounding area for two days. A second evacuation occurred a week after the initial explosion, which was lifted a day later.
The explosion occurred a week after the Environmental Protection Agency (EPA) rescinded most of the Chemical Disaster Rule. The revision relaxed numerous safety measures such as requiring companies to assess the possibility of using safer technologies.
The CSB report said that the incident occurred in the South Unit of the facility, which produced 1,3-butadiene, which is highly flammable and reactive. A loss of containment occurred at 12:54 on 27 November resulting in around 27,000 L of a liquid, which was primarily butadiene, to empty from the fractionator in less than a minute, according to CSB calculations. Workers told the CSB that they saw a pipe rupture. The liquid formed a vapour cloud which then ignited at 12:56, creating the initial explosion.
Another explosion followed at 02:40, and a major explosion at 13:48 launched an out-of-service debutaniser tower into the air which then landed within the facility. Four other towers fell during the explosion and fires. The report said that fires burned for more than a month as flammable process fluid was released from damaged equipment, and the fires were only completely extinguished on 4 January.
The CSB noted that butadiene can create "popcorn" polymer in process vessels, which is a hard material created when oxygen reacts with butadiene. The buildup of popcorn polymers has caused ruptures at other facilities which led to a loss of containment. The report also noted that popcorn polymer had been known to form in the South Unit prior to the incident.
The CSB report said that damage to the TPC facility was calculated by Marsh JLT Specialty to be US$500m. The EPA estimated that its revised Chemical Disaster Rule would save around US$88m/y by removing unnecessary regulatory burdens.
The CSB investigation is ongoing.