ARKEMA has reported a chemical fire at its organic peroxide (OP) plant in Crosby, Texas, amid flooding from Hurricane Harvey.
System.NullReferenceException: Object reference not set to an instance of an object.
   at TechnicalLabs.Libraries.UmbracoV76Helpers.Images.ImageHelpers.GetImageFromMediaIdWithFocalPoint(Int32 mediaId)
   at ASP._Page_Views_Partials_grid_technicallabs_media_cshtml.Execute() in C:\Websites\Production\IChemE\TheChemicalEngineer\Website\Views\Partials\grid\technicallabs\media.cshtml:line 43
   at System.Web.WebPages.WebPageBase.ExecutePageHierarchy()
   at System.Web.Mvc.WebViewPage.ExecutePageHierarchy()
   at System.Web.WebPages.WebPageBase.ExecutePageHierarchy(WebPageContext pageContext, TextWriter writer, WebPageRenderingBase startPage)
   at Umbraco.Core.Profiling.ProfilingView.Render(ViewContext viewContext, TextWriter writer)
   at System.Web.Mvc.Html.PartialExtensions.Partial(HtmlHelper htmlHelper, String partialViewName, Object model, ViewDataDictionary viewData)
   at ASP._Page_Views_Partials_grid_technicallabs_base_cshtml.Execute() in C:\Websites\Production\IChemE\TheChemicalEngineer\Website\Views\Partials\grid\technicallabs\base.cshtml:line 19
The fire occurred in a failed cooling unit used for the emergency storage of highly flammable OP stocks, and the company expects the contents of eight remaining units to either ignite or explode over the coming days.
The area was evacuated on Tuesday within a 2.4 km radius, as it became apparent that floodwaters rising as high as 1.83 m would cause the loss of electrical power used to cool the chemicals.
OPs undergo a self-decomposition above certain temperatures, called the self-accelerating decomposition temperature (SADT), and must be stored under this temperature or they can decompose to explosions and fires.
Since the reports of two "explosions" and black smoke this morning, it has been confirmed that a sheriff's deputy was taken to hospital for smoke inhalation, with a further 14 officers admitting themselves as a precaution.
At a press briefing this afternoon, the president of Arkema's acrylic monomers business Richard Rennard said that the blasts described in early reports were most likely from pressure relief valves, as the OPs ignited under rising temperatures.
He said: "We fully expect that the other eight containers will do the same thing. Water is still preventing us from accessing the facility, and we believe that the safest thing to do is to allow the other containers to burn."
He added that he does not expect a threat from other flammable materials located on site, as the refrigeration units are in a remote location.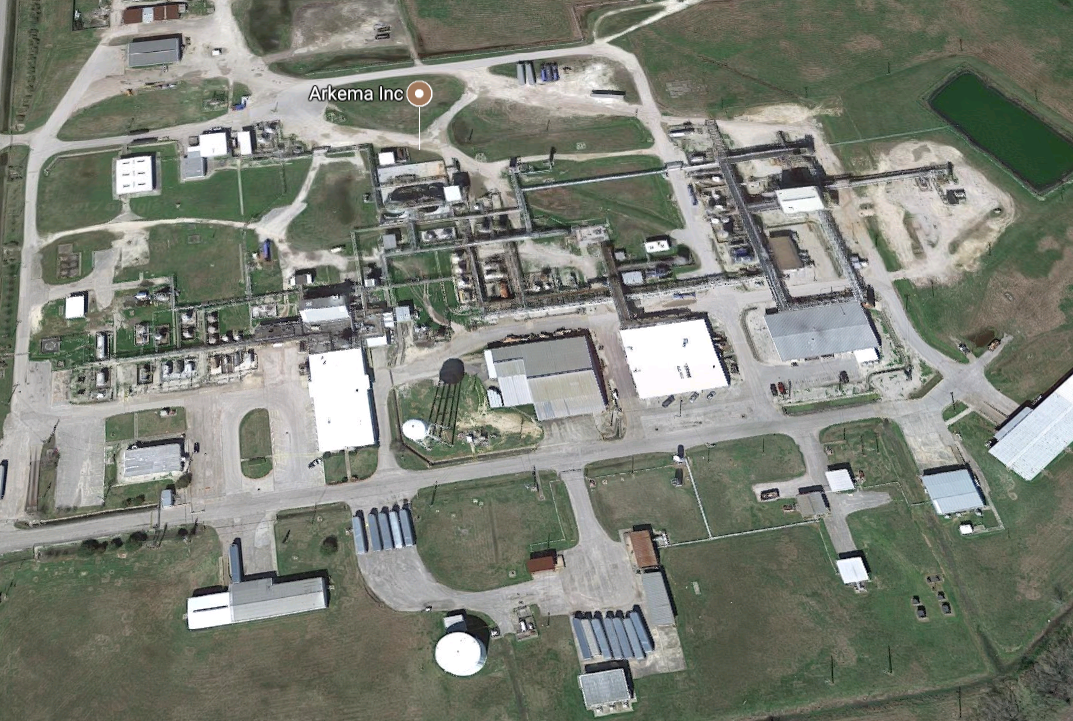 Emergency planning
A statement released by Arkema this morning said: "Unprecedented flooding overwhelmed our primary power and two sources of emergency backup power. As a result, we lost critical refrigeration of the products on site. Some of our OP products burn if not stored at low temperature."
In addition to the emergency back-up power, comprising generators and diesel-powered storage containers, Rennard said that equipment for an additional liquid nitrogen cooling system had also failed due to the floodwater.
When asked why Arkema did not reduce the risk by diluting the OP with water or chemically neutralising it, which results in the loss of the feedstock, he said that he could not comment on the matter.
With regards to the contingency plans Arkema had put in place, director of the IChemE Safety Centre (ISC) Trish Kerin said that it is surprising that they did not reduce the risk by diluting solid OP.
Kerin said: "It is unclear if they attempted this or just moved it to the containers that subsequently then lost temperature control.
"What is not clear is if they had flood plans for a flood of this magnitude. It is possible they did as they had generators available to operate the storage containers if they lost power, but may not have considered what would happen if they lost generators due to flood also – which happened," Kerin added.
Anticipation
When the Harris County Emergency Operations Center informed Arkema of the incident at 02:00 CDT (07:00 GMT) this morning, it was not unexpected.
Richard Rowe, CEO of Arkema's North America unit, said in a statement last night that fires were expected, and that the company had no way to prevent them.
He said: "Any fire will probably resemble a large gasoline fire. The fire will be explosive and intense. Smoke will be released into the atmosphere and dissipate."
"The fires from the burning OPs will emit thick black smoke. The smoke might be irritating to the eyes, skin and lungs," he added.
Arkema had shut down production of the plant in advance of Hurricane Harvey making landfall on Friday. Of the 57 people working at the plant, which is located 40 km northeast of Houston, a crew of 11 emergency workers remained until they were evacuated on Tuesday after power was lost.
Luperox-branded OPs are made by Arkema, and are used in the production of plastic resins, polystyrene, polyethylene and other products.
Many chemical and oil facilities in Texas have shut down operations, including Dow Chemical's Seadrift Facility and ExxonMobil's Baytown complex, leading to the US Chemical Safety and Hazard Investigation Board (CSB) releasing a safety alert urging for diligent safety management when restarting plants.