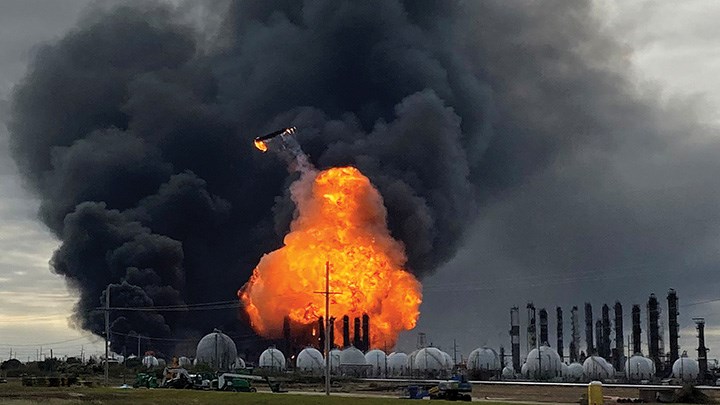 Erwin Seba/Reuters
A WEEK after the explosion at the Texas Petroleum Chemical (TPC) facility in Port Neches, Texas, a voluntary evacuation order has been issued due to elevated levels of 1,3-Butadiene.
An explosion occurred in a tank with finished butadiene at the TPC facility at 01:00 local time on 27 November, resulting in significant damage to surrounding homes. Three people were injured in the explosion but were later released from hospital. A second major explosion occurred around 12 hours later which was filmed by KHOU 11. Following the second explosion, a mandatory evacuation order was issued for a 6.4 km radius around the plant which led to the evacuation of at least 50,000 people. This was lifted on 29 November when the fire was contained and the last of the fires was extinguished late on 3 December.
However, the all clear has yet to be given, and due to a change in weather conditions there are elevated levels of 1,3-Butadiene. Short-term exposure can cause dizziness, nausea, headaches, and irritation of eyes and throat. A voluntary evacuation order for the city of Port Neches was issued late on 4 December. A shelter-in-place had been issued earlier that day. Residents have also been warned not to touch any debris as it might contain asbestos.
The explosion happened a week after the Environmental Protection Agency rescinded a rule that was designed to improve safety at chemical facilities.