THE US Chemical Safety Board (CSB) has released a detailed animation (below) of the events leading to the fires that broke out at the Arkema plant flooded by Hurricane Harvey in August. Given the initial findings, CSB chair Vanessa Allen Sutherland has called on industry to update its existing emergency plans, warning they may no longer be adequate.
The facility in Crosby, Texas, which makes and distributes organic peroxides used to produce consumer products including polystyrene cups and plates, was overwhelmed by extremely heavy rainfall. Staff worked to implement the plant's hurricane preparedness plan but as the flood waters climbed higher, power was lost to the temperate-controlled storage facilities used to keep the organic peroxides cool.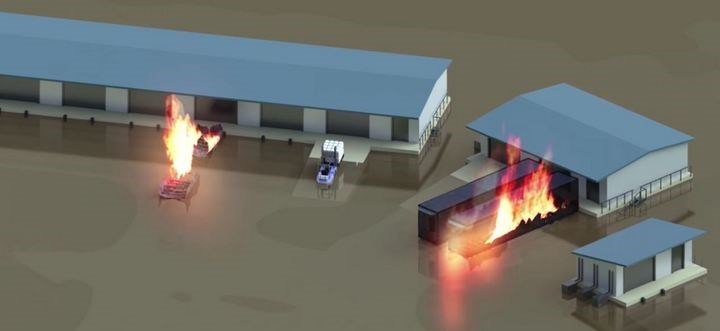 Ultimately, the floodwaters overwhelmed the stores, back-up generators, and finally the refrigerated truck trailers where workers had, in a last-ditch effort, transferred the chemicals to prevent them from heating up and catching fire. Nine days after the storm made landfall all the stores of organic peroxide had burned up.
Announcing the initial findings of the CSB's ongoing investigation Sutherland said: "The backup generators at Arkema were elevated two feet off the ground, whereas the flooding exceeded three feet in the vicinity of the generators. There is a valuable lesson that facilities in the Gulf and elsewhere should note:  Reassess continuity of operations plans and worst-case scenario assumptions. Plan and plan again. Don't be lulled into a false sense of safety by thinking that "it can't/won't happen here."  
Arkema reports, in documents provided by the US Environmental Protection Agency to the Houston Chronicle, that the level of flooding could not have been predicted. The plant site had not received more than 20 inches of flooding in its history, the company said.
"The facility was not prepared for such heavy rainfall which led to a rapid flood rate. Facilities across the Gulf Coast experienced similar problems," Sutherland said. "As tropical storms in the Gulf of Mexico increase in frequency or intensity, it is imperative that facilities have effective emergency response procedures in place."
In a statement to The Chemical Engineer, Sutherland also suggested that "companies could evaluate whether they are in a floodplain even if they were not when the facility was built."
The investigation continues.