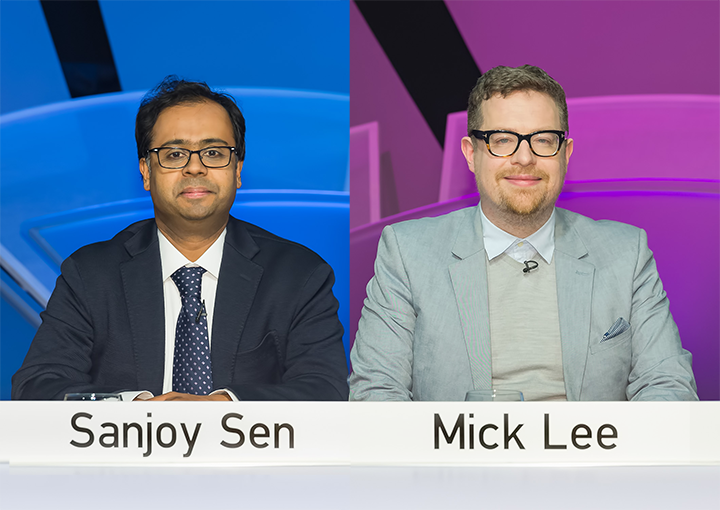 Patrick Olner/Parasol Media
TWO Chartered Members of IChemE, Sanjoy Sen and Mick Lee, will clash on Monday night on UK television as they captain opposing teams on BBC2 quiz programme Only Connect.
The fiendishly difficult quiz has a cult following in the UK. It is currently on its 13th series and is presented by Victoria Coren Mitchell. In each episode, two teams of three battle it out over four rounds. In round 1, teams must choose a question from the board and have 40 seconds to spot the connection between four apparently unconnected words or phrases. In round two, the words make up a sequence, and the teams must work out the final word or phrase in that sequence. Round three gives each team 16 words to assemble into four connected groups, although there are often red herrings and clues that fit into more than one category. The final round, on the buzzer, is the missing vowels round, which as the name suggests involves words or phrases being shown with all the vowels missing and the spacing altered.
Sen, an IChemE Fellow who is a development engineer for the Oil and Gas Authority, captains a team called The Wanderers. His teammates are a geologist and an environmentalist and initially wanted to call themselves The Mudloggers, but it was decided that it was too obscure. All three applied individually for the show and were brought together by the show's production team.
"I work in London, and we all met up in a pub in Kensington about an hour before the audition, true story! We met up, did the audition and off we went," said Sen, adding that his selection as team captain was something of an accident as it just so happened that the only free chair in the audition was the central captain's chair.
Lee, a Chartered Member who works for BP in group research in Hull, UK, also applied as an individual after his efforts to persuade friends to join him failed.
"I felt I was doing well from the comfort of my own sofa and thought I could really fancy giving this a shot, so I applied," he said.
His captaincy was also an accident. "I ended up on a team with the two guys I auditioned with, who'd also applied separately, and we just clicked. The producer swept her eye over us as we entered the room and said: 'Right, you've got a pocket square, you're the team captain.' You can't really argue with that kind of steely logic," added Lee.
His team name (Vikings) came about due to a shared connection with York, which has a wealth of Viking heritage.
The Vikings and The Wanderers have already knocked out two opponents apiece and meet in the third round of the show. Both remain tight-lipped as to the outcome of Monday's pre-recorded clash, beyond saying that it was quite close.
The coming issue of The Chemical Engineer features a full interview with Lee and Sen and a report of the action from their battle. Meanwhile, UK viewers can watch the action unfold on 12 February on BBC2 at 20:00.