Low-cost DIY units could save thousands of lives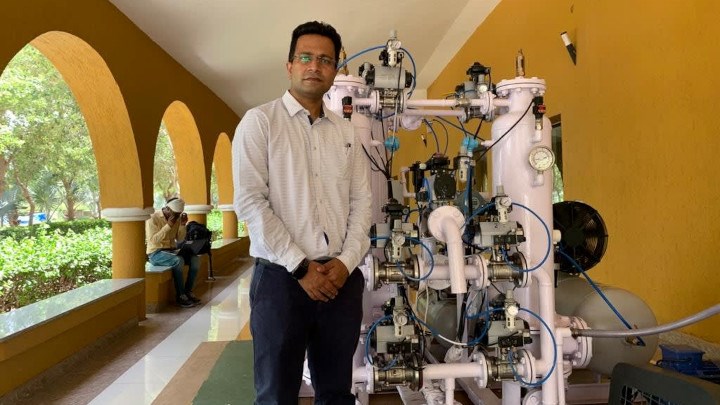 Monash University
THREE chemical engineers from separate universities around the world are collaborating to develop "cookie-cutter" portable oxygen conversion units that can be easily assembled from locally-sourced equipment, aiming to prevent "thousands" of Covid fatalities in India.
India has recorded more than 431,000 deaths as of mid-August. Responding to increasing numbers of patients in wards, India's hospitals have commandeered liquid oxygen used for steelmaking. However, the refrigerated trucks needed for transport are in short supply.
To address the oxygen shortage, Paul Webley, Professor of Chemical Engineering at Monash University, Australia began working with Tejas Bhatalia and Abishek Sharma. Bhatalia is Senior Research Fellow at Curtin University, and Sharma is Chemical Engineering Professor at Manipul University Jaipur, India. Webley formerly worked as an engineer on designs for oxygen plants at an industrial gases company.
Working via video link they aim to develop oxygen conversion units that technicians could build "on-the-ground", enabling self-sufficiency. Additionally, the units would be portable and able to produce oxygen where needed.
Webley said: "Our plan is to use readily available equipment items – vessels, compressors, valves, piping […] Our emphasis has been on simplicity and low cost, not performance."
The system requires a silicon molecular sieve to filter out nitrogen. Though the required sieve is specialised, it is inexpensive and relatively easy for chemical engineers to buy.
The group is currently working with prototypes and is in the debugging phase. Sharma works using the main large prototype and sends data to Webley, who uses simulation tools to help diagnose operations, interpret data, and suggest changes. Using a smaller prototype, Bhatalia also helps to debug the large unit.
Webley said he expects to make further modifications to the system, but believes the team will achieve a rapidly reproducible "cookie-cutter" unit, after three or four more iterations.
The researchers are also working to improve the oxygen purity that the system can achieve. Webley explained that the medical profession has strict standards and requirements to which the group has to adhere. "The main restriction is purity – it must be supplied at a minimum of 90% purity," he said. Currently the team has achieved 70% purity.