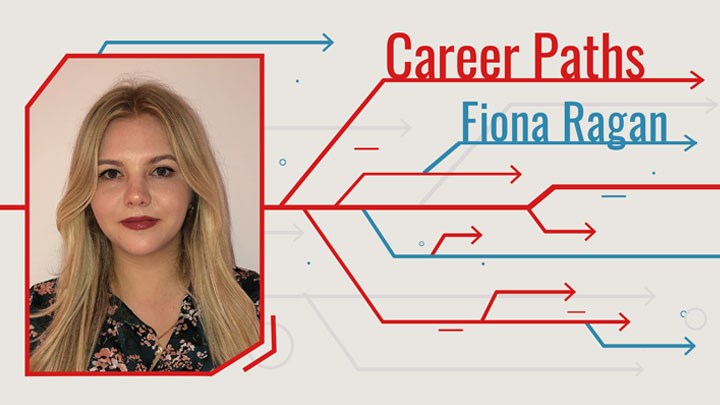 Fiona Ragan talks about her role in process control at Amazon
IN THIS series we speak to chemical engineers working outside of the fossil fuel sectors to highlight the breadth of opportunities open to those just starting their careers or seeking to change sectors.
Fiona Ragan is a Process Control Specialist at Amazon, well-known for its e-commerce, and responsible for billions of packages arriving at doors each year. Explaining her role, Fiona says that "as a process control specialist I work with artificial intelligence (AI) and the operations team on site in our warehouses to create and implement deployment plans. This involves working out how many pickers are needed to balance the number of packers for us to process the number of products – we call them units – throughout the shift. I also have to consider the activities of a small team of colleagues whose role it is to sort some of the units on their journey from picker to packer. Essentially, I am almost solely responsible for the flow of units throughout all the conveyors on a single site that employs hundreds of associates [warehouse staff] per shift.
"One of my key responsibilities is keeping an eye on the throughput of a warehouse based on the number of associates working on a shift and their achieved picking and packing rates.
"Being a fresh graduate, the role gives me a lot of responsibility which is extremely rewarding. Essentially, I have been assigned a warehouse to advise on daily strategy and make business-critical decisions that affect hundreds of associates at a given time. There is a lot of autonomy within my role, which the right people will enjoy, as you are left to your own devices and a sole decision maker."
Fiona started at Amazon after graduating from the UK's Aston University with a Master's in chemical engineering. During her course, she completed an industrial placement as a Process Engineer at pharmaceutical company GSK.
"Experiences from my placement year at GSK, which included using the 5 Why's and performing root cause analyses, took centre stage during my interview process for Amazon. I also mentioned examples of teamwork and projects that I completed during the final years of university to help demonstrate how my skills and experiences aligned with Amazon's leadership principles."
What aspects of chemical engineering do you apply in your everyday role?
"A crucial part of my role is creating shift deployment plans, which are generated multiple times per shift. Every day, I create deployment plans by doing a type of mass balance, but with people. This is to ensure the processes within the site are balanced and working in harmony.
"Using my knowledge of pack/pick rates and by assessing the volume a fulfilment centre has to get through, I create a deployment plan across process paths using specialist AI software. Throughout shifts, I am required to check data regularly and ensure the deployment plan is suitable to maintain a balanced flow of units across process paths and avoid bottlenecks."
What skills have you developed since leaving university that you think have been key in helping you achieve your career aims?
"Risk management is the main skill I've acquired. I'm responsible for the workflow of units through the fulfilment centre and it's important I make the right decisions, both for my colleagues on site and our customers.
"In terms of technical development, I'm currently learning to code Structured Query Language in order to become a better process control specialist, and for any other future opportunities."
How do you add value as a chemical engineer in this industry?
"From the beginning, when I embarked on my training, I felt I had an advantage due to my chemical engineering background. Chemical engineers are capable of grasping the role quicker through process flow thinking. Our minds are accustomed to such concepts thanks to numerous design projects and, therefore, allow us to comprehend the process and identify snags quickly.
"When working with big data and AI that affects real people, it is important to be able to visualise how the numbers you type into a laptop have real consequences. The graphs are a representation of real life and real time. Due to my knowledge from my previous engineering role and education, I can understand the activities occurring on the site floor, and how my actions as a process control specialist affect everyone."
What are the key challenges in your sector that chemical/process engineers are well equipped to help address?
"Chemical engineers have a well-rounded view of processes, especially in the operations environment, so it is easier for a chemical engineer to grasp the flow of units across different process paths. We look at each item in a similar way as we do at kg/h in more traditional chemical engineering applications.
"Process flow thinking, and analytical skills are chemical engineering skills that are in demand. If you are a chemical engineer with a knack for data and coding, this is a great role to get your foot in the door at Amazon."
Do you expect the need will grow in your sector for people with chemical engineering skills?
"The tech sector is continuously growing. With the analytical and risk management skills acquired at university, chemical engineers are well equipped for tech."
What advice would you give to a recent graduate or early careers chemical engineer who wants to work in your sector/role?
"If you are interested in this role, there are many opportunities. It is a role with a lot of responsibility. You have to be willing to experience frequent change. It is a very dynamic role but also rewarding so if you are interested just apply. It is an entry level role, and you will learn on the job."
What advice would you give to an engineer considering moving into your sector from a different sector?
"This sector is very dynamic and undergoing constant change and offers the chance to be innovative and an industry leader. You have to be comfortable working in a fast-paced environment or it may not be the place for you."
What do you know now career-wise that would have been handy at the start of your career?
"Now that I have landed this role, coding, big data and software skills are crucial. If I had known where my career would take me, I definitely would have put some time aside to learn more languages and improve my software skills, as this is a big data role. In a world where the work is becoming increasingly computerised, it is a useful skill to have."
---
To read more articles in this series visit https://www.thechemicalengineer.com/tags/career-paths/