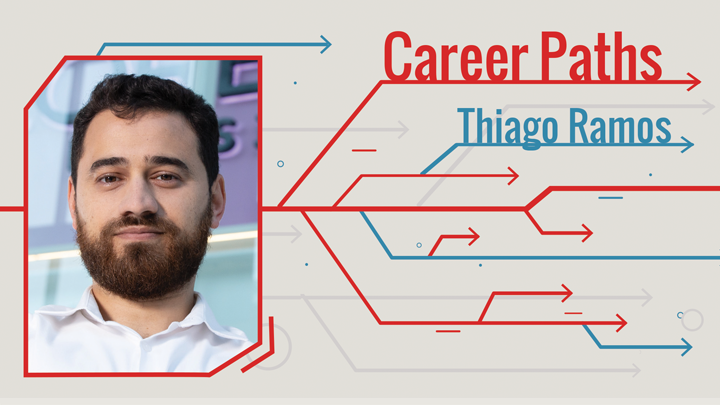 Thiago Ramos talks about his role at L'Oréal, coordinating and implementing the company's health and safety management system
IN THIS series we speak to chemical engineers working outside of the fossil fuel sectors to highlight the breadth of opportunities open to those just starting their careers or seeking to change sectors.
Thiago Ramos is the global health and safety manager for the beauty company L'Oréal. Having worked for L'Oréal for nine years, he has been in his current role since 2022. Based in France, he is required to coordinate and implement L'Oréal's health and safety management system across all sites worldwide, including factories, distribution centres, administrative staff, research, stores, and sales staff.
What are the main responsibilities in your current role?
"Such a role requires me to perform audits, provide technical guidance, deliver training, define minimum requirements to be applied by the sites, and also mentor our teams. We seek to collaborate with all sites in order to better understand the local context, allowing us to properly implement the group health and safety framework."
What aspects of chemical engineering do you apply in your everyday role?
"Chemical engineering concepts are incorporated at different moments in my role, but I could highlight the various risk analyses carried out, especially with operational units, such as plants and distribution centres. This is particularly important during environmental health and safety (EHS) audits in our plants, where I support sites in having the proper process safety framework in place to adequately manage risks. This also can be done in cooperation with external experts."
What is the most rewarding part of your role?
"For me, it's having contact with amazing people from different cultures all over the world. Personally, I believe that a plurality of viewpoints leads to better decisions, so part of my role is to visit our sites and provide coaching, supporting them to achieve their goals in health and safety. We've been working closely to our manufacturing sites to ensure the proper framework is present, reducing the risks with machines, which is one of our main causes of accidents."
How does your role contribute to helping solve society's grand challenges?
"Human capital, sustainability, and occupational safety and health (OSH) are connected. OSH professionals play a fundamental part in the course of sustainability; environmental, social, and governance; and corporate social responsibility. We need to keep in mind that while people contribute to the world's main problems, they are also part of the solution.
"For example, the UN's sustainable development goal number eight ('decent work and economic growth') is a perfect example of this interaction between health and safety and sustainability. I feel that a safe and healthy working environment is vital for overall sustainability since it affects opportunities of economic and social development. That means that creating safer, healthier, and more productive workplaces in the private and public sector will promote the well-being of workers, while also contributing to the sustainability of enterprise and supporting economic development."
What skills – whether technical and/or soft skills – have you developed since leaving university that you think have been key in helping you achieve your career aims?
"I truly believe that any career is an endless journey of learning. And for me, curiosity is something that has helped me achieve my goals so far. I think this is especially important in a dynamic world like we live in today."
What are the key challenges in your sector that chemical/process engineers are well equipped to help address?
"The technical, yet comprehensive knowledge of chemical engineers helps protect people in organisations as well the business continuity, where one of the main challenges is keeping up with this VUCA (volatility, uncertainty, complexity, ambiguity) world. In the beauty market, for example, we need to be resilient to business needs and adapt our processes accordingly, while keeping our people and our processes safe. This is particularly important where we have hundreds of new products launched annually."
What advice would you give to a recent graduate or early careers chemical engineer who wants to work in your sector/role?
"For me, there is no secret or silver bullet to achieve one's goals. But there are some boosters, like consistency, which is more important than intensity, trying to be at least 1% better than the day before, and simply enjoying the journey."
What advice would you give to an engineer considering moving into your sector from a different sector?
"If this is really what you want, go for it. If possible, try to talk to someone who already has experience in the field – this was particularly important when I moved from oil and gas to the beauty market, which was brand new to me. So, before making that decision, I spoke with some colleagues and did my own research to better understand the new footprint."
What chemical/process engineering skills are in demand in your sector?
"I see that more and more companies are demanding more generalist professionals. I think the reason for this is that generalists have multiple approaches to problem solving, they tend to have more transferable skills, and are normally better at navigating uncertainty. And I believe this might be important in chemical engineering due to a wide range of new technologies and processes, but of course it depends on the sector; it's not a rule."
Do you expect the need will grow in your sector for people with chemical engineering skills?
"Yes, I believe so. I have seen that the numerous characteristics of chemical engineers can facilitate the creation of this demand due to the generalist approach mentioned above. For this reason, I think the best thing to do is to evaluate at each moment and for each task what level of specialisation and versatility is required. If you have a broad range of skills and knowledge in your field, you might be able to have a wider career path because you're probably well-versed on a variety of topics and issues, allowing you to offer unique perspectives to any situation."
What do you know now career-wise that would have been handy at the start of your career?
"I try not to look at the past, but if I had to choose something, I believe it would be to invest more in my personal development and in general soft skills, such as communication and interpersonal relationships. I certainly think working on technical skills is important, but I believe that soft skills can also help improve work performance and productivity, better relationships, and make an individual more marketable in the workplace. For me, this is key to being a good leader."
You're working in what many would consider a less-traditional sector for chemical engineers. What chemical engineering skills were helpful or transferable to the sector/role you work in?
"The capacity for critical analysis has been fundamental in my current position. In some situations, for example, where we need to mix project management methodologies with technical aspects of chemical engineering, critical analysis has been key to achieving our goals."
How do you add value as a chemical engineer in this industry?
"I believe that the chemical engineer can work in different activities, bringing a slightly more holistic view of processes and systems, helping the business to make better decisions."
When applying for non-traditional chemical engineering jobs, what aspects unique to chemical engineering did you highlight to show you were the best candidate?
"Honestly, I think that each position and company have a specific need, considering its culture and interests. If we talk about applying for non-traditional chemical engineering jobs, I believe that authenticity during the process can be a differential. I particularly see candidates being honest about their weaknesses as a sign of maturity and self-awareness."
---
To read more articles in this series visit https://www.thechemicalengineer.com/tags/career-paths/