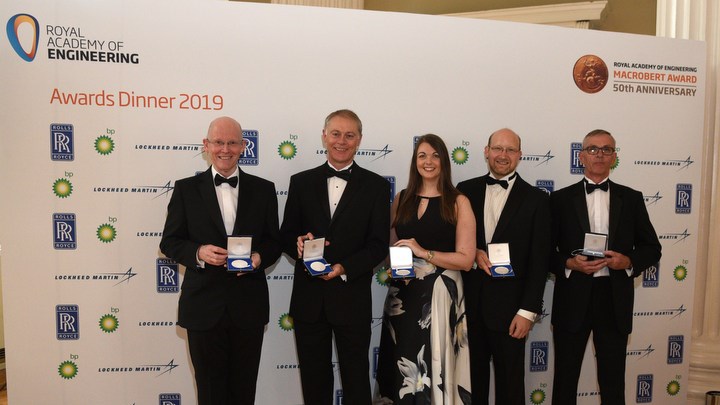 Royal Academy of Engineering
TWO IChemE members, as part of an engineering team, have been awarded the Royal Academy of Engineering's 2019 Major Project Award for their collaboration to deliver Shah Deniz 2, a "complex major offshore, onshore and pipeline gas development project". The award was presented at the Academy Awards Dinner, hosted in London on 11 July.
Shah Deniz 2, managed and operated by BP, is the cornerstone of the Southern Gas Corridor (SGC) and spans 3,500 km from Azerbaijan to Europe via Turkey. The offshore project is located in the Caspian Sea, 70 km from Baku Azerbaijan. It is the Caspian Sea's first subsea project. At its peak the US$28bn project will provide 16bn m3/y of gas and 38m bbl/y of condensate. The project has phased development and is set to achieve peak production in the early 2020s once all five production systems are operational. So far, two production systems have started up.
The winning engineering team included Mark Tatum, a Chartered Member of IChemE and Engineering Manager on the project, and Associate Member Harriet Hodgson, who was Commissioning Superintendent. Both work for BP Exploration Operating Company.
Harriet Hodgson joined BP in September 2011, as a graduate from the University of Nottingham, UK with a Master's in chemical engineering. Joining as part of the operations organisation she spent a few years supporting BP's North Sea assets before joining the Shah Deniz project in 2013.
Hodgson spent 3 years working in the process engineering team during detailed design. She was responsible for the oversight of the design and engineering of offshore facilities. Specifically, she was assigned utilities systems and all of the injection systems required for the hydrate mitigation plant. After that she moved to Azerbaijan, spending 2 years as Commissioning Lead Process Engineer, before being made Commissioning Superintendent in April 2018.
With a slightly longer career history Mark Tatum graduated from the University of Birmingham in 1987 with a Bachelor's in chemical engineering. That same year Tatum joined BP, entering the company's petrochemicals business and taking on various roles in his time there before leaving the business in 2005. Tatum now works on BP's oil and gas major projects. He joined the Shah Deniz 2 project in 2010 as the Engineering Manager for the offshore facilities, and at the end of 2015 he became the Engineering Manager for the overall project.
According to Tatum, the Shah Deniz 2 engineering team faced a lot of challenges, particularly those posed by the environment and terrain in the region. He said that one of the main issues was that it is a seismically active area, which had to be taken into account in locating and designing the facilities. Another challenge he mentioned was the geotechnical conditions in that region, particularly offshore and subsea. For example, in routing subsea flowlines the team had to avoid geohazards, such as mud volcanoes. Additional challenges included designing 55,000 t of offshore facilities to be constructed and installed within the limited infrastructure of the landlocked Caspian basin, and designing facilities that could reliably operate all year round in the Caucasus Mountains of Georgia where temperatures can drop to -35°C.
From a process engineering perspective Hodgson said that one of the big challenges faced was the size of the project – Shah Deniz is the largest subsea development within the Caspian Sea. As a result, there are flow assurance risks that had to be mitigated within the design to ensure that the system stays safe, "from not only high reservoir pressures, but also in shutdown scenarios". She said that a lot of work went on between the subsea and offshore facilities to ensure that the design was safe, and that the operators in the region had sufficient and adequate training to operate the systems effectively "considering that they hadn't had any experience in subsea operations before".  
However, despite the challenges faced, Hodgson and Tatum both experienced highlights in their time on the project.
As part of the process engineering team one of Hodgson's key responsibilities was "MEG [monoethylene glycol] and methanol injection facilities that supported the hydrate mitigation plant". These were crucial to the startup and operation of the facilities. They were also one-of-a-kind, given that BP had not built anything of that scale on an offshore facility before, and due to the complexity of the control systems. Being involved in the design of the facilities and being able to see them through from commissioning to startup was a personal highlight.
For Tatum's part, he said that he was proud to have been involved in a project which involved such a "tremendous" number of people. The project involved not only engineering but also procurement, construction, commissioning, and operations and involved contactors in addition to BP employees. "I was just a part of a very large and capable team…being part of that, it was very special."
Indeed, both Hodgson and Tatum acknowledged that though they were happy to have been recognised, the award they received was really for the entire project, and the entire team involved.  
Tatum said that he thought it was tremendous for himself, Hodgson and the three other project nominees (put forward by BP's contractors) to receive the recognition, but added that "it's really an award in recognition for the work that all of those engineers have done over the years. So, it's in an award for the project.
"I also think its great recognition for BP and what it's achieved here on a project that does have a tremendous impact on society, and I very much believe a positive impact to society, as part of the energy transition."
He concluded by saying that winning the award was "fantastic for the UK engineering industry, and a demonstration of what it can achieve."
Tatum left Shah Deniz 2 at the end of last year and is now working as the Engineering Manager for BP's Tortue gas project off the west coast of Africa. It is a large-scale gas project in one of BP's emerging regions and is a project which to Tatum represents a "challenging and exciting opportunity".
Hodgson left Shah Deniz 2 shortly after September 2018 and is now working on a BP project in Indonesia – the Tangguh expansion project – supporting project commissioning.
The other members of the Major Project Award team included: Matthew Wilson, Senior Consultant at Wood; Mark Caddye, Project Manager at KBR; and Richard Smith, Principal Project Engineer at McDermott.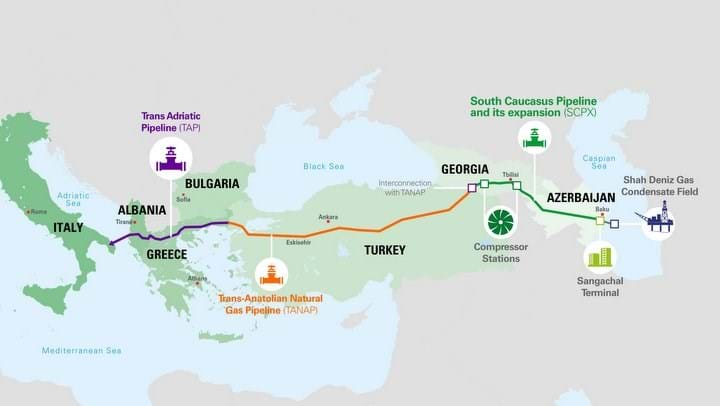 BP
SGC is a term used to describe planned infrastructure projects aimed at improving the security and diversity of the EU's energy supply, by bringing natural gas from the Caspian Sea to Europe. Shah Deniz 2 has delivered gas from Azerbaijan direct to Europe for the first time. It is a gateway to new, diverse energy supplies and will help to satisfy Europe's future energy demand and play a major role in the transition to a lower carbon economy.
Shah Deniz 2 supported 30,000 jobs at its peak with 80% nationals. The project brings significant socioeconomic benefits to Azerbaijan and Georgia, including employment, training, and skills developments. In total the project directly invested US$4bn into communities, education and local enterprise.