ENVIRONMENTALISTS are concerned about the impacts on marine life after days of leakage of contaminated wastewater into a local creek leading to Tampa Bay, Florida's largest open-water estuary. Researchers are currently investigating the effects.
On 26 March, owner HRK Holdings reported signs of a leak from a wastewater reservoir at its Piney Point facility, a former phosphate plant. The reservoir contained about 480m US gallons (1.8bn L) of wastewater when the leak was identified. It holds mixed seawater, primarily saltwater from dredging of a local port, along with legacy process water and stormwater runoff and rainfall.
Authorities stated that news reports of a second leak from the reservoir were "unsubstantiated".
The leak, which had been occurring at a rate of 2m–3m US gallons/d, stopped on 3 April. The seepage is being contained in the on-site lined stormwater system, and repairs to the reservoir are ongoing.
However, controlled discharge of the wastewater into the local Port Manatee is ongoing as of the last update on 8 April. According to Noah Valenstein, Secretary for Florida's Department of Environmental Protection (DEP), which oversees the facility, the marine environment can better process the water.
Discharge, which began on 30 March, was aimed at reducing pressure and stabilising the system to prevent a potentially disastrous rupture. The rate of discharge peaked at more than 38m US gallons/d on 7 April but by the following day the DEP had reduced discharge flow by more than 90% to less than 5m US gallons/d.
On-site teams continue to assess the system and continue stabilisation and water treatment efforts. These efforts enabled DEP to move forward with steps to reduce the discharge volume of untreated water and ensure future discharges are treated.
On 8 April, onsite teams began deploying nutrient reduction and removal treatments to treat future discharges, and this is expected to significantly reduce nutrient loading to Port Manatee and help minimise water quality impacts.
Prior to this, updates noted that the water discharged from the facility met water quality standards for marine waters with exception of pH level, as well as the content of phosphorus and nitrogen. However, the acidity of the water is not at a level that is expected to be a concern. Valenstein said that the primary concern is the nutrients.
Speaking to local radio service Environmental Truths of Manatee County, Founder of Suncoast Waterkeeper Justin Bloom informed listeners on the potential harm of nitrogen on Tampa Bay.
Bloom explained that the high nitrogen content could encourage algal blooms which could have harmful effects on marine life, as well as wildlife and people. Through algae occurs naturally in aquatic life, high concentrations of the types which produce toxins can be harmful to native organisms, animals, and people that come into contact with the toxins. Red tide is a toxic type of algae that can be found in Florida bays and estuaries.
According to Bloom, algal blooms lead to marine deaths, and these events then "feed on each other" resulting in "terrible water quality".
Bloom added that sea grasses underneath algal blooms are typically killed off, and this could happen not only locally, but could spread with the plume of nitrogenated water. He said that the scientific community is modelling the potential spread of the water.
Bloom discussed that the Piney Point facility has a history of spills and mismanagement, including while it was owned by DEP, with documented problems going back 30 years. Under its recent owner "there has been a continuing, slowly-evolving crisis at Piney Point over the years, which was completely foreseeable with the lack of regulations, and avoidable".
Environmentalists commented on the dangers of phosphogypsum stacks. Phosphogypsum is a radioactive waste from processing phosphate ore into phosphoric acid, predominantly used in fertiliser. DEP has stressed that the water discharged from the reservoir is not radioactive.
Environmentalist Attorney Rachael Curran said: "Phosphogypsum stacks are getting bigger and more dangerous by the minute, and Piney Point's fate could befall them all."
"We need real solutions that start with halting the addition of any phosphogypsum and process water to active stacks so that we can deal with the problem we already have. Underground injection control wells or building radioactive roads out of phosphogypsum are dangerous, unacceptable distractions."
Glenn Compton, Chairman of environmentalist group ManaSota-88, said: "It should be a surprise to no one that the phosphogypsum stacks at the former Piney Point phosphate plant are in danger of collapsing and causing a catastrophic environmental and economic disaster."
"Florida's phosphate mining industry is an industry of cradle-to-grave pollution. The cradle is phosphate mining, and the grave is the radioactive phosphogypsum waste dumped into gyp stacks."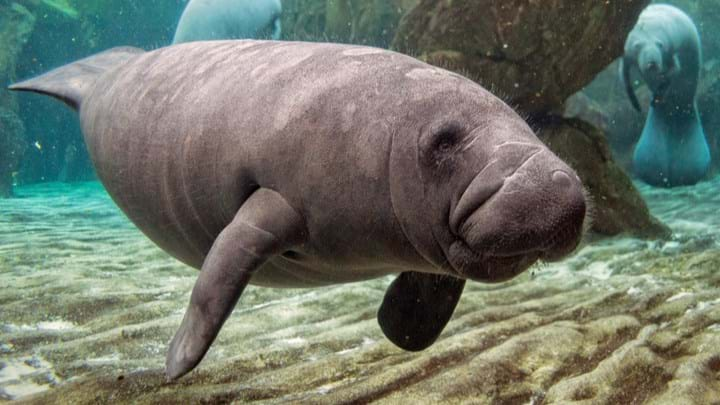 Highlighting the potential harm to aquatic life, Clearwater Marine Aquarium Research Institute's Executive Director, James Powell, said: "This contaminated water is being discharged just south of the TECO Power Plant which serves as a major warm water site for manatees. A discharge of this magnitude could have a major impact on the seagrass beds near Piney Point they use to feed. At this point we don't know what the outcome may be, but it could cause those grasses to die off or have toxicity levels that could potentially be harmful to manatees. The implications of this breach may likely last for decades."
DEP is working with partners to combat harmful algal blooms and it is continuing to monitor water quality in the area, which began on 30 March. Teams onsite continue to assess the system and continue stabilisation and water treatment efforts.
Noah Valenstein said: "We are committed to ensuring this is the last chapter of the Piney Point story and holding HRK accountable."
Research led by the University of South Florida, US has begun, aimed at understanding the environmental impact of the leak. The first research cruise sailed on 7 April.
Leak and water discharge
After the leaking began, DEP issued an emergency order to HRK to take immediate action and implement the necessary steps needed to ensure integrity of the system, including controlled release of water.
On 30 March, HRK began discharging water from the reservoir into the local Port Manatee aiming to reduce pressure and stabilise the system. In addition, Florida's Division of Environmental Management (DEM) has deployed at least 26 pumps to aid water removal and other waste management activities on the site. DEM also deployed ten vacuum trucks, used to collect and transport liquids, slurry, and sludge. Efforts to contain the damage include pumping water for collection and transport to authorised industrial wastewater facilities for safe disposal.
As of the 8 April update, about 232m gallons of the original 480m gallons of wastewater remained in the reservoir, of which 202m gallons was released into Port Manatee.
Scott Hopes, Acting County Administrator, said in a press conference on 4 April that the plan is to deplete the leaking reservoir, along with two other reservoirs at the site, and then possibly fill and cap them as a long-term solution. Hopes noted that third-party engineers for HRK indicated that the other ponds are stable.