BRAZILIAN mining giant Vale has launched a pilot project for the environmental recovery of the area impacted by the fatal collapse of one of the company's tailings dams last year.
Tailings are the waste product of ore processing; a slurry of fine uneconomic rock and chemical effluent that is stored in tailings dams.
On 25 January 2019, Dam 1 of Vale's Córrego do Feijão mine – located near Brumadinho, Minas Gerais, Brazil – collapsed, releasing a torrent of muddy slurry. The slurry buried the surrounding area, including the site's administrative building and cafeteria, reaching as far as a local community. 259 people have been confirmed dead so far, including 136 contracted workers and members of the public. 11 people are still considered missing.
Also affected was the Paraopeba river, which is located near the site of the Dam 1 collapse.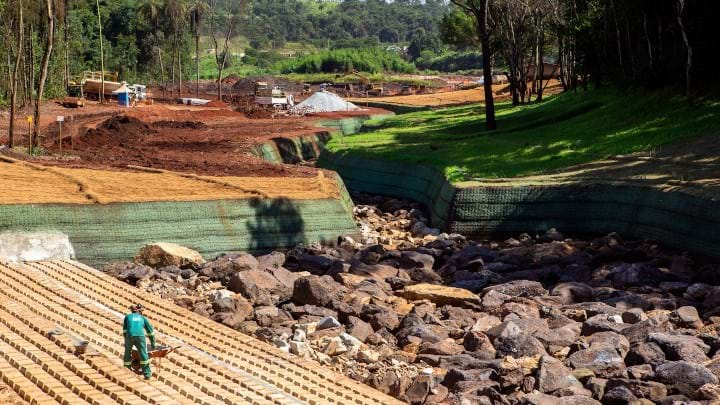 Vale
The project, Zero Milestone, will re-establish the pre-collapse conditions of the Ferro-Carvão stream – a tributary of the Paraopeba river – revegetate the riparian forest with native plants, and recover the Paraopeba river.
The project will be evaluated and adjusted. Once it has proven effective it can be replicated at other impacted areas on a "case-by-case basis". According to Vale, the project has so far demonstrated efficiency, despite the rainfall in the region.
The pilot is expected to be complete by February. However, Vale also noted that "the complete revegetation process takes time and is directly affected by external factors, such as climate and the natural cycle of growth and development of plants and the biome itself".
Zero Milestone is being complemented by tailings dredging activities on the first 2 km of the Parapoeba after confluence with the Ferro-Carvão stream. On 13 January, Vale said it had removed 59,000 m³ of tailings from the first 400 m stretch. The company said it has already dredged 130,000 m3 of tailings from the Ferro-Carvão stream.
Previously, it was reported that 9.7m m3 of material flowed from Dam 1 within five minutes of the collapse. On 18 December 2019, Vale said it had removed 1.3m m3 of tailings.
Zero Milestone is being funded as part of emergency containment works in Brumadinho, which Vale expects to require a total investment of  R$1.8m (US$430,500) by 2023.