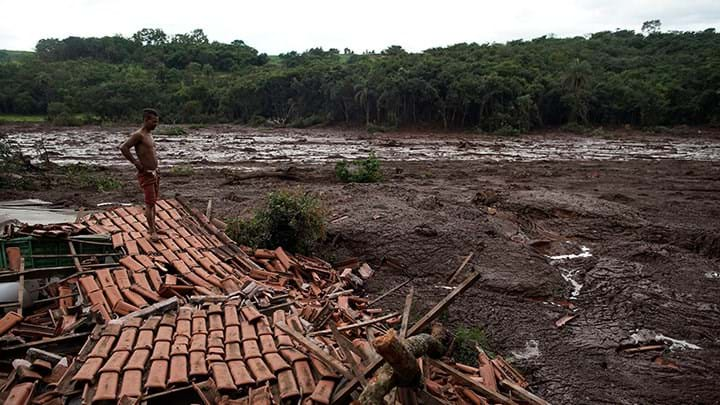 Leo Correa/AP/Shutterstock
ACCORDING to the summary of a report by an independent consulting committee created by Vale, the mining company knew as far back as 2003 about the safety issues at a Brazil dam which fatally collapsed last year. Additionally, it knew that a collapse of the structure could lead to a high number of deaths but took insufficient measures to mitigate impacts.
The report was issued by Vale's Extraordinary Independent Consulting Committee for Investigation (CIAEA), which it established following the collapse of Dam 1. Its members were selected with support from global organisational consulting company Korn Ferry. An executive summary is available. The full report has not been released to the public, and Vale declined to provide The Chemical Engineer with a copy.
Last year, Dam 1 of the Córrego do Feijão mine – also known as B1 – located near Brumadinho, Minas Gerais, Brazil, collapsed and released a torrent of muddy slurry which buried the surrounding area, including the site's administrative area and cafeteria. The slurry reached as far as a nearby community. As of 28 December 2019, 259 people have been confirmed dead, and 11 people remain missing.
The report follows an investigation to understand the technical factors involved in the collapse of Dam 1, as well as non-technical factors such as organisational, cultural, and governance aspects. Additionally, it identifies the factors which allowed the collapse to reach the scale observed, in terms of loss of life, environmental, and material impacts.
The technical causes which were identified as most relevant were inadequate drainage and high phreatic surface; internal creep – the accumulation of strain under constant load – and reduced strength due to loss of suction in the materials above the phreatic surface; a structure which wasn't designed to contain liquefied material; and, inadequate consideration of stability over the course of the dam's existence. A previous report, focussing on the technical causes of the collapse, had similar findings.
The summary includes recommendations made to help Vale improve its practices and culture.
Members of the independent consulting committee include Ellen Gracie Northfleet, Retired Minister of the Federal Supreme Court; José Francisco Compagno, former lead partner of EY's forensics area in Brazil; and, Manuel de Almeida Martins, Civil Engineer specialising in geotechnical engineering and dam engineering.
The committee was supported in its work by lawyers, a forensic technical support team, a technical team, and highly specialised geotechnical engineering professionals.
Liquefaction studies
According to the summary, as well as a previous technical report, Dam 1 failed by static liquefaction. Liquefaction is a process by which materials such as sand lose their strength and stiffness and behave more like a liquid.
In 2003, an external auditor recommended that Vale perform stability analysis of Dam 1 considering the possibility of static liquefaction. Auditors also reported that the dam's factor of safety (FS) was below satisfactory levels, as well as drainage issues and a lack of information available about the dam's foundation. FS is a measure used in engineering design to represent how much greater the resisting capacity of a structure is compared to the relative assumed load.
One external auditor considered the low FS "extremely uncomfortable" considering the existence of downstream facilities.
Every year between 2010 and 2013, an external auditor recommended that analysis of the potential for liquefaction of Dam 1 be carried out. The last liquefaction study had been carried out in 2006 by consulting company Geoconsultoria. In 2014, Geoconsultoria conducted the analysis by reinterpreting data collected in 2005. The following year, it was recommended that Vale conduct studies using new data.
In 2016, Geoconsultoria carried out a new investigation campaign – ie a set of geotechnical and laboratory tests performed on the dam – and liquefaction studies. The results were initially unfavourable, but Geoconsultoria then employed methodology which the summary referred to as "questionable". This achieved a supposedly satisfactory FS and the dam's stability was certified.
If Geoconsultoria had used the methodology which had been recommended by its subcontracted consultant, the FS achieved would have indicated imminent failure, says the summary. 
Known impacts and risk mitigation
The summary states that Vale's Emergency Action Plan for Mining Dams (PAEBM) and supporting studies indicated that if Dam 1 collapsed its tailings would reach the site's administrative structures in about one minute. Other studies indicated a high number of deaths in the event of a collapse, especially if there was no warning prior. The company did not discuss 'concrete' measures to mitigate impacts or relocation of downstream administrative facilities.
After external risk analyses in 2017 achieved FS results which indicated the fragility of Dam 1, Vale sought to increase FS by installing deep horizontal drains (DHPs) and remining tailings, to lower the phreatic surface. The external consultants which presented the methods, amongst other options for increasing FS, informed Vale that they would not be efficient in the short term.
During the installation of the 15th DHP, a hydraulic fracture occurred in part of the embankment causing water containing fines to seep from the external slope of the dam.
Vale ceased DHP installation after the incident, which was previously reported. After it occurred, Vale decided to move forward with decommissioning the dam as its primary method of risk mitigation. External consultants believed the measure would be ineffective for increasing the stability of the dam in the short term. No provisional reinforcement and/or safety measures for the dam or the surrounding area were discussed.
Furthermore, evidence suggested the preparatory stages of decommissioning could impact the dam's stability. Nevertheless, Vale did not consider removing the downstream administrative facilities.
Previously, it was reported that Vale "knew" that Dam 1 was at risk of collapse. Almost three weeks after the tragedy, it was claimed that an internal document dated months before stated the Dam was at twice the tolerable "maximum level of risk" of collapse and that "all prevention and mitigation controls" should be applied. Vale denied the existence of such a document.
Culture and governance aspects
The investigation into Vale revealed a culture in which different areas within the company operated in "siloed" environments. Problems were addressed within business areas which were resistant to exposing issues to the corporate levels of the company. Furthermore, there was no incentive for those at higher levels within the company to question decisions made lower down.
For example, in 2016, Vale's then-Executive Director of Iron Ore, Peter Poppinga, decided to cease tailings deposition into Dam 1 claiming to have become aware of "doubt" about the dam that same day. Though, evidence suggests Poppinga possibly knew about concerns over the dam prior to that day.  
He informed then-CEO Murilo Ferreira of his decision by email but excluding his mention of doubt did not document the reasons for his decision in writing, nor make those reasons known to higher levels or the company's governance bodies.
The investigation also discovered that information concerning dam safety and geotechnical risks was not fully portrayed to the higher levels within the company. To the Board of Directors, and to Executive Directors and Advisory Committees, the situation at dams was predominantly reported with a positive focus and safety certification was emphasised.
The effects of the hierarchical culture, resistance to information sharing, and the focus on regulatory compliance and certification were enhanced by the lack of a second line of defence to address geotechnical risks.
Vale's Iron Ore Division Geotechnical Risk Management group, which appeared to perform tasks similar to those of an expert second line of defence, reported to the iron ore business area itself. This limited the group's ability to act as an independent line of defence as decisions concerning safety may have conflicted with those concerning production and operation.
Furthermore, the geotechnical risk management group monitored external companies which conducted audits and certification of dam safety, in addition to being responsible for hiring the same companies for other services.
In addition to the studies it carried out for Vale, Geoconsultoria also designed portions of Dam 1 and was hired to audit the dam and carry out safety certification work on it, including those parts it had designed. Furthermore, Paulo Abrão, Founder and a Primary Geotechnical Engineer at Geoconsultoria was a member of Vale's Panel of Experts for Safety and Risk Management of Geotechnical Structure (PIESEM). The panel gave opinions on important topics relating to Dam 1 which Geoconsultoria itself was involved with in 2016.
Prosecutors have alleged that Vale and its safety auditor Tüv Süd colluded to misrepresent the safety of Dam 1.
In addition to safety reviews, Tüv Süd was also contracted by Vale to provide design services. According to the summary, one contract involved was dated for the day after a meeting between Vale and Tüv Süd, during which Vale reportedly pressured Tüv Süd into issuing safety certification. Soon thereafter Tüv Süd issued the certification despite a low FS achieved using the minimum criterion, which the summary states was "at least inappropriate from a technical standpoint".
Recently, it was reported that a judge had accepted charges for homicide and environmental crime against employees from Vale and Tüv Süd.
Recommendations
The independent consulting committee made a total of 25 recommendation to Vale based on its investigation.
The recommendations included:
assessing the risk of rupture of structures similar to Dam 1;
adopting consistent and risk-based stability criteria;
reviewing the process for obtaining safety certification;
improving geotechnical risk assessment methodology;
improving the contracting policy for third parties providing dam safety services;
improving cultural aspects; and
improving, fostering, and expanding safety culture.
The committee notes that it cannot assure that the measures are adequate, effective, and sufficient to avoid or minimise risks associated with Vale's dams. It also acknowledged that Vale may already have implemented, or be in the process of implementing, the recommendations.