THE lead prosecutor investigating the cause of the fatal dam collapse at a mine in Brazil has alleged that collusion between the operator and auditor compromised safety and allowed dangerous conditions at the dam to go unaddressed.
"From the emails, you notice there was collusion between some Vale employees and some TÜV SÜD employees in a way that it was presented to state and federal authorities stability declarations that didn't directly reflect the critical situation," lead prosecutor William Garcia Pinto Coelho said at news conference last month.
The news has sparked calls from commentators for measures to prevent compromised relationships between industry and its inspectors, increased oversight, and greater internal and external transparency.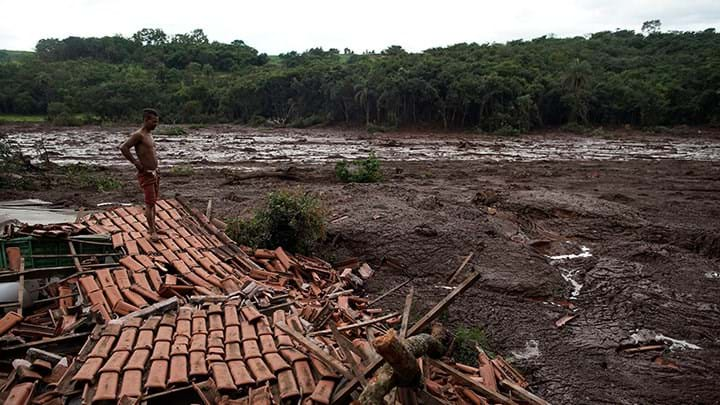 Leo Correa/AP/Shutterstock
The Wall Street Journal (WSJ) has reported that miner Vale and its contracted safety inspector TÜV SÜD, knew for months about the risk posed by Dam 1 of the Córrego do Feijão mine. Since the collapse of the dam, located in Brumadinho, Minas Gerais on 25 January, 186 people have been confirmed dead, and 122 people are missing.
WSJ reports that despite TÜV SÜD employees expressing concerns about the safety of Dam 1 in their emails and reports to Vale, inspectors continued to certify the dam as safe. According to "police, government prosecutors, court documents, arrest warrants and people familiar with the matter", this was because TÜV SÜD employees were worried about losing contracts with Vale, WSJ reports.
Vale has denied that it "knew" that the dam was at risk of collapse, stating: "There is no known report, audit or study with any mention of an imminent risk of collapse at Dam 1".
"To the contrary, the dam had all its certificates of safety and stability attested to by local and foreign specialists."
Reuters reports that months before the collapse of Dam 1, Vale fired consulting company Tractebel when it refused to certify the safety of the dam and relied instead on TÜV SÜD. Prosecutors allege that Vale has recurrently pressured inspectors to certify the safety of dams, even those that "violated required technical specifications". Reportedly, it has also replaced inspecting companies with those more willing to comply. Prosecutors further allege that executives were regularly provided with information about the safety of dams and "other structures", the report claims.
These allegations were contained in a document prosecutors gave to Vale recommending the "temporary removal" of several executives, says Reuters. Four executives including CEO Fabio Schvartsman resigned during meetings of the Board of Directors held on 1 and 2 March.
With the close relationship between industry and inspector under close scrutiny, TÜV SÜD has decided to review the reliability of its dam safety audit system in Brazil and informed Vale that pending completion of the probe it will not issue any further safety declarations.
Close relationships
The Chemical Engineer spoke to a number of experts to understand what needs to be done to prevent collusion.
David Chambers, a geophysicist and President of the Center for Science in Public Participation (CSPP), suggests that the close relationships between industry and inspectors and undue influence, result from two issues.
The first is that regulators lack the necessary number of independent experts to conduct inspections. For example, Brazil's National Mining Agency (ANM) employs 34 field inspectors, only 20 of whom specialise in dams. This is in a country that has approximately 770 dams, according to WSJ. Secondly, Chambers cites so-called contractor capture, which  leads contractors to provide less-than-conservative audit results, such as for tailings dams, and overly-optimistic impact predictions, such as for water quality.
Chambers says that in "virtually every country" he is familiar with, mining companies are responsible for inspecting their own dams. Typically, this responsibility will be contracted out to consulting companies. As these companies "want" to work with the mining companies in future, they are unlikely to recommended safety solutions that require halting operations, something that could cost companies money and employees' jobs.
"I am not aware of any company issuing a recommendation that would stop mining, but it could exist somewhere," Chambers says. Another possibility would be for consultants to stop working with a mining company once it has completed its report. "Even this response is rare," says Chambers.
Chambers believes that these issues stem from a system which focuses on profit and aims to minimise costs. He also points to regulatory capture, a form of government failure that occurs when a regulatory agency, created to act in the public interest, instead advances the commercial or political concerns of special interest groups that dominate the industry or sector that it is responsible for regulating.
Chambers proposes that the simplest solution to removing industry's influence over inspectors would be for companies to pay for contractor inspections from companies that are selected by, and report to, regulatory agencies.
Chambers also advocated for cost avoidance in profit-based systems. "If companies had to pay for all of the costs of a tailings dam failure, for example through catastrophic dam failure insurance, they might build safe dams," says Chambers. He adds that this might not be a "cure-all" but advocated for it nevertheless, "if for no other reason than to protect the public from environmental and economic losses related to catastrophic failures."
Michelle Ash, Chair of the Global Mining Guidelines Group (GMGgroup), says that close relationships between industry and its inspectors could be prevented by adopting measures similar to those used in the financial sector.
In this sector, auditors are changed every five years to prevent tight relationships, Ash says. In addition, auditors are registered and continue skills development to increase skills and ensure competence. Also, auditors are not allowed to do consulting work, "in this case engineering or design", and senior auditors oversee work.
Ash also advocates for increased government oversight. She adds that "there are also technical solutions such as wifi-enabled sensors that could be linked to a database and that could be provided to the company (at all levels), the government and the inspection companies at the same time".
Ash adds that such sensors could be used for several purposes. For example, strain gauges and earth movement detectors could be installed on the wall and face of a dam. Another example she gives is water level gauges in a dam to show rising water levels.
Dirk Van Zyl, Professor of Mine Waste Management at the University of British Columbia, suggests that "the commitment to transparent, ethical management of a company's tailings facilities cannot be compromised".
"Consulting engineers must provide their technical reviews and input, effectively providing risk assessments. The owner is the risk manager that must decide what risks they are prepared to accept in their operations. The governance system for tailings must consist of a responsible person at the mine reporting to the mine manager who then must report to an executive who on a regular basis must report to the board. The clear focus has to be zero failures, tailings safety as the top priority and not production numbers."
Following the collapse of Dam 1, the Brazilian senate passed a bill to tighten dam safety. The bill includes measures that would increase the financial responsibility of operators in the event of a disaster, increase the legal power of government enforcers, and make those who certify dam safety criminally-liable.