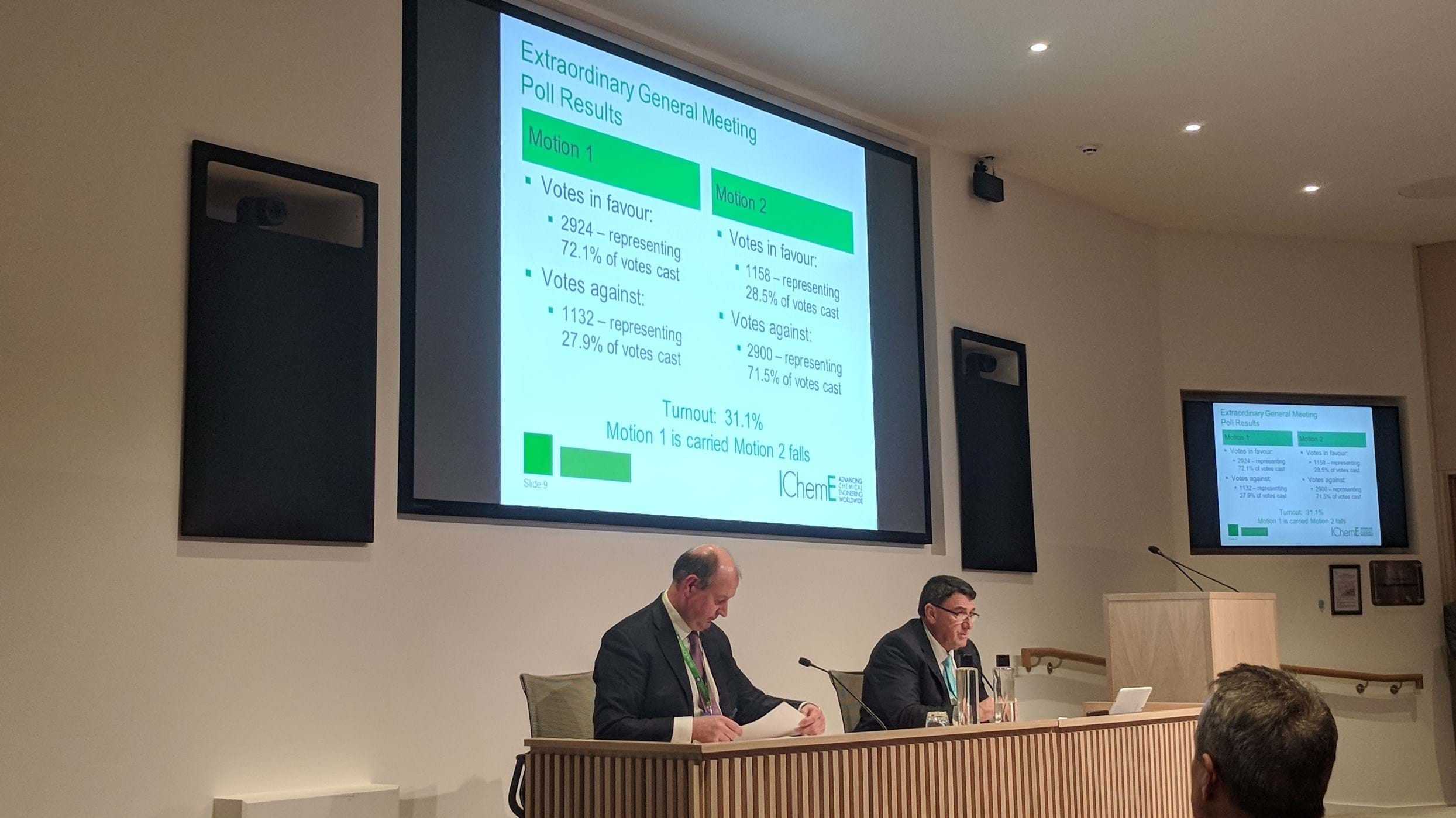 ICHEME's membership has delivered a strong vote of confidence in the current leadership at an extraordinary general meeting (EGM) held in London today.
IChemE members, representing 31.1% of voting membership, voted on two motions – the first in support of IChemE's Council (see Motion 1, below) and a second, calling for a vote of no confidence (Motion 2).
The motion of support received 2,924 votes in favour (72.1% of votes cast), with 1,132 votes against (27.9%). While the motion of no confidence was rejected, with 2,900 votes against (71.5%) and 1,158 votes in support (28.5%).
Unprecedented turnout
Commenting on the result, IChemE deputy president Ken Rivers said: "The turnout of 31% is unprecedented for our Institution. This is an important step towards the higher level of membership involvement we all want to see in IChemE affairs."
There has been a long-running debate online concerning IChemE's management. This culminated in October with a request from IChemE Fellow Keith Plumb, along with 49 supporting signatures, for a vote of no confidence in the trustees of the Institution. A forceful campaign followed ahead of the EGM with comments from some of the signatories described by IChemE as ranging from "sensible" to "outrageous".
False claims included that IChemE is technically bankrupt, sold its London property in the early 2000s to fulfil its pension liabilities, and pays its senior staff over-inflated wages. IChemE has published online a Fact Checker to refute such claims.
Governance proposals
However, among these claims are peppered some legitimate concerns, including that there is a lack of transparency in the governance of IChemE and the election of its Council. Speaking at the EGM in favour of Motion 2, IChemE Fellow Nigel Hirst said: "Our desire is to have a democratically-elected Council commanding wide support."
IChemE has accepted that there is a "democratic deficit" and points to the work initiated two years ago that has seen members consulted on how to revise its governance. Some key decisions on governance were published in December 2016, while wider proposals are set to be presented at IChemE's AGM in May.
Writing in The Chemical Engineer last issue, IChemE CEO Jon Prichard said: "New governance proposals will bring greater transparency, enhance member representation, and improve accountability."
Among the other concerns voiced by supporters of Motion 2 during an open session at the EGM were that IChemE has become disengaged from the public by closing its media outreach programmes and has curtailed entrepreneurialism among special interest groups (SIGs) and member groups by implementing heavy-handed financial constraints.
"We need to re-engage in such a way that the SIGs and member groups are entrepreneurial and can generate the money for charitable reasons like we used to do," Plumb said. "We need to reengage with the public – let's not forget that chemical engineering underpins civilisation."
Attention now turns to addressing the concerns put forth by the members who voted no confidence in Council.
We are listening
Rivers, who is set to succeed current president John McGagh in May, said: "I am gratified that so many members restated their confidence in Council and for the programme of change we are developing. But we want to reach out to those who have not been content and who have voted against Council, whatever their individual reasons for doing so.
"To you I want to say that we are listening, we have heard many of your concerns, and we want to understand your views better."
Speaking to The Chemical Engineer following the EGM, Rivers said he recognises concerns raised by supporters of Motion 2 at the meeting.
"Do I think we are member led enough? No. Do I think we support members well enough? No. Do I think that we serve society well enough? No? We could do better. So, all of that agenda – I agree with."
"And I want to do that in a constructive and engaging way rather than in a destructive confrontational way. That's my way of doing things and I hope that resonates."
With all that in mind, he requests that members give the trustees time to act.
"Never ever judge me by what I say. I will take full accountability for what I do. The bit I ask you for though, is just give me a little time to get things done…In the meantime, would you just get behind me a little bit to try and make that happen. If I fail to do it give me a good kick and get rid of me. But judge me by what I do."
Engagement online
A number of members at the meeting spoke about their concerns that the online debate in the lead up to the motion proposal and the resulting EGM had been unproductive and at times unprofessional. More than one member commented that "we shouldn't be airing our dirty linen in public".
On the other hand, some supported the use of online forums – reasoning that without them there would have been no place for members to come together and put pressure on IChemE to address their concerns.
Rivers said he wanted a safe forum where members can discuss member issues outside of the public glare but that still allows individuals to be frank with one another.
"The EGM has provided a focus and an energy. I want to keep hold of that energy to actually get more members involved to channel it in the right direction," Rivers said.
A more detailed report on the EGM will appear in the coming issue of The Chemical Engineer.
Motion 1. Tabled by Council:
The members of the Institution have confidence that the President and Council will ensure IChemE complies with its Royal Charter and charitable obligations and will work to continually improve the management and governance of the Institution to the benefit of its members.
Motion 2. Tabled by Eur Ing Keith Plumb FIChemE:
We the undersigned members no longer believe that the Institution of Chemical Engineers represents the wishes or interests of the majority of its members. We therefore call for a vote of no confidence in the President and Council of the Institution of Chemical Engineers.