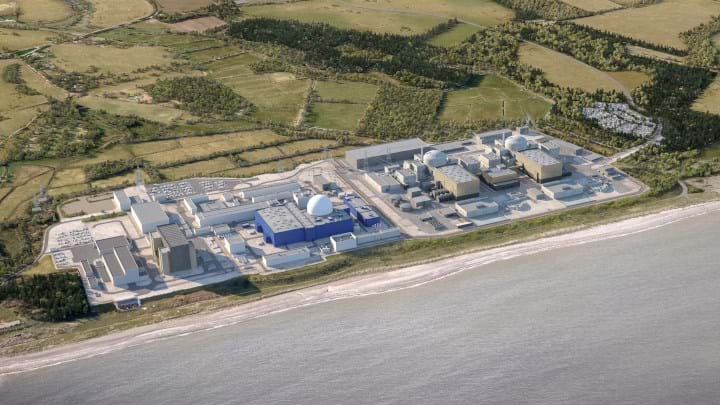 EDF
THE UK Government has given planning consent to the Sizewell C nuclear power plant in Suffolk, overturning independent advice as it pushes ahead with plans to increase output of low-carbon energy.
The plan for Sizewell C is to build two reactors that will produce 3.2 GW of electricity. The plant will be built by French utility EDF on the Suffolk coast next to the existing Sizewell B plant. The Government's independent Planning Inspectorate advised against approving the project, citing concerns about water supplies for the plant and its impact on local habitats. The business secretary Kwasi Kwarteng has concluded "that the very substantial and urgent need for the proposal outweighs the harms", referring to the Government's pledge to increase nuclear output to 25% of supplies by 2050 as it seeks to transition towards low-carbon energy to meet its net zero climate targets.
While nuclear produces relatively little carbon per unit of electricity generated, there are concerns about the radioactive wastes it produces, and how and where to safely store it. The cost of nuclear is also a point of contention. The EPR reactor design planned for Sizewell C is the same design that's being built at Hinckley Point C, but the cost for that project has risen more than 40% and startup has been pushed back by two years.
The project will use the regulated asset base model to attract investment. This provides revenues to investors during construction but is controversial because it involves adding surcharges to consumer energy bills before the project is complete and in working order. Earlier this year, the Government took a £100m (US$120m) option to invest in Sizewell C in a move thought to be aimed at squeezing China's state nuclear firm CGN out of the project as relationships with China have cooled since the project was first announced and the Government has tightened its ability to intervene in foreign investment on national security grounds. Last year the Government put aside £1.7bn to bring at least one large-scale nuclear project to a final investment decision this parliament.
EDF says it expects a final investment decision in 2023. It now awaits approval of a site licence from the Office for Nuclear Regulation and permits from the Environment Agency. Though with fierce opposition from local groups and national environmental and nature organisations, the project could face appeals.
The UK currently generates around 15% of electricity from around 6.5 GW of capacity operating at five sites across the UK, according to figures from the World Nuclear Association. But most of this is scheduled to shut down by the end of the decade.