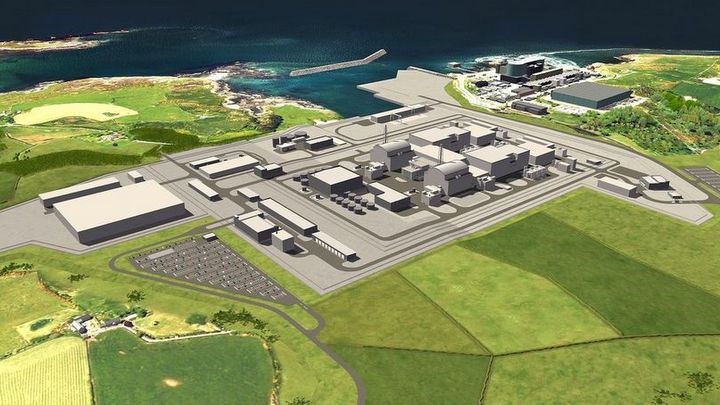 Horizon Nuclear Power
BUSINESS secretary Greg Clark has announced that the UK government will take a £5bn ($US6.7bn) stake in a new nuclear power station on Anglesey in North Wales.
The total cost of the Wylfa Newydd plant is estimated to be around £16bn (US$21bn), and the UK government will share the cost with the Japanese government and Hitachi. Formal negotiations have begun with developer Hitachi and it is expected that full cost estimates will not be completed until the end of the year. The two planned units are expected to come online in the mid-2020s, supplying power to around 5m homes, which would meet around 6% of total UK energy demand.
The decision marks a reversal of a decades-long government policy not to invest public money in new nuclear projects due to the potential costs to the taxpayers if the budget overruns.
"For this project the government will be considering direct investment alongside Hitachi and Japanese government agencies," said Clark in a statement to parliament on 4 June. "The UK is likely to need significant new nuclear capacity in order to meet our carbon reduction commitments at least cost, particularly as we electrify more of our transport and heating."
Clark also stated that the government's long-term objective will be for the new reactors to be financed by the private sector.
The guaranteed price of power from the plant, which is paid for through subsidies on household energy bills, will be around £75-£77/MWh. This is much lower than the £92.50/MWh agreed for EDF Energy's Hinkley Point C in Somerset, but higher than average £62.14/MWh agreed for offshore wind farms and the estimated £50-55/MWh for solar power.  
Alana Collis, IChemE technical policy manager and energy centre manager said: "IChemE's Chemical Engineering Matters report identifies nuclear energy as one option available to support the UK's transition to a low-carbon economy. We welcome Greg Clark's announcement to support the project for two new reactors at Wylfa Newydd in North Wales. Chemical engineers play an important role in the design and operation of nuclear power plants to provide safe and sustainable energy."
Matt Rooney, engineering policy adviser at the Institution of Mechanical Engineers, said: "Both the construction of the plant, and its operation, would provide hundreds of high-skilled engineering jobs in North Wales for decades to come. It would also bolster the long-term outlook for the nuclear manufacturing supply chain in the UK. This is especially important following the decision to leave the European Union, and the potential loss of access to the single market for nuclear goods and services."
The decision was also welcomed by trade unions, with Unite acting national officer for energy, Peter McIntosh, commenting: "We welcome the government's decision regarding the Wylfa power station as it could create thousands of jobs during its construction, as well as generating highly skilled employment throughout its operational lifetime."
Dual investment
Others welcomed the announcement, but highlighted that the government also needs to support the £1.2bn Swansea tidal lagoon project.
Rebecca Long-Bailey, Labour's shadow business secretary welcomed the progress on Wylfa but said "To assume that Swansea is somewhat redundant given the plan for investment in Wylfa is a very short-sighted outlook."
"We believe that the government should back both projects," said McIntosh. "The tidal lagoon initiative would be a landmark project unleashing an economic boost for the Welsh economy and create thousands of much-needed decent jobs throughout the wider South Wales economy."
First minister of Wales Carwyn Jones said: "We will do everything possible to ensure that this project delivers a lasting legacy for Wales. The Welsh Government recognises the importance of a diverse mix of low carbon technologies for Wales. This is why today's Wylfa announcement is such an important milestone and why I have called repeatedly on the UK government to make a decision about the Swansea Bay Tidal Lagoon project."
Divided opinions
Using billions of pounds of public money to invest in nuclear power has come under fire due to the lower costs of renewable energy.
Solar Trade Association CEO Chris Hewett said: "When Hinkley Point C was given the green light three years ago, we pointed out that the UK solar industry could already supply clean power at half the price. Since then, solar prices have fallen even further, and storage technology is commercialising rapidly. Today, solar combined with energy storage can provide low-cost, flexible power whilst supporting a smart energy pathway the Government's own analysis shows can save consumers billions of pounds. [The government's] own adviser Professor Dieter Helm rightly highlights that nuclear has a much higher risk of economic stranding given the rapid technology change being driven by solar, EVs, digitalisation and storage."
Caroline Lucas, co-leader of the Green Party, said "Taking a stake in this nuclear monstrosity would see taxpayers locked into the project and paying out for a form of electricity generation that's not fit for the future." Writing for the Huffington Post, Lucas also cautioned that there is still no solution for the nuclear waste problem.
Kate Blagojevic, head of energy at Greenpeace UK, said: "The notion that new nuclear will be good value for money is farcical when it's so much more expensive than cleaner, safer renewable alternatives that are faster to build. The economics are so weak that private investors have refused any involvement."