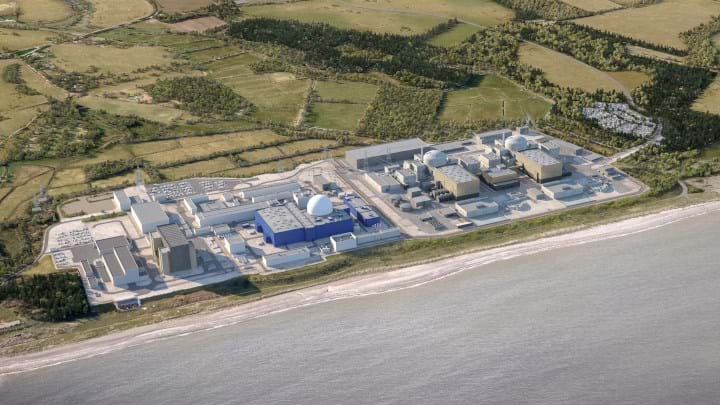 EDF
THE UK government has announced that it will provide an additional £341m (US$432m) to speed up preparations and make the Sizewell C nuclear site "shovel-ready", as it seeks to create a new generation of nuclear power stations in the country.
Under development in Suffolk, UK, Sizewell C will provide reliable, low-carbon power to the equivalent of 6m homes over 60 years, avoiding up to 9m t/y of carbon emissions. At the peak of construction, it will support 10,000 jobs nationwide, with 70% of the value of construction contracts in the supply chain going to UK businesses.
In November 2022, the UK committed almost £700m to Sizewell C, becoming a 50% shareholder in the project's development with EDF. This July, it announced a further £170m to prepare the site for construction, secure essential supply chain components, and expand the workforce.
The recently announced £341m will go towards similar efforts. More specifically it will see a ramp-up in activity at the site, supporting continued preparation works including construction of onsite training facilities for 1,500 apprenticeships, further development of the plant's engineering design, and direct investment in the local community ahead of work starting.
The funding was made available from the Department for Energy Security and Net Zero's capital budgets, as agreed at the 2022 autumn statement. It is the second portion of funding made available this summer. The government said it further supports plans to secure private investment using the newly-established regulated asset base (RAB) finance model and bolsters its pledge to take a final investment decision on Sizewell C in this parliament. RAB models are controversial as though they are intended to attract investors, they involve adding surcharges to consumer energy bills before the project is complete and in working order.
Julia Pyke, joint managing director of EDF-owned Sizewell C Company, said: "This is great news and puts us in an even stronger position to start full construction. It will also allow us to implement several community schemes over the next few months. We want people living near Sizewell C to see the benefits of the project as soon as possible and we're looking forward to getting started on a range of proposals which will bring real improvements to the area well before the main construction gets underway."
Andrew Bowie, UK minister for nuclear and networks, said that Sizewell C will be a significant part of the nuclear revival. "Today's funding announcement is a clear demonstration of the government's commitment to this vital project and will mean the site will be shovel-ready, and work able to start, much more quickly," he added.
Tom Greatrex, CEO of the UK trade body Nuclear Industry Association, said: "Sizewell C is one of the UK's most important green infrastructure projects ever, critical to providing firm, clean power to cut gas, and to strengthening our energy security...It should mark the start of a new era for nuclear energy in the UK as we re-establish ourselves as a major force."
Sizewell C will comprise two reactors, generating a total 3.2 GW of electricity, equivalent to 7% of the UK's electricity needs. The UK has a goal to produce up to 24 GW of nuclear power by 2050, four times the current level.
The extra funding for Sizewell C is the latest measure to support the UK's plans to rapidly expand nuclear energy, to provide a quarter of UK electricity demand by 2050, reducing reliance on imported fossil fuels and providing energy independence and supply security.
This news follows the UK government's launch of the arms-length body Great British Nuclear, to drive that growth.
Nuclear criticism
Despite the UK government's enthusiasm for nuclear energy, critics often point out the high cost and slow delivery associated with nuclear. Hinkley Point C, which is also an EDF project, has suffered multiple delays and spiralling costs. Earlier this year, EDF said the construction costs could rise above £32bn.
As the new Sizewell C funding was announced, campaign group Together Against Sizewell C, said it would mean more damage to local environment for a project that may never be delivered.