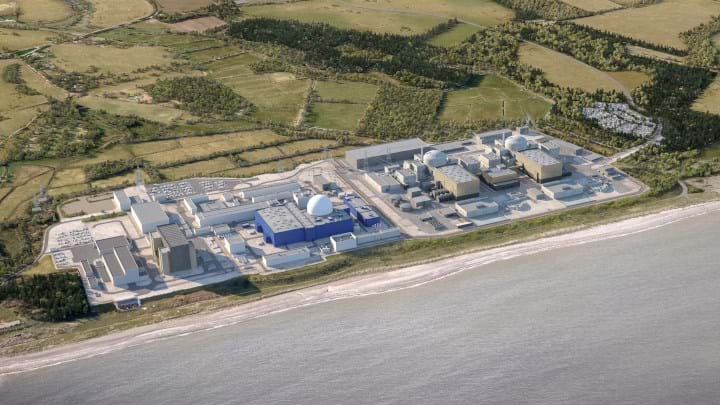 EDF
THE UK Government has announced the "historic" £700m (US$836.9m) backing of EDF's Sizewell C nuclear power project, as part of a landmark package intended to help secure Britain's energy independence and prevent reliance on volatile global markets.
Earlier this month the Government said it intended to support the project, with the release of its Autumn Statement.
The Government says it is driving forward plans to build a secure energy future, creating cheaper, cleaner energy from British sources, for Britain. This includes continuing to revitalise the UK nuclear industry by confirming the first state backing of a nuclear project in more than 30 years.
The plant was already approved in July, but with its almost £700m investment in Sizewell C, the Government becomes a 50% shareholder in the project's development with EDF and will work with the company to raise capital investment in the project. The stake is positioned at the heart of the new "blueprint" of British energy sovereignty. The almost £700m amount includes more than £100m to get Chinese state-owned power group China General Nuclear to exit the deal.
In addition to providing energy security, Sizewell C is also expected to create 10,000 highly skilled jobs and provide reliable, low-carbon power to the equivalent of 6m homes for more than 50 years. However, a final investment decision on the project has not yet been made.
Along with Sizewell C funding, the Government confirmed its commitment to developing a pipeline of new nuclear power projects. To support this, the UK will establish the public body Great British Nuclear (GBN) to enable delivery of clean, safe electricity over the decades to come, to protect future generations from the high price of global fossil fuel markets. GBN will be charged with developing a resilient pipeline of new nuclear builds, and a further announcement is expected early 2023. For now, the Government says it is working "at pace" to set up the body.
The UK's Energy Security Bill, announced in May, will act as a driving force to power the Government's long-term plan.
Grant Shapps, Secretary of State for Business, Energy and Industrial Strategy, said: "Global gas prices are at record highs, caused by Putin's illegal march on Ukraine.  We need more clean, affordable power generated within our borders – British energy for British homes.
"Today's historic deal giving government backing to Sizewell C's development is crucial to this, moving us towards greater energy independence and away from the risks that a reliance on volatile global energy markets for our supply comes with.
"This is at the heart of a package of measures that – together with the new Great British Nuclear and powers of the Energy Security Bill – will ensure secure supply for now, and for generations to come."
Tom Greatrex, Chief Executive of trade body Nuclear Industry Association welcomed the announcement on Sizewell C, saying: "[It] will be one of the UK's most important green energy projects ever, cutting fossil fuels, providing clean, affordable power for a very long time, and creating thousands of highly skilled jobs […] It's now vital that nuclear is given the green label it deserves in the sustainable investment taxonomy and that a final investment decision on Sizewell C is reached swiftly so construction can begin."
Critics have challenged benefits of the project. Campaign group Stop Sizewell C referred to the £700m investment as "paltry" and highlighted there is still a "huge amount" of money to be found for the project. It added that "the project could neither lower energy bills nor give the UK energy independence".
Doug Parr, Chief Scientist and Policy Director at Greenpeace UK argued there are better options than nuclear.
He said: "Several academic institutes have shown we can have a 100% renewable system that would be cheaper...Why are ministers still obsessing about astronomically expensive, delay-plagued nuclear plants when we have much better options available?"