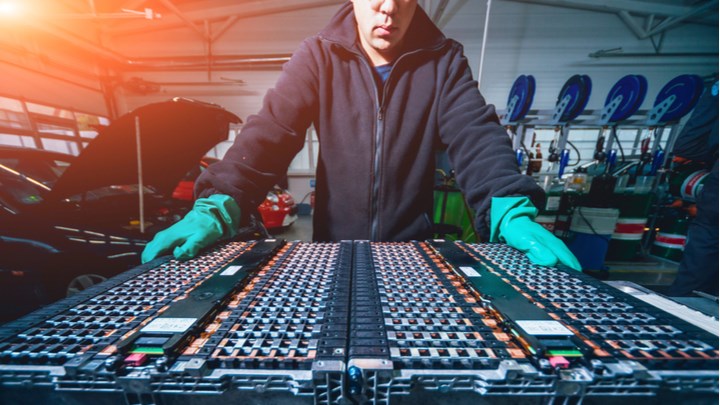 TEESSIDE, UK will host the UK's first large-scale lithium refinery, and possibly the largest electric vehicle (EV) battery recycling facility currently planned in the country.
UK-based clean technology startup Altilium Metals has selected Teesside as the "preferred location" for the largest end-of-life EV battery recycling facility currently planned in the UK. A final decision on the location will be made in early 2023.
Altilium says that with the UK banning sales of petrol and diesel cars in 2030, the global "EV revolution" could lead to more than 11m t/y of battery waste by then. Closed loop lithium-ion batteries will serve the developing UK EV supply chain, with any excess being sent to Europe.
Altilium's planned plant will transform battery waste from 150,000 EVs per year, providing a secure and sustainable supply of critical minerals needed to support growing production of EVs in the UK, at a time when demand for these minerals is at its highest.
The planned "multi-million pound" facility will process a mixed stream of feed, including end-of-life lithium-ion batteries, as well as off-spec material from cell producers. In the near term, to alleviate possible shortage in battery waste for mega-scale recycling solutions, the plant will incorporate an option to process raw materials sustainably mined from Altilium's nickel and cobalt assets in Indonesia.
The investment is expected to create 100–200 high-value jobs by 2025, and hundreds more during construction, with the plant projected to take 18 months to build. Altilium also believes the investment will help attract EV battery manufacturers to the region.
Kamran Mahdavi, CEO of Altilium Metals, said: "The significant volume of end-of-life batteries and scrap from giga-factories expected in the UK requires mega-scale recycling solutions and we look forward to demonstrating the process at scale here on Teesside.
"Until recently, lithium-ion batteries were regarded as hazardous waste, but they can actually serve as valuable sources of raw materials such as lithium, nickel, and cobalt. Recycling or "urban mining" will play an important role in making sure these valuable metals are returned to the supply chain in the most environmentally friendly way, rather than ending up as landfill waste."
Green Lithium is building a reported £600m (US$724.3m) large-scale lithium refinery at PD Ports, in Teesside, UK, the nation's fifth largest port. It is set to be the UK's first large-scale lithium refinery. Green Lithium has said that there is currently no large-scale lithium refining capability in Europe, with the vast majority of the world's hard-rock lithium being processed in East Asia.
The planned refinery will provide about 50,000 t/y of low carbon, battery-grade lithium chemicals to help meet Europe's growing demand. It is expected to have a carbon footprint 80% lower than traditional processes used internationally, with a carbon intensity of 3.3 kg of CO2 emitted per kilogramme of lithium hydroxide produced, compared with an international average of 16.2 kg.
Green Lithium's product will serve lithium-ion batteries, energy storage grid stabilisation, and EV batteries. The company predicts that its production could support about 1m EVs in a European market producing more than 15m by 2030.
The facility will also drive significant growth and investment in the local area, creating more than 1,000 jobs during the construction phase and 250 full-time, highly skilled, local jobs once operational. 
Construction is expected to take 3 years, and plant commissioning is expected during 2025.
Claire Blanchelande is Head of Lithium at commodities trading company Trafigura, which is supporting refinery development.
She said: "Lithium is fast becoming more of the world's most important commodities for the energy transition and Green Lithium's refinery will be one of the few ready by the middle of this decade when we see demand for electric vehicles picking up in a very significant way in the UK and Europe. We look forward to working with Green Lithium to help source its raw materials and market its output of lithium hydroxide."
Both Green Lithium and Altilium have been backed by the Government. Green Lithium received £600,000 through the UK's Automotive Transformation Fund, a funding programme created to support the nation's electrified automotive supply chain. Altilium is also getting support from the fund. Including other funding it has secured more than £3m from Government to scale up its proprietary recycling technology to help meet the "exponential demand" for critical metals needed for transition to net zero.
The UK Government says lithium is an essential component of batteries, and secure supply will be critical for automotive and energy industries. It has made lithium a key part of its 2022 Critical Minerals Strategy, the nation's first ever, which aims to improve supply chain security.
News of these facilities comes after the turmoil experienced by BritishVolt's planned £3.8bn battery gigafactory, to be built in nearby Blyth. The project recently received a lifeline of funding following reports that it was headed into administration.