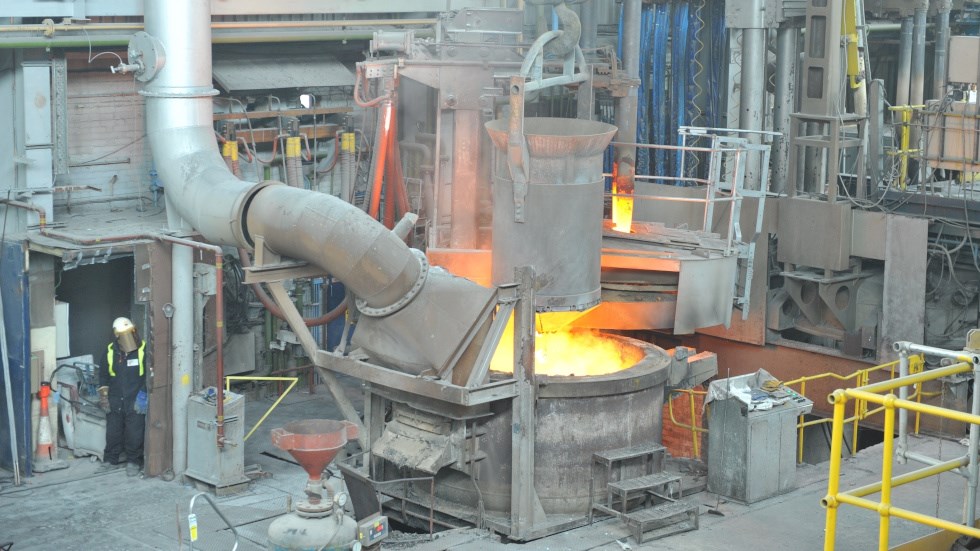 MPI
ENGINEERS working on a process to produce zero-emission cement as a byproduct of recycling steel say the first trial has shown encouraging results.
The trial melt has been carried out at the Material Processing Institute's electric arc furnace in Teesside, UK and three more are planned before the baton is passed to industrial partners to conduct larger-scale tests.
The £6.5m (US$7.9m) Cement 2 Zero project is looking to scale up an approach proposed by engineers at University of Cambridge who realised that the lime flux used in electric arc furnaces to recycle steel has a similar composition to waste cement paste. During steel recycling, lime flux is added to the electric arc furnace where it removes impurities and forms a slag. If successful, the new process could convert construction and demolition waste into recycled cement clinker using furnaces that are recycling scrap steel.
The trial has used flux material containing waste cement processed by Day Aggregates, and scrap steel provided by Celsa. Tarmac is now working to test the clinker produced in the trial to understand its grinding properties. This is important because a key step in the conventional manufacturing process involves grinding up the clinker feedstock and mixing it with small amounts of gypsum and limestone to produce cement.
Chris McDonald, CEO at the Materials Processing Institute, said: "Until now the research has been at a laboratory scale. The institute having a seven-tonne EAF has enabled this next scale up phase of development and testing to take place. The preliminary findings are encouraging in terms of providing the project team with a much greater understanding of the process and how it can be improved and scaled."
Once the remaining three trials are conducted, Celsa plans to carry out industrial-scale melts at its electric arc furnace in Cardiff. In the meantime, project partners Balfour Beatty and Atkins are defining testing protocols for the materials produced from the trials.
McDonald, who is a chemical engineer and member of IChemE, said: "The initial trial melt is a critical part of the project and a huge step towards creating a more efficient, environmentally friendly, and resource conscious manufacturing process contributing to the decarbonisation of the construction, cement and steel sectors."