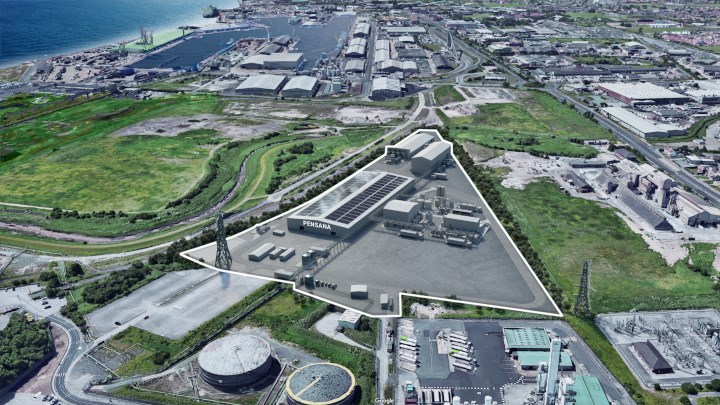 Pensana
THE UK is set to host a new US$195m rare earth processing hub that Pensana is building at the Saltend chemicals park on Humberside. It will become one of only three such facilities operating outside of China and comes as the UK has launched a new strategy to shore up supplies of the critical materials needed for the energy transition.
The facility is set to begin operations in 2023, and when it reaches full capacity in 2024 will produce 12,500 t/y of separated rare earths including around 5,000 t of neodymium and praseodymium oxides. These are essential components of the magnets used in electric vehicle motors and wind turbine generators.
Pensana Chairman Paul Atherley said: "Our Saltend rare earth processing hub will be the world's first independent and sustainable rare earth separation plant, with plans to produce 5% of the global magnet metals in 2024. This will play a vital role in transforming the UK's EV and offshore wind industries, as well as creating high value local jobs in the Humber region."
In May, Pensana published findings from its FEED and value engineering study. It reported that by 2024, the site is expected to be one of only three significant producers outside of China, along with the Lynas facility in Malaysia – which produces around 5,500 t of neodymium and praseodymium oxides – and the MP Materials facility in the US that is planning to produce around 6,000 t. Production and processing of rare earths is currently dominated by Chinese firms which meet around 90% of demand. Pensana aims to differentiate itself in the market by promoting the low carbon footprint of its products, produced using hydroelectric power in Angola and wind power in the UK.
The art of extraction
The production process begins at Pensana's open-cast Longonjo mine in Angola. Here, an ancient volcano that has been weathered for the past 100m years is the source of a mineral called monazite that contains rare earths. An on-site processing plant mills the rock and uses a series of flotation steps to recover and concentrate the rare earths-rich monazite.
"We take that monazite concentrate, which is about 10% of the original feed, and expose it to a sulfuric acid mix and calcining process which then allows the separation of the rare earths from the host rock matrix," says Pensana CEO Tim George.
"That then allows a dissolution of the rare earths compounds and separation from the balance of the monazite minerals which then we precipitate selectively into what we call a mixed rare earths sulphate."
The processed ores naturally contain radioactive elements, which Pensana says it will store in tailings dams in compliance with IAEA regulations.
Pensana will export the rare earths sulfate to its processing hub at the UK's Saltend chemicals park. In July, the company held a ceremony to break ground at the site with UK Business Secretary Kwasi Kwarteng, which coincided with the launch of the Government's strategy on critical minerals.
"We're the insurance if China doesn't have enough rare earths to feed the growth in the West over and above what its own consumption will be," George says.
The key production steps at Saltend begin with caustificaction of the Angolan sulfate product followed by oxidative drying of the solids to enable removal of the majority of lower value cerium as a lower-grade insoluble byproduct during the subsequent hydrochloric acid redissolution step in preparation for solvent extraction.
This involves three distinct circuits, which use several hundred mixer-settler rigs to separate the mixed rare earths, dropping out mixed mid/heavy rare earths; then high purity lanthanum and cerium as carbonate products; then extraction of the high-value neodymium and praseodymium for conversion to an oxide product.
George added: "I won't get into the complexities of the recycling and the process control on those because that is where the real art is. But essentially there would be a repetitive number of large tanks, one end of which is a mixer rig which allows introduction of both aqueous and organic phases to be interacted with each other, flowing through a series of baffles into a settling area which then disengages the organic from the aqueous phase once the extraction has occurred. And then into a counter current pumping mechanism where the aqueous phase flows upstream and organic flows downstream, simplistically put, from one mixer-settler to the next to build up and deplete the respective concentrations of what you're trying to separate at different pHs using different extractants.
"This is particularly where the chemistry is interesting because the rare earths are obviously close together in terms of behaviour so very subtle pH changes and respective concentrations is what are used to separate them out on an individual basis. That's where the clever stuff comes in, in terms of process control."
In its coverage of the plans, the FT has quoted experts questioning whether Pensana has the experience necessary to develop the plant and meet its stated production targets.
George says: "Normally, these types of projects take close to a decade to bring to reality and we've done it in a manner of three of four years since the geological work was originally done. The consequence of that is I'm sure there are quite a lot of people who are surprised at how swiftly it's got to this point."
He says the company has deliberately kept its cards close to its chest in terms of capabilities and process design but he's bullish about the engineering and his team.
"It doesn't require any particular licences at this point in time. The proprietary information is along with the extractants and the vendors of those extractants. And then obviously there is a lot of experience associated with how to run these units effectively in the process control. That comes down to experienced operators and personnel."
George says he has recruited experienced engineers for every stage of the process. And independent experts have reviewed the overall process flow sheet to show it has low processing risk that has helped secure financing.
Future plans for Saltend
The first phase of Saltend involves separating out  neodymium and praseodymium oxides used in magnets for turbines and EVs that will produce more than 90% of the revenue; lanthanum and cerium which are both used in refining and automotive catalysts and batteries; and mid and heavy rare earth elements including terbium and dysprosium that make up around 0.01% of the overall product and are used in magnets and defence applications.
Pensana has ensured there is enough space around its initial operation to expand into heavy rare earths production, and take a step further down the magnet production supply chain to build an alloying plant. George says they've also left room to build a recycling operation for used wind turbines.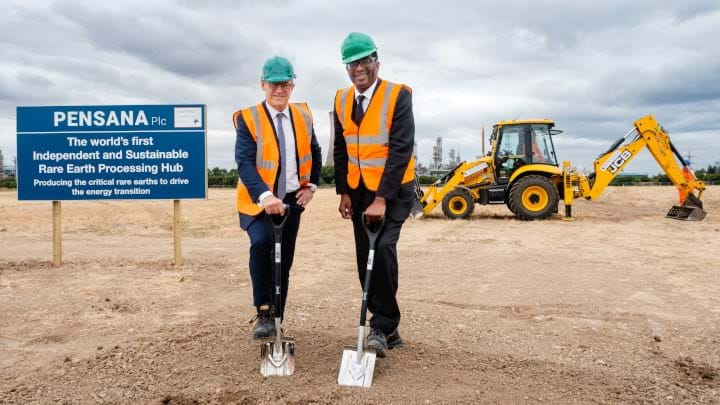 Pensana
Following warnings that the UK is particularly vulnerable to disruption to supplies of key minerals needed for green tech and heavy industry, the Government has launched a critical materials strategy to bolster domestic production and build a skills base. It has also established a Critical Minerals Intelligence Centre to help the country and its industries secure supplies. The centre's assessment of 26 materials found that 18 have high supply disruption risks that leave the UK economically vulnerable. China is the leading producer of 16 of the minerals assessed. For those which the UK was found most vulnerable, China produces 90% of the world's gallium, 78% of rare earth elements, and 79% of silicon. South Africa produces 71% of all platinum.
Per Kalvig of the National Geological Surveys for Denmark and Greenland, one of the commentators who questioned Pensana's capabilities, has published a 225-page report on the rare earths sector covering processing technologies, supply chains and forecasts of future demand. Among the report's conclusions, Kalvig projects that supplies of praseodymium and neodymium will fall 50% short of demand by 2030 and that the West will fail to achieve self-sufficiency.
Pensana recognises the risks of having its feedstocks come solely from Angola so within five years plans to have 50% of its feeds coming from elsewhere. With no existing magnet manufacturer in the UK, Pensana is in discussions to sell around 50% of its oxides to a non-Chinese Asian magnet manufacturer.
A report published last year by the UK producer Less Common Metals on behalf of the Government's Automotive Transformation Fund concluded that "given the complexity of magnet production technology and the need for detailed know-how, enticing an existing global magnet producer to set up a facility in the UK may be an effective way to establish domestic production."
Atherley is upbeat about the UK's manufacturing prospects. "The two biggest assets this country has got right now are chemical parks and bad weather," he says alluding to the opportunity for manufacturers to plug in their processes at industrial parks like Saltend and Wilton and power their operations with offshore wind. "I think that combination is very powerful."