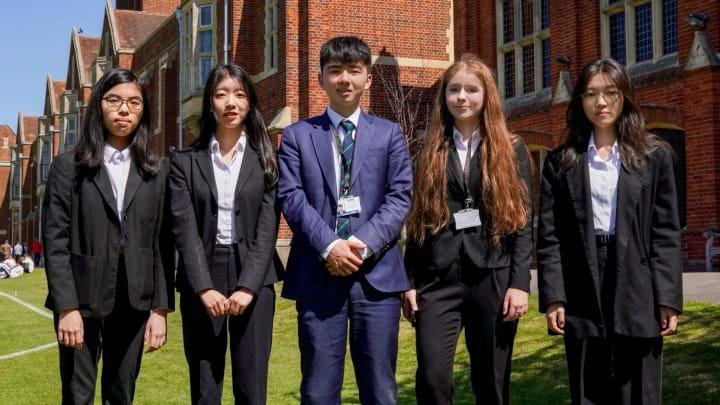 University of Cambridge
A TEAM of school students who designed a solar water sterilisation system has won this year's Davidson Inventors Challenge.
The University of Cambridge's Davidson Inventors Challenge encourages 14- to 17-year-old UK students to use engineering problem-solving skills to develop an innovative solution that addresses one of the UN Sustainable Development Goals (SDGs).
The winning team, called IZY Solution, includes Year 12 students Alisa Ievskaia, Denise Yip, Susan Shan, James Zhou, and Zichen Zhou from Eastbourne College in Eastbourne, UK. Their system relies on solar energy to boil and sterilise water, addressing the lack of access to potable water for people worldwide and helping to achieve SDG 6. They explained it could also impact UN SDGs 1 (No poverty), 3 (Good health and wellbeing), and 5 (Gender equality).
The winners were one of four finalists to present their projects in a webinar, with other innovations including a bioplastic smartwatch screen protector, a biodegradable lateral flow test, and a method for producing hydrogen using bacteria.
The webinar also included talks from IChemE President Jane Cutler and IChemE Past President Dame Judith Hackitt. Cutler discussed IChemE and its work, including the Sustainability Hub that launched earlier this year, which particularly focuses on SDGs including 3 and 6. Dame Judith talked about her career and passion for chemical engineering. She also discussed her review of building regulations following the tragic fire at Grenfell in 2017, highlighting that all her recommendations were recently implemented through an Act of Parliament that received Royal Assent at the end of April.
She said to students with a passion for the subject, problem-solving, and making a difference that "engineering is most certainly the profession for you".
"You are going to be the next generation facing the challenges that we have now, with new processes, with new technologies, with new ideas," Clemens Kaminski said. Kaminski is Professor of Chemical Physics and Head of the Department of Chemical Engineering and Biotechnology (CEB) at Cambridge.
Closing, he added: "I was extremely impressed to see the next generation of brilliant scientists coming through […] You really have achieved something. Out of so many contributions to this event to come into the top four is a real achievement, and I know you've got brilliant careers ahead of you. Do consider a career in chemical engineering and biotechnology, and do consider starting with us."
Cutler helped judge the competition and presented the winners with a certificate. The winners will also have the chance to visit CEB and explore the city centre, as well as tour an Amazon site either virtually or in person.
Launched last year, the competition is held in memory of the University of Cambridge's late Emeritus Professor John Davidson, often referred to as the founding father of fluidisation. He died in December 2019. Davidson was President of IChemE from 1970–1971 and, in 2016, IChemE named a medal after him to recognise his inspirational role to young engineers.
This year, the Davidson Inventor's Challenge involved more than 40 schools and around 200 students.