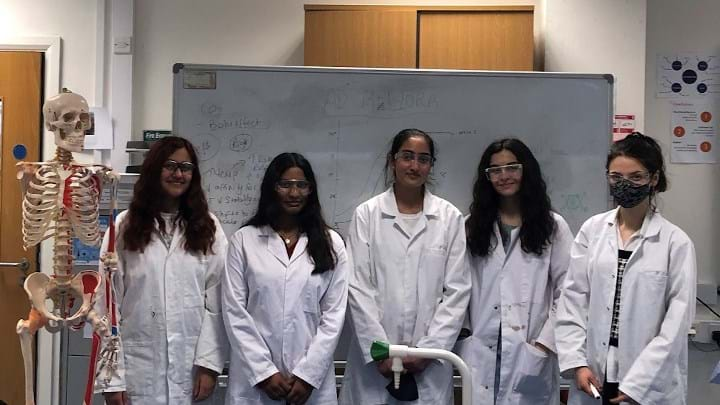 A TEAM of school students who developed a biodegradable face mask made from potato starch have won an inaugural sustainability competition launched in memory of chemical engineer John Davidson.
The winning team is called AdMeliora and includes Year 12 students Mehakdeep Kaur, Maya Rawat, Vivien Ablay, Niketa Walichchoru Evayage, and Akshita Sudhir from the Tiffin Girls School in Kingston upon Thames, UK. They developed the mask to combat the issue of increasing waste from disposable face masks used during the Covid-19 pandemic.
The University of Cambridge's Davidson Inventors Challenge encourages 14- to 17-year-old UK students to use engineering problem-solving skills to develop an innovative solution that addresses one of the UN Sustainable Development Goals.
It is held in memory of the university's Emeritus Professor John Davidson who died in December 2019. He is often referred to as the founding father of fluidisation. Davidson was president of IChemE from 1970-1971 and in 2016 IChemE named a medal after him to recognise his inspirational role to young engineers.
IChemE President Stephen Richardson who helped judge the competition said: "On behalf of IChemE, many congratulations to AdMeliora and all the finalists in this inaugural competition."
"A past president of IChemE and a friend of mine, Professor John Davidson was an active member of the Institution, committed to the profession and passionate about teaching the future leaders of chemical engineering. Through your creative and innovative projects, you have demonstrated the importance of applying chemical engineering skills and thinking to find sustainable solutions to problems that we all face around the world today. I am sure that this would have made him very proud. I hope you will consider this exciting profession as a potential for your future career journey."
Professor Clemens Kaminski, Head of the Department of Chemical Engineering and Biotechnology (CEB) at the University of Cambridge, UK said: "I am really impressed by the innovative spirit and the quality of the presentations by the students. Their enthusiasm was tangible – clearly the next generation of brilliant scientists is on its way."
As well as presentations from the four finalists, the event announcing the winner featured talks from John Davidson's son Peter Davidson, CEB alumnus, on his father's life and legacy; Rachel Cooke, CEB alumna and Senior Manager for Reliability Engineering at Amazon, on career opportunities for chemical engineers; and a speech from Nadhim Zahawi, a chemical engineering graduate and the UK's Parliamentary Under-Secretary of State for Covid-19 Vaccine Deployment.
The winning team will receive a certificate, a personalised trophy and a virtual tour of the Amazon facilities. The winners will also visit the University of Cambridge to meet academics and students, and see what it is like to study at the Department of Chemical Engineering and Biotechnology.
The competition saw 54 registrants, involving more than 200 students from 45 schools across the UK.