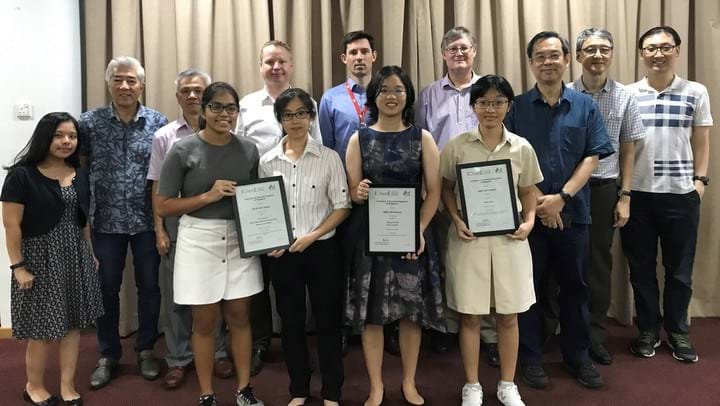 ICHEME has presented awards to school students in Singapore for projects that used chemical engineering skills.
The projects were part of the Singapore Science & Engineering Fair (SSEF), which is an annual competition that promotes science and engineering in schools, targeting mainly O-Level and A-Level students. It is organised jointly by the Ministry of Education Science Centre, and A*Star. A new award category was created for 2018, in partnership with IChemE, to recognise projects in chemical engineering.
The awards were presented at the IChemE Singapore Annual General Meeting, at Singapore Polytechnic Guild House on 18 June. The winning projects were chosen for their originality, use of natural resources and energy, and degree of complexity.
In the Junior College category (A-Level), Wang Yihan, was awarded the first prize for her project: Numerical Analysis of Enhancement in Helical-tube Latent Heat Thermal Energy Storage System for Building Applications. Her project looked at reducing air conditioning costs and energy consumption by using thermal storage technologies that utilise nanoparticles.
The second prize was awarded to Chen Hao, a student at the Victoria Junior College, for the project: High Temperature Fluorinated Silica Membrane to Convert Heat to Energy.
In the Secondary School category (O Level), Zheng Jie Ying and Rose Cai Jia Ai from National Junior College won the first prize for their project: Effect of Fruit Peels on Plant Microbial Fuel Cell.
The second prize was awarded to Tan Hwee Yee, Rahul Ramanathan Krishnamoorthy, and Melissa Lynn Pereira – also students at the National Junior College – for their project: Generation of Electricity using Microbial Fuel Cells and Rotten Lemons. Pereira said: "If given the opportunity, I would definitely like to do further research into our current project or research other aspects of chemical engineering."
The awards were presented by Wui Poh Yong, newly-elected Chair of the IChemE Singapore Board, along with outgoing Chair, Joe Eades. "It is great to continue to see enthusiastic young talent passionate about chemical engineering science," said Yong. "We are proud to continue to support the SSEF."
The AGM also saw new members appointed to the IChemE Singapore Board: Edwin Liew as Chair of the Safety and Loss Prevention Special Interest Group (SIG); Jack Shepherd as Chair of the Energy SIG; Elaine Yong as the Chair of the Young Engineers Group in Singapore; and Cheah Sin Moh as Chair of Students and Technicians. The rest of the Board will continue for another year.