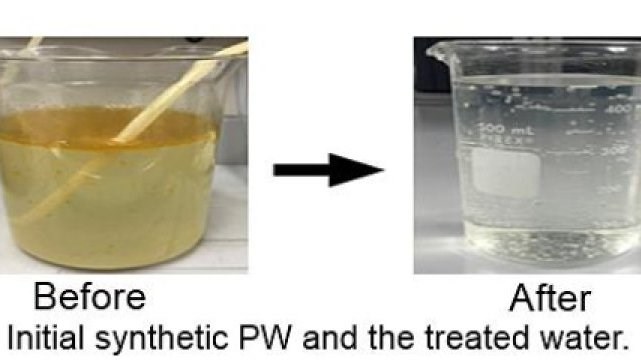 A PROCESS has been developed that can remove nearly all traces of oil in produced water.
Produced water is found in the same formations as oil and gas, and around 9.5bn L/d is generated in the US. The content of the water varies according to the geographical location, but it can contain salt, oil and grease, inorganic and organic toxic compounds, and naturally-occurring radioactive material. Produced water is unsuitable for household and commercial use due to these contaminants. While there are commercial treatments available, these are expensive, energy-intensive, and do not remove all of the contaminants.
Researchers at Purdue University have now developed a new process that can remove nearly all of the oil traces in produced water. The process uses activated charcoal foam subjected to solar light to produce heat and purify the water. The foam absorbs the oil contaminants in the water and up to 95% of the oil that is absorbed by the foam can be recovered. The processed water passes the Environmental Protection Agency's standards for clean water from industrial sources.
"This is a simple, clean and inexpensive treatment process," said Ashreet Mishra, a graduate research assistant at the Purdue University Northwest Water Institute. "I have seen in my home country of India how people suffer for the want of pure water, and we as researchers need to do as much as we can to help. This is the first-of-its kind method to do this purification in a single step simultaneously via a perforated foam. Our process is able to address the cost and energy aspects of the problem."
The process could be integrated with existing disposal systems, which would reduce the strain on water grids by purifying large amounts of water.